When you shop through retailer links on our site, we may earn affiliate commissions. 100% of the fees we collect are used to support our nonprofit mission.
Learn more.
Update: Since this first drive was published in September 2018, we have purchased and evaluated our own Forte, and added a quick drive video.
See the complete Kia Forte road test.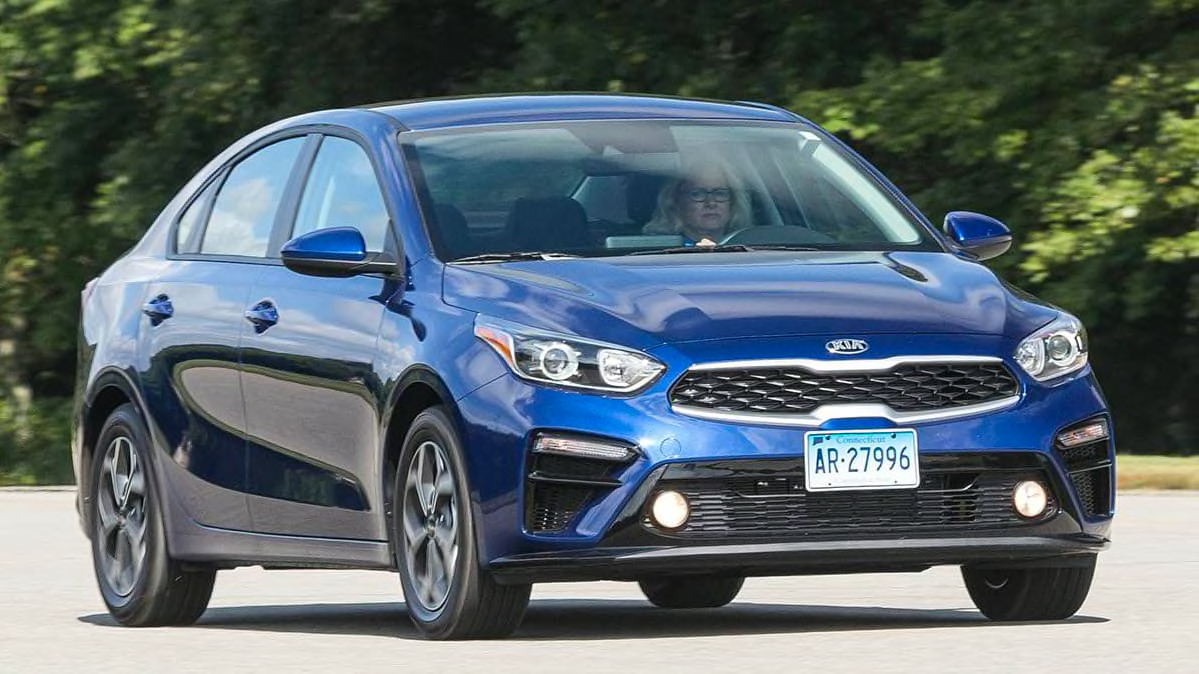 The new 2019 Kia Forte makes evolutionary advances, retaining its role as a smartly equipped, value-priced small sedan. The redesign brings simple controls, an easy infotainment system, and a solid roster of standard safety systems.
It should appeal to small-car buyers looking for a good all-around car fitted with features they may not be able to afford on competing models, plus a strong five-year bumper-to-bumper warranty.
We found the Forte to be competent, if unexciting. But its blend of interior room, features, and price might be a strong draw for value-minded shoppers.
The Forte LXS is expected to be the volume-selling version. Our popularly equipped model had a sticker price of $20,165. Even though we purchased our Forte as soon as it was available, we were able to negotiate $2,000 off the price. Based on our initial driving impression, it is a good value for a new car—especially at just over $18,000.
What we drove: 2019 Kia Forte LXS
Powertrain: 147-hp, 2.0-liter four-cylinder engine; continuously variable transmission; front-wheel drive
MSRP: $19,270
Destination fee: $895
Total cost: $20,165
How It Drives
There are no two ways about it: The Kia Forte is plain to drive. The 147-hp engine pulls adequately around town, where the continuously variable transmission helps provide a smooth driving experience. This CVT shines for its ability to mimic a conventional automatic transmission, complete with effective faux shifts. When accelerating hard, such as merging onto the highway, the CVT exposes itself in how the engine revs soar faster than the power is delivered, creating a roar in the process.
There is a manual override ability that allows the driver to move up or down among eight fixed ratios with the gear selector. That's helpful for controlling speed when descending a hill.
The Forte has a Drive Mode function, as we recently experienced on our 2019 Hyundai Santa Fe. As with many other cars, drivers can choose Comfort or Sport to preselect their driving style on the Forte, prompting the car to proactively adjust its powertrain responsiveness accordingly. There is also a Smart choice that automatically moves between Comfort and Sport based on how enthusiastically the car is driven, such as cruising in a mild-mannered way around town, then becoming more responsive for spirited country-road driving. This is a nice feature.
The Forte is rated at 34 mpg overall by the Environmental Protection Agency, marking a 2-mpg increase over last year's model. This figure may prove to be conservative based on our initial driving because we have observed about 39 mpg in mixed driving, suggesting that we may see strong numbers in our formal fuel-economy test.
The ride is a bit stiff and less compliant compared with several segment leaders. But that taut suspension restrains body roll well, limiting how much the car leans in corners. But the steering feedback is limited, and the car isn't all that eager to tackle corners.
Cabin quietness is not a forte, although noise levels are not offensive and are typical for the class. There is noticeable wind noise at highway speeds. Those seeking a hushed interior would do better to look to the Chevrolet Cruze or Ford Focus.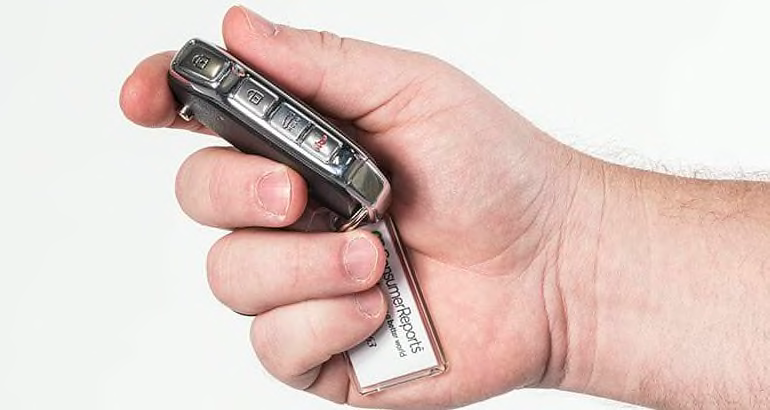 Inside
The LXS does not have keyless entry and push-button start, like most cars today. It uses an old-school key fob to unlock the car. We miss the convenience of just approaching the car and unlocking the door by touching the handle, but the greater concern is that the fob uses tiny chromed buttons on the side. It is hard to distinguish Lock from Unlock, especially in low-light situations. We also found the fob to be unusually prone to being triggered in someone's front pocket, causing it to unlock the doors unintentionally or to set off the alarm.
Entering the vehicle is easy, with wide doors and a reasonable seat height. The front seats are rather basic. Some testers found that they hugged the body fine, though some noted a lack of lower-back support. On the plus side, there is generous space for the right knee, a nice benefit for those who sit with their legs splayed. We prefer the uplevel seats in the Forte EX.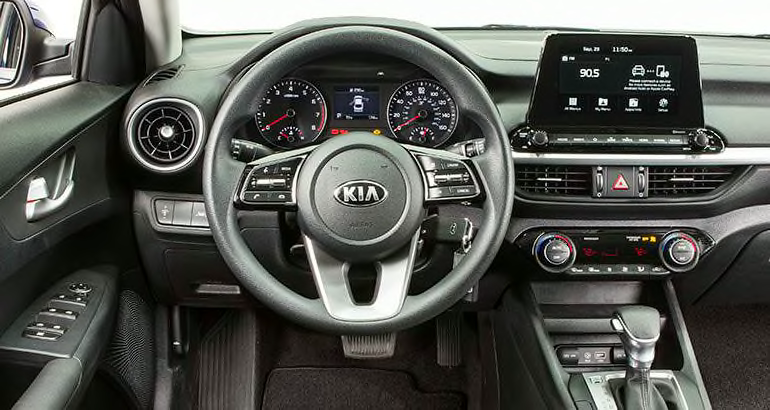 The controls are simple to interpret and operate, and the switches and knobs are artfully clustered based on their function. This is an area that Kia (and corporate sibling Hyundai) truly excel in.
The infotainment center, as in other recent Kias, is very easy to reach and use. Below the climate controls is a storage nook that's sized well for smartphones. This space has two power points, an auxiliary port, and a USB port for connecting or charging devices.
Headroom is generous in the front and a bit tighter in the backseat. The rear seat is particularly roomy for a compact sedan, and even adults should find comfort there.
This Forte stretches 3 inches longer than last year's model. Those inches seem to be allocated to the nicely finished trunk, which is exceptionally deep. The trunk opening is shallow, but it can capably swallow a pile of luggage. Unfortunately, there is no external trunk release on our test car, aside from the key fob. But there is a handle to help close the trunk without having to push down on the exterior.
Safety and Driver-Assist Systems
The Forte comes standard with forward collision warning, automatic emergency braking, lane departure warning, and lane keeping assist. It also includes Driver Attention Warning, a system that monitors lane position, steering input, and travel time to detect signs of inattention. If there are signs of distraction, the system issues a warning and can suggest taking a break. The top EX trim makes several more features available, including pedestrian detection, adaptive cruise control, blind-spot warning, lane-change assist, and rear cross-traffic warning.
CR's Take
The Mexico-built 2019 Kia Forte comes across as a competent sedan that looks to be a smart choice for drivers who want advanced safety systems and modern convenience features in an affordable package backed by a long warranty.
See the complete Kia Forte road test.