When you shop through retailer links on our site, we may earn affiliate commissions. 100% of the fees we collect are used to support our nonprofit mission.
Learn more.
Toyota unveiled the all-new Corolla compact sedan in mid-November at the Guangzhou International Automobile Exhibition in China and Carmel-by-the-Sea, Calif., with the automaker emphasizing a commitment to fuel efficiency, reliability, and safety. We recently caught up with it at the LA Auto Show.
The outgoing Corolla sedan is a drab-looking car with a bland interior that has great fuel economy, a decent rear seat, and a quality ride at an economical price. The redesigned model promises notable improvements throughout, particularly around comfort, driving dynamics, and infotainment.
The 2020 Toyota Corolla keeps its traditional proportions, but under a more dramatic exterior will be an available hybrid powertrain—a first for the Corolla in North America.
The 2020 Toyota Corolla will go on sale in spring 2019, which is about nine months after Toyota introduced the four-door Corolla Hatchback in the U.S.
Here's what we know so far: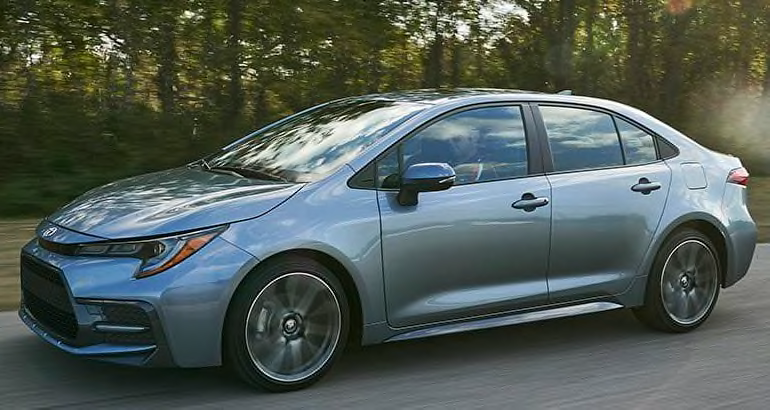 2020 Toyota Corolla Sedan
Starting price: Not announced
What it competes with: Chevrolet Cruze, Honda Civic, Hyundai Elantra, Kia Forte, Mazda3, Nissan Sentra, Subaru Impreza, Volkswagen Jetta
What it looks like: The front two-thirds of the Corolla sedan look just like the Corolla Hatchback. The rear looks like the hatchback melted and morphed into a traditional sedan configuration with a trunk instead of a sharp, vertical cutoff.
Powertrains: 139-hp, 1.8-liter four-cylinder engine with a continuously variable transmission (CVT). 169-hp, 2.0-liter four-cylinder engine; 6-speed manual or a CVT. 121-horsepower, 1.8-liter hybrid engine with a CVT.
On-sale date: Spring 2019
Outside
The 2020 Toyota Corolla sedan looks like an evolution of the outgoing car. It has the same wheelbase at 106.3 inches. But the roof is more than a half-inch lower and the hood has been lowered by 1.4 inches. This change in proportions is in line with the new Corolla Hatchback and the redesigned Avalon and Camry sedans, which have lower rooflines than the models they replaced.
The sporty SE and XSE trims will have a more aggressive-looking front end with more aerodynamic trim, including a body-color chin spoiler. All Corolla sedans will have standard LED headlights, with the upper trims getting LED turn signals as well.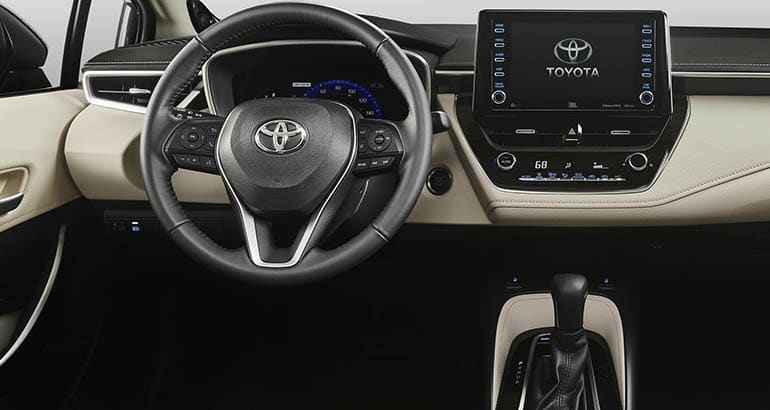 Inside
The 2020 Corolla sedan cabin looks very much like the hatchback we tested. That car had good fit and finish for the compact sedan class, and we liked the quality of most of the materials used.
Toyota has emphasized that the driver sits nearly an inch lower in the new Corolla and 1.5 inches farther back than in the old car. The windshield pillars have been slimmed down, and the side-view mirrors are mounted lower, on the door, all in the name of improving visibility.
All Corollas come with a standard 4.2-inch multi-function display in the gauge cluster. An optional 7-inch digital screen lets the driver switch between digital- and analog-style gauges. The system can be configured to show audio, navigation, fuel information, and other key data.
On the connectivity front, nearly every 2020 Corolla sedan will come with Toyota's Entune 3.0 audio system, with an available 8-inch touch screen and standard Apple CarPlay and Amazon Alexa compatibility in the U.S. At the time of introduction there is no word whether or when Android Auto will be available. The base L trim uses a 7-inch screen, and upper-level trims will have more-powerful audio systems with additional apps, Sirius XM, and HD radio.
What Drives It
The Corolla sedan will use the same platform as the hatchback, including the engine, transmission, and suspension. We hope the sedan retains the hatchback's agility but avoids its stiff ride.
The engine in the L, LE, and XLE trims will be the same 139-hp, 1.8-liter four-cylinder from the previous generation. We got 32 mpg overall in our tests with that engine.
The SE and XSE trims will get a 169-hp, 2.0-liter four-cylinder that's probably very similar to the one we tested in the Corolla Hatchback. We got excellent fuel economy in the hatchback, but found the engine really needed to be revved hard to make power. The hatchback enthusiastically took corners at our test track and is a compact car that our testers want to spend more time in. The only major drawbacks are the stiff ride and noise when the engine is tasked with hard acceleration.
The continuously variable transmission has simulated shifts—akin to a 10-speed transmission—in sport mode to help keep engine revs low during acceleration. Toyota will also offer a six-speed manual transmission with the SE trim. This gearbox will feature rev-matching, which momentarily bumps engine revs before downshifting to help smooth out the shift.
The hybrid version uses a 1.8-liter engine teamed with a nickel-metal-hybrid battery pack for a combined system output of 121 horsepower. Toyota expects the Corolla Hybrid will be EPA-rated at 50 mpg combined, putting it near the Prius in fuel efficiency.
Safety and Driver-Assist Systems
The Toyota Safety Sense 2.0 system of advanced driver assistance features will be standard, and it includes forward collision warning, automatic emergency braking, lane departure warning, lane keeping assist, and a lane centering feature. Blind spot warning is optional on some trims and standard on others, but Toyota has not indicated the split at this time.
CR's Take
The current Corolla tops our compact sedan ratings, aided by its exceptional reliability. There is much room for improvement with the road-test score, because this older model concedes points to its fresher rivals. We will buy one in the spring to see how it measures up to the competition.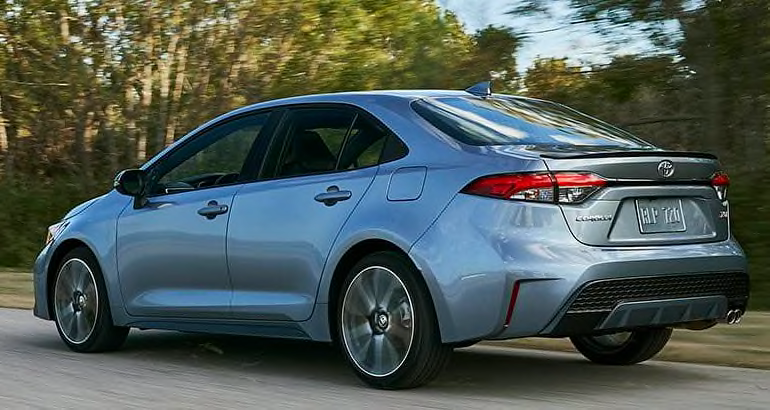 Is an Electric or Hybrid Car Right for You?
With longer range batteries and more places to charge, electric cars are becoming a popular choice for drivers who want to reduce their consumption of fossil fuels. On the "Consumer 101" TV show, Consumer Reports' expert Mike Monticello explains to host Jack Rico what you need to know about this technology.