When you shop through retailer links on our site, we may earn affiliate commissions. 100% of the fees we collect are used to support our nonprofit mission.
Learn more.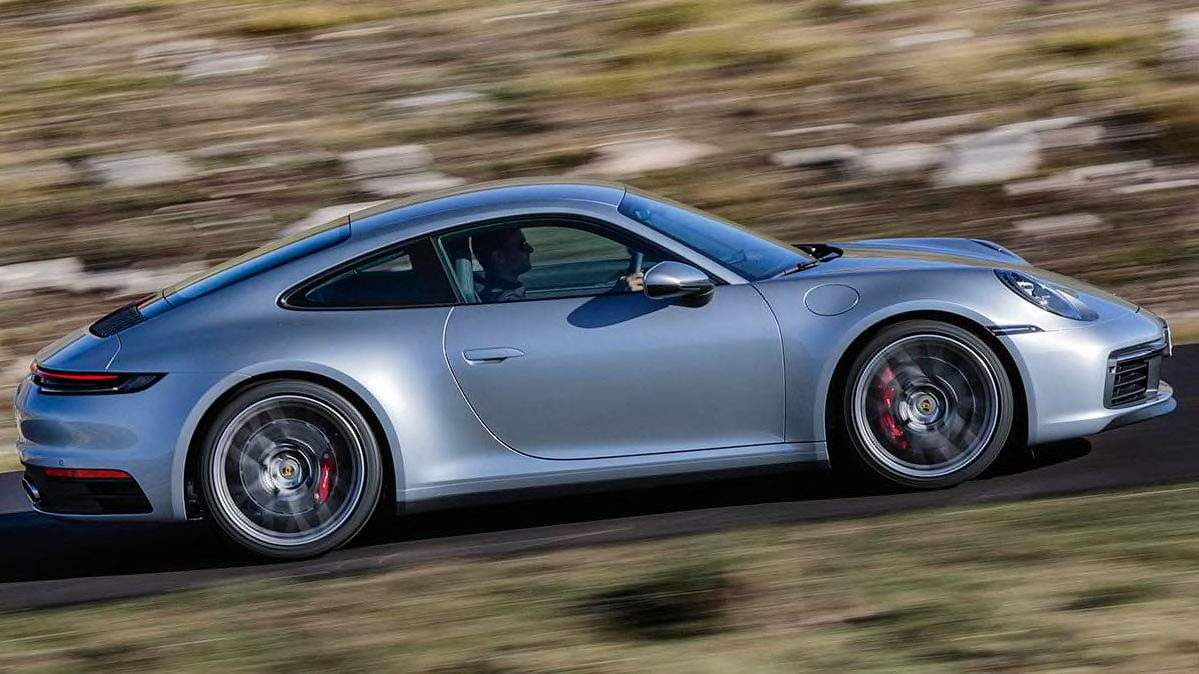 Porsche unveiled the redesigned 911 sports car at the 2018 LA Auto Show, highlighted by more powerful and efficient engines as well as a new interior layout. And let's get this out of the way: Porsche purists will rejoice at the fact that the new 911 will offer a manual transmission; an eight-speed, dual-clutch automatic transmission is standard.
The 911's unmistakable silhouette and rear-engine layout also remain. This sports car has rocked our tests for years with a stirring exhaust note, sublime handling, and a relatively supple ride. We look forward to seeing whether Porsche can maintain that level of performance excellence.
Here's what we know so far about the new model:
Starting price: 911 Carrera S: $113,200; 911 Carrera 4S: $120,600
What it competes with: Acura NSX, Audi R8, BMW M4, Chevrolet Corvette
What it looks like: The classic 911 styling is still there, highlighted by broad fenders, the iconic swoopy backlight, and bug-eyed headlights. Even non-Porsche fanatics would be able to recognize the 2020 model's lineage.
Powertrain: 443-horsepower, 3.0-liter six-cylinder engine (in the S model); 8-speed dual-clutch automatic transmission. (A 7-speed manual transmission will also be available.) Rear- or all-wheel drive.
On-sale date: Summer 2019
Outside
The 911 still looks very much like a 911—a good thing for buyers resistant to change. The new Carrera's body is now made of aluminum, and it has wider wheel housings that hold 20-inch front wheels and 21-inchers in the rear. The car gets wider at the front and the rear fenders, giving even the base 911 the muscular broad-shoulder look of the outgoing 911 Carrera 4 and 911 GTS models. Taking a page out of the Tesla handbook, the 911's electronic door handles are now flush with the doors, though there is a lip to grab at the bottom. Other exterior features include standard LED headlights and a variable-position rear spoiler.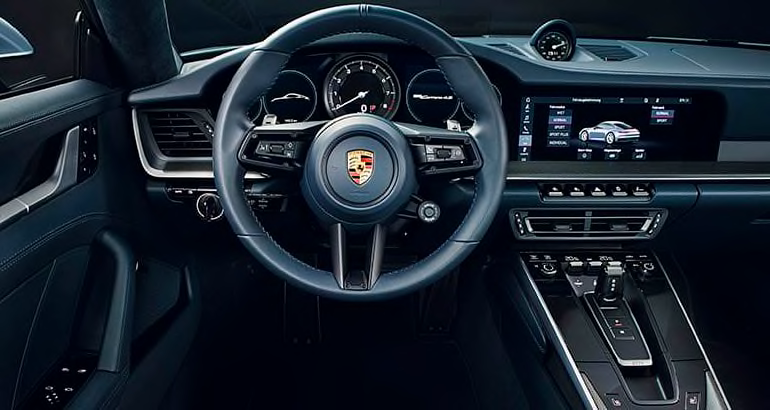 Inside the Cabin
One could surmise that Porsche knows its buyers well. The styling and configuration haven't changed for decades, and the tachometer remains the dominant gauge in the instrument cluster, where it has long been front and center. The company calls its infotainment system Porsche Communication Management (PCM), and it now comes with a larger 10.9-inch touch-screen display (up from 7 inches in the last model). Shared with other recent Porsche models, the standard PCM system includes Porsche Connect Plus, which provides owners with online traffic information based on swarm data. It is able to save the driver's settings to the cloud. (A subscription is required after an initial 12-month trial period.) Apple CarPlay is standard.
Buyers can also choose optional 18-way power sport seats that the company claims come with improved lateral support. An optional Night Vision Assist feature with a "thermal imaging camera" will also be available.
In past tests of 911s, we found that the interiors had excellent fit and finish. The upright seating position provided good visibility and made the cabin a relatively comfortable place. The power seats were firm and super-supportive as long as driver's torso wasn't too broad. The controls consisted of a sea of buttons, which could be daunting at first but more manageable over time.
What Drives It
The 3.0-liter engine of the new 911 Carrera S model will produce 443 horsepower. The base model's horsepower wasn't disclosed. Porsche says that all engines for the 911 will be turbocharged. All versions also get a standard eight-speed dual-clutch automatic transmission—likely what most people will buy—but a manual transmission will be available. Again, while Porsche didn't tell us how many speeds the manual will get, we're overjoyed that one will be available.
Buyers will have the choice of rear- or all-wheel drive.
Porsche claims that the new rear-wheel-drive 911 Carrera S Coupe will sprint from 0-60 mph in just 3.5 seconds, and the 911 Carrera 4S Coupe with all-wheel drive will do it in 3.4 seconds. Our last tested 911 (with the seven-speed manual and rear-wheel drive) took 4.1 seconds to reach 60 mph.
Fuel-economy figures for the new 911 weren't available; we measured a commendable 23 mpg overall from our last test.
We also found that the last 911's handling was superb. It cornered enthusiastically, with immediate turn-in response, and gobbled up twisty, bumpy roads at speed while remaining tied down and compliant. Track driving was even more spectacular. It felt super-grippy on our road course yet docile and easy to control even at its high cornering limits. Also, the last tested 911 turned in among the shortest stopping distances we have ever seen, on both dry and wet surfaces.
Clearly the bar is set pretty high for the new 911—a challenge Porsche engineers have become quite familiar with over time.
Finally, the 2020 911 will come with what the company calls "Wet Mode," which is a function that "detects water on the road, preconditions the stability control and antilock brake systems accordingly, and warns the driver." We don't know if 911 drivers have a history of pushing their cars too hard in wet weather, but perhaps this will save a few crumpled bumpers and bruised egos.
Safety and Driver-Assist Systems
The 911 comes with forward collision warning and automatic emergency braking as standard equipment. Adaptive cruise control with stop-and-go traffic capability is optional.
CR's Take
Every 911 that CR has tested was a joy to drive. With a lusty snarl from its six-cylinder engine and handling and steering that set new precedents of precision and feedback, Porsche's 911 is practically in a class by itself. We eagerly look forward to piloting the next one to see whether the magic is sustained.