When you shop through retailer links on our site, we may earn affiliate commissions. 100% of the fees we collect are used to support our nonprofit mission.
Learn more.
Set to arrive in the U.S. next spring, the 2019 Volvo XC40 combines an eye-catching exterior, a fresh and innovative cabin, and all the safety equipment one would expect from a Volvo.
With the unveiling Thursday in Milan, Italy, Volvo takes aim at the Audi Q3, BMW X1, Land Rover Range Rover Evoque, and Mercedes-Benz GLA, all part of the very popular compact luxury SUV segment.
The safety features include Volvo's City Safety suite, with automatic emergency braking, along with sensors to detect other vehicles, bicyclists, and even large animals that might be in the vehicle's path. Optional gear includes run-off road protection and crash mitigation, rear cross-traffic alert with braking assist, a 360-degree parking camera, and Volvo's Pilot Assist driver-assistance feature, which combines adaptive cruise control and lane-keep assist features.
From many angles, the XC40 looks similar to its larger siblings, the XC90 and XC60 SUVs. This is especially true at the front, where the XC40 grille and "Thor's Hammer" LED headlight design mimic those larger sport-utilities. Large, upward-sweeping rear pillars add a sporty touch to the back of the XC40.
Much like the exterior, the cabin of the XC40 bears a family resemblance to the general layout found in the XC60 and XC90. This includes a 9-inch touch-screen monitor in the center of the dashboard, along with clean surfaces with fewer fussy buttons and dials spread throughout the cabin than seen in current models.
In CR's own testing of the XC60 and XC90, and in comments from our annual consumer surveys, Volvo's current infotainment system has proved complex and distracting to use. We're hoping the system in the XC40 is more user-friendly.
Android Auto and Apple CarPlay are available, as is wireless smartphone charging in a storage bin at the bottom of the center console. Volvo says they freed up extra storage space by positioning the subwoofer speaker in the dashboard.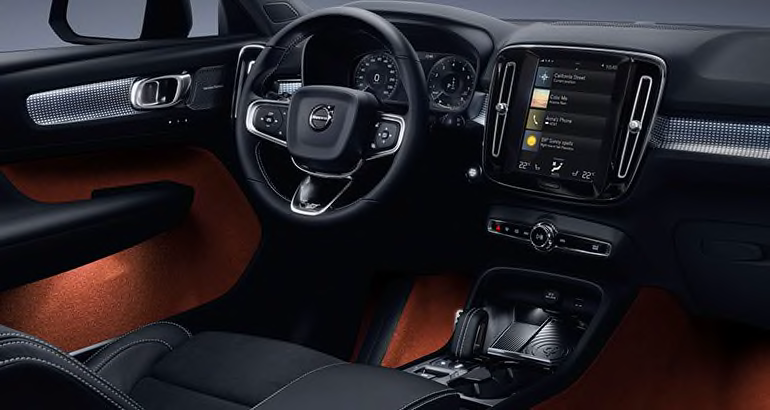 The XC40 rides on a new platform that will be shared with other vehicles built by Geely Automotive, the Chinese corporate giant that purchased Volvo in 2010. It stretches 174.2 inches in total length and rides on a 106.3 inch wheelbase, making it very similar in size to the Mercedes-Benz GLA.
We are eager to test this new model, as the platform shared by the S90 sedan, XC60, and XC90 doesn't shine for ride and handling. And those models have had more than their fair share of reliability concerns.
Starting at $33,200, the XC40 T4 is front-wheel-drive only (at launch) and comes powered a 2.0-liter turbocharged four-cylinder engine with an estimated 200 horsepower. The XC40 T5 is equipped with a more powerful 248-hp, turbo four-cylinder and comes only with all-wheel drive. At launch, the T5 in Momentum trim level will start at $35,200. A plug-in hybrid and pure electric version are also promised to join the lineup.
The XC40 will kick off a new ownership option called "Care by Volvo" that eliminates the need for price haggling or down payments. Volvo says that an XC40 buyer would simply pay a set monthly fee for the car, much like you would for a new smartphone. The buyer then can choose to upgrade to a new vehicle every year, if they like. More details about the program will be released in November at the 2017 Los Angeles Auto Show.