When you shop through retailer links on our site, we may earn affiliate commissions. 100% of the fees we collect are used to support our nonprofit mission.
Learn more.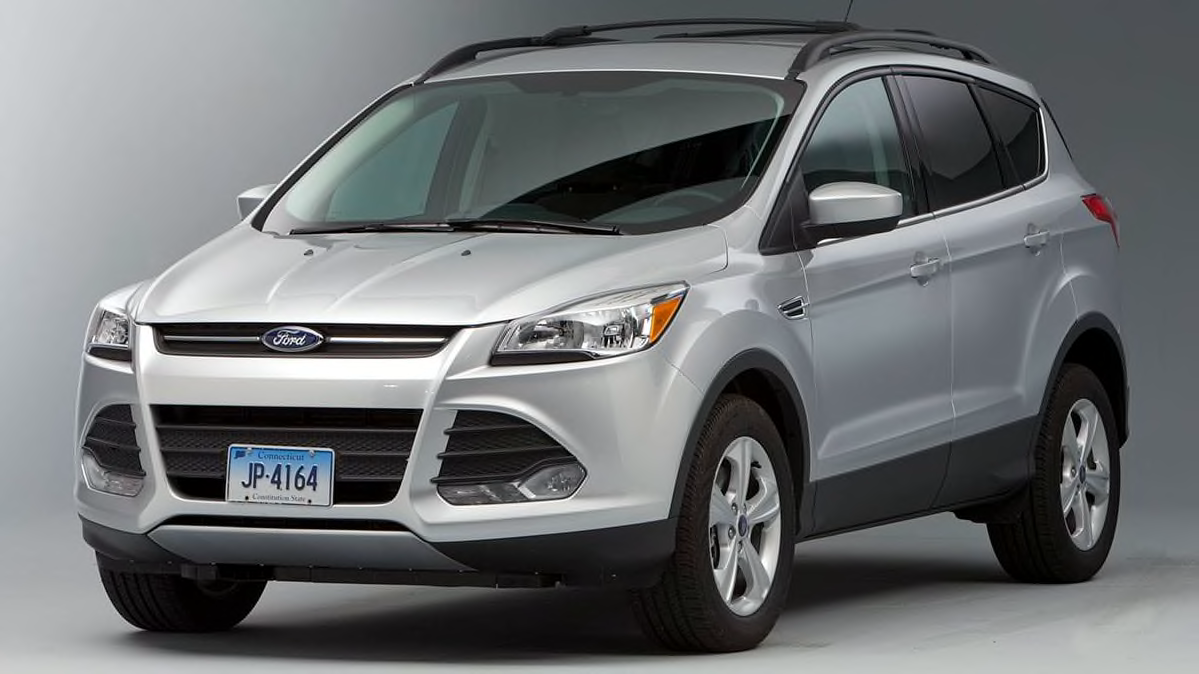 The National Highway Traffic Safety Administration has launched an investigation into dozens of reports of 2013 Ford Escape SUVs losing power suddenly.
This isn't the first time the automaker has had to deal with questions about safety defects on this popular SUV: The 2013 Ford Escape has been recalled 15 times, according to the NHTSA website.
Six of those recalls, spanning July 2012 through December 2015, echo the agency's latest investigation of Escapes that experience "sudden loss of motive power at highway speeds with little or no warning." This new investigation covers 127,000 vehicles, NHTSA says.
This latest preliminary investigation (PE) began July 16 and was only recently made public on NHTSA's website. The agency acted after receiving 40 complaints that the vehicle could stall without warning while driving. Some consumers reported that their 1.6-liter turbo engines didn't immediately restart after stalling.
A PE by NHTSA often leads to an engineering analysis, which can lead to a recall. Even this first step is unusual; the safety agency launched only nine PEs in 2017, a recent Consumer Reports review found.
"We take the safety of our customers very seriously and are absolutely committed to launching products with top quality and addressing issues when we see them," Ford spokeswoman Elizabeth Weigandt said in an email. "We will cooperate with NHTSA on this investigation, as we always do."
Weigandt didn't respond to direct questions about potential quality or safety problems related specifically to the 2013 Ford Escape.
On its site, NHTSA also reported two instances of the Escape engine compartment catching fire. In one, a Dozier, Ala., owner reported a June 6 incident where the SUV stalled, coasted to a gas station, and then caught fire. The vehicle had previously been repaired as part of a 2013 recall to fix a faulty fuel line in its engine compartment.
The new defect investigation underscores ongoing safety concerns with the 2013 Ford Escape. In July 2012, when the model was being introduced, Ford recalled 9,320 SUVs manufactured at its Kentucky truck plant after a factory worker noticed a fuel leak. The company investigated and found that some of the fuel lines could have been damaged during manufacturing.
In December 2012, Ford recalled 80,057 Escapes for fluid leaks that could result in overheating and fires. That recall also covered the 2013 Fusion sedan and included an order to dealers to stop selling any model that hadn't had the defect repaired.
Ford followed those actions with two recalls announced at the same time in November 2013: 9,460 vehicles for fuel-line leaks and 139,917 SUVs for oil leaks and possible overheating and engine fires.
Two more recent recalls have focused on engine wiring issues that could lead to stalling. One action covered 133,227 vehicles in 2014, and another covered 9,017 vehicles in December 2015.
The 2013 Escape underwent a major redesign in that model year. This was the model year where the Escape eschewed its original trucklike body and adopted a look more similar to crossovers from competitors such as Honda, Subaru, and Toyota. CR reliability data has repeatedly shown that quality problems are often worse in the first year of a model's major redesign, and we have long cautioned consumers to wait for manufacturers to work out the kinks before buying.
Owners found that to be the case here, too. The 2013 Escape has received low marks in CR's subscriber reliability survey. Overall, it achieved a below-average rating, but its common trouble spots were the in-car electronics and its drive system.
See the complete Ford Escape road test and ratings.