When you shop through retailer links on our site, we may earn affiliate commissions. 100% of the fees we collect are used to support our nonprofit mission.
Learn more.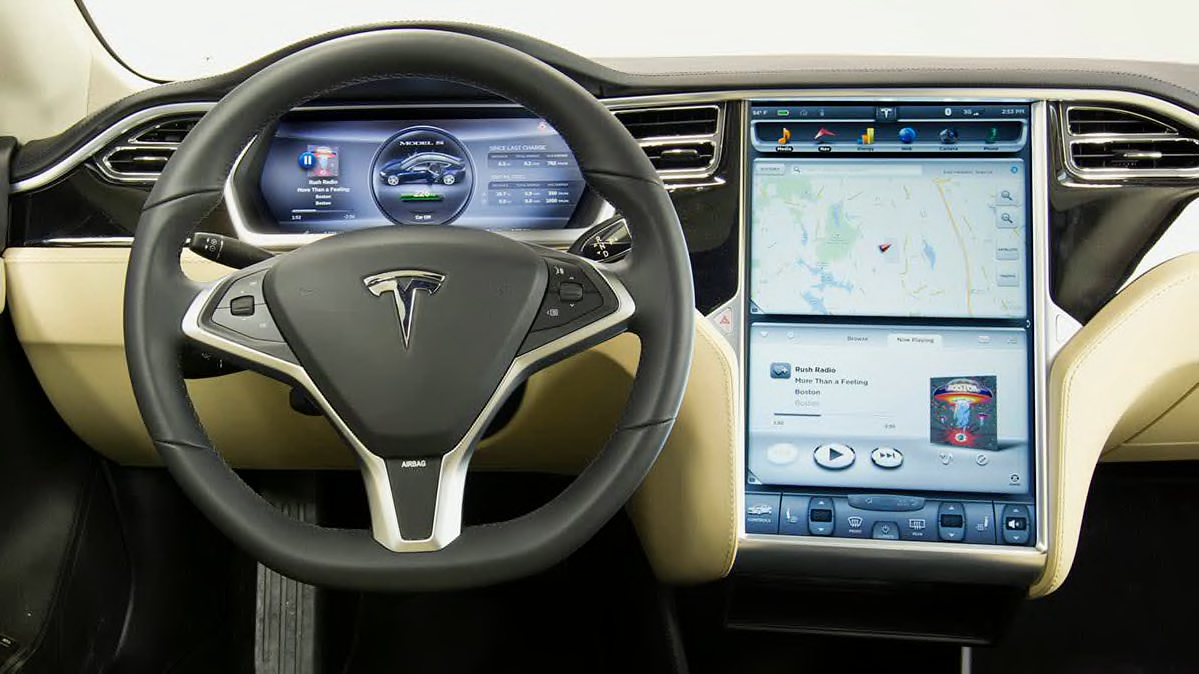 Tesla is recalling some Model S sedans and Model X SUVs to replace a faulty component that may cause the center display screen to stop working. If the screen fails, drivers won't have access to a backup camera display, window defroster and defogger functions, exterior turn signal indicators, and other safety-related functions.
The recall comes after a seven-month-long investigation by the National Highway Traffic Safety Administration. In January, NHTSA requested that Tesla recall the faulty vehicles. So far, the agency says it is aware of 2,399 complaints and field reports, 7,777 warranty claims, and 4,746 non-warranty claims about screen failures on affected vehicles. There have been no crashes or injuries related to the problem.
The fault is due to the display's flash memory chip, which can wear out over time and prevent the display from working properly. According to NHTSA, the display—which Tesla calls a media control unit (MCU)—is likely to fail after about four years of use. The automaker updated its MCU hardware around the middle of 2018.
Owners of affected vehicles have shared some of the MCU issues they've come across in Consumer Reports' Auto Reliability Surveys.
An owner in Michigan complained, "It just goes blank and none of the features are accessible." And a California owner told us: "After one of Tesla's automatic software updates, my screen stopped working correctly, froze sometimes, would turn off and on every 10 seconds, GPS would freeze, music would play for 10 seconds, stop and then start again, etc. Because it also controls the climate, it's problematic."
This isn't just a safety issue for drivers. It also puts the vehicles in violation of federal motor vehicle safety standards that require new vehicles to have a backup camera. Other automakers, including Honda, Toyota, and Subaru, have had to recall vehicles for faulty screens that don't display the image from a backup camera. Few automakers other than Tesla consolidate so many other controls into the same display.
"Losing the center screen is not just about losing radio controls anymore," says Jake Fisher, senior director of auto testing at Consumer Reports. "As automakers continue to pack more features and functions into these large display screens, reliance on them increases. Tesla has incorporated more controls and displays into their center screens than any other automaker, and even announced that the Model S and X gear selector will move into the center screen this year."
The automaker will replace the faulty component free of charge. Owners of affected vehicles who already paid to have the memory on their MCU replaced will be eligible to receive a reimbursement.
The Details
Vehicles recalled: 2012-2018 Tesla Model S sedans and 2016-2018 Tesla Model X SUVs. Only vehicles that use a NVIDIA Tegra 3 processor are included in the recall. Vehicles with Intel Atom processors are not affected.
The problem: The flash memory device used in the MCU—called an enhanced multimedia card, or eMMC—is rated for 3,000 program/erase cycles, which take place during regular use. Over time, the eMMC will wear out in a way that stops the MCU from working properly. Tesla sent out over-the-air updates to inform drivers of the problem, so drivers may get a warning message before their screen fails.
The fix: Tesla will replace the component that contains the faulty 8GB Hynix eMMC with an updated component containing a 64GB Micron eMMC. The automaker says this will address the problem. In addition, Tesla will reimburse individuals who have already paid for an eMMC replacement.
How to contact the manufacturer: Owners may contact Tesla customer service at 877-798-3752.
NHTSA campaign number: 21V035. Tesla's own number for this recall is SB-21-21-001. According to NHTSA documents, the recall is expected to begin on March 30, 2021.
Check to see whether your vehicle has an open recall: NHTSA's website will tell you whether your vehicle has any open recalls that need to be addressed.
If you plug your car's 17-digit vehicle identification number (VIN) into NHTSA's website and this recall doesn't appear, it means your vehicle doesn't currently have any open recalls. Because automakers issue recalls often, and for many older vehicles, we recommend checking back regularly to see whether your vehicle has had a recall issued.
Stay informed about recalls that might affect your vehicle using our Car Recall Tracker. Create a free account now to become a CR member.