When you shop through retailer links on our site, we may earn affiliate commissions. 100% of the fees we collect are used to support our nonprofit mission.
Learn more.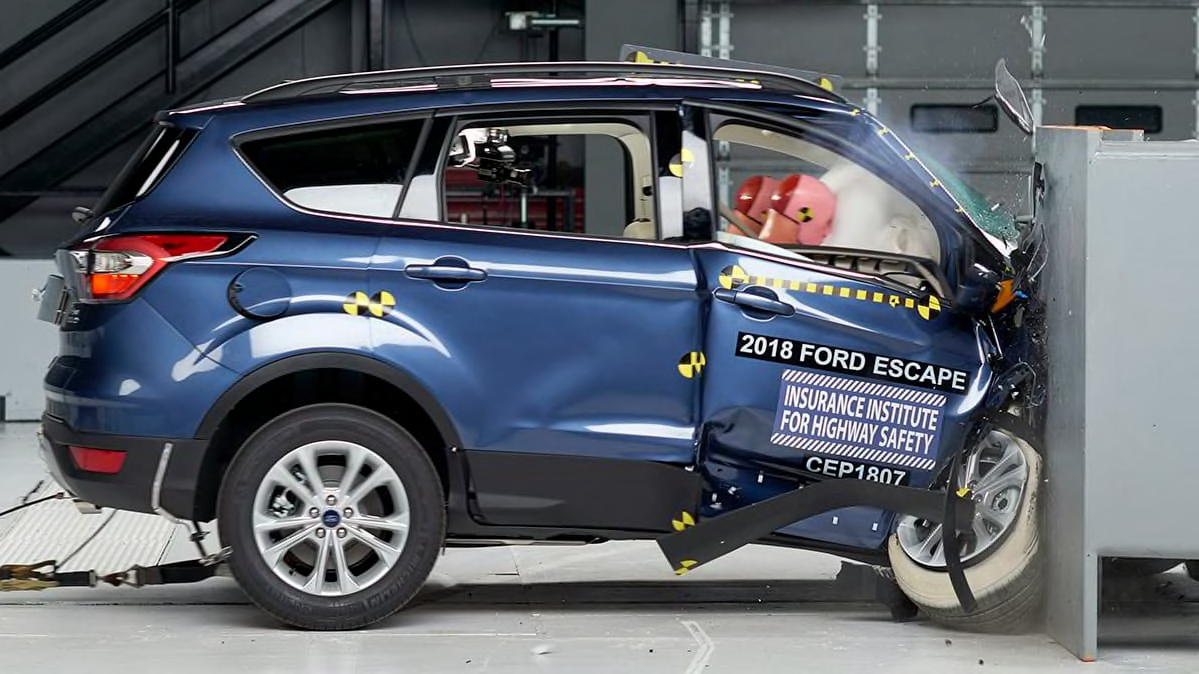 Starting today, Consumer Reports is factoring a new crash test into how our experts calculate a vehicle's Overall Score, a single number that reflects road-test results and other key safety and reliability data so that consumers have an easy guide when considering a purchase.
Because of the change, the Overall Scores of eight CR-rated vehicles dropped. Of the five in that group on CR's recommended list, only the 2018 Ford Escape SUV lost its recommendation due to the points decline.
The Escape received the lowest rating of 'Poor' on the crash test, pushing its Overall Score below CR's threshold for a recommended vehicle. The Ford Explorer also lost points, but it was not a CR recommended vehicle.
The passenger-side small-overlap crash test is conducted by the Insurance Institute for Highway Safety (IIHS). The test is designed to mimic what happens when the front passenger-side corner of a vehicle collides with another vehicle or with an obstacle such as a tree or utility pole, the IIHS says.
According to Ford spokeswoman Elizabeth Weigandt, the automaker has no plans to change the upcoming 2019 Escape or Explorer. But she said Ford expects the all-new 2020 models for the two vehicles to perform well on the passenger-side small-overlap and other crash tests.
Because of the new crash test, the Overall Scores also dropped for the Subaru Forester, Toyota Sienna and RAV4, and Volkswagen Passat, but not far enough for the vehicles to lose their CR recommendations.
The Chevrolet Malibu and Jeep Grand Cherokee also lost points from their Overall Scores. They were not CR recommended vehicles.
CR decided to incorporate the new crash-test results into the ratings because enough different models in the marketplace (90) have undergone the test since IIHS started using it late last year. The majority has shown good results, according to the IIHS.
"Before we incorporate any new crash test into our Overall Score, it's essential that we have data on enough vehicles to make sure that consumers still have better options," says Jake Fisher, director of auto testing at CR. "It doesn't make sense to avoid one car with a bad result, only to buy another that hasn't even been tested and that might wind up being even less safe."
The IIHS has four ratings levels (from best to worst): Good, Acceptable, Marginal, and Poor. Vehicles that score a Marginal or Poor in the test are penalized by CR.
To determine a vehicle's Overall Score, Consumer Reports incorporates a variety of factors, including performance in our road tests, reliability results from our annual survey, owner satisfaction, and safety. Part of our safety assessment includes how well a vehicle performs in various crash tests conducted by the IIHS and federal National Highway Traffic Safety Administration (NHTSA).
According to the IIHS, the passenger-side small-overlap crash test sends a vehicle into a barrier at 40 mph with just 25 percent of the vehicle's front end overlapping the barrier on the passenger side.
The IIHS introduced this test on the driver's side in 2012; it introduced the passenger's side test in late 2017.
Vehicles With 'Poor' Crash-Test Rating
The following vehicles got a 'Poor' IIHS rating in the crash test, and lost points from their Overall Score: the Ford Escape and Explorer, Jeep Grand Cherokee, and Toyota RAV4 SUVs.
Toyota spokesman Corey Proffitt said the automaker has made improvements to the driver and passenger side for vehicles built on Toyota's New Global Architecture platforms. The redesigned 2019 RAV4 will be built on that platform, he said, and it goes on sale at the end of this year.
Berj Alexanian, a spokesman for Fiat Chrysler Automobile (FCA), Jeep's corporate parent, said all FCA vehicles meet or exceed federal safety standards, including the Grand Cherokee. "No single test measures overall vehicle safety," he said in an emailed statement.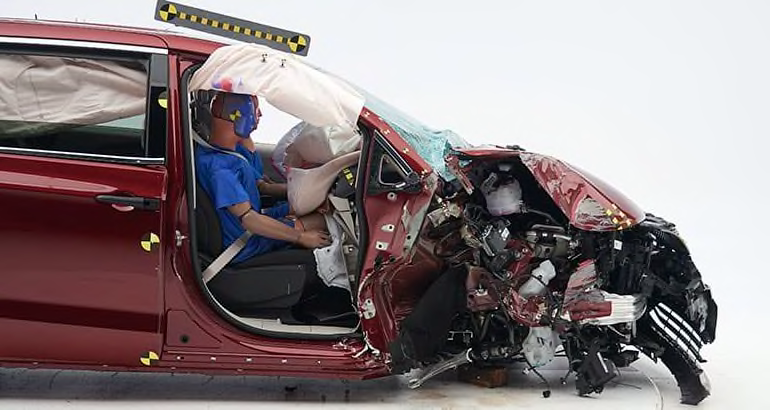 Vehicles With 'Marginal' Crash-Test Rating
The following vehicles received a 'Marginal' rating in the IIHS crash and lost points from their Overall Score: the Chevrolet Malibu sedan, Subaru Forester SUV, Toyota Sienna minivan, and Volkswagen Passat sedan.
Subaru spokesman Dominick Infante says a redesigned 2019 Forester will arrive on the market soon. The 2019 model hasn't been tested by the IIHS, he said, but it will be built on the new Subaru Global Platform, which received significant safety improvements. Subaru's Crosstrek compact SUV and Impreza sedan are also built on that platform, and they've received a 'Good' rating in all IIHS tests, Infante said.
Toyota's Proffitt says that the Sienna is getting only minor updates for the 2019 model year. He said no other details about future Sienna plans have been announced yet.
And a Volkswagen spokesperson said the automaker expects the next-generation Passat to perform better in the passenger-side small-overlap test: "Volkswagen takes the safety and security of its customers very seriously."
A Chevrolet spokesperson said the automaker had nothing to announce about any potential future Malibu changes.