When you shop through retailer links on our site, we may earn affiliate commissions. 100% of the fees we collect are used to support our nonprofit mission.
Learn more.
Most parents and caregivers can't imagine a moment when their mind could wander away from their children long enough to forget they're sitting in the backseat of their car, but it happens in a tragic number of cases every year. Fortunately, there's a solution from General Motors.
There's a real need for it. Heatstroke in cars is the leading cause of noncrash vehicle-related deaths of children under the age of 14 years, according to the National Highway Traffic Safety Administration.
There were 39 heatstroke-related child deaths in the U.S. reported in 2016, according to Jan Null, a certified consulting meteorologist and lecturer at San Jose State University.
Consumer Reports thinks that technology designed to help prevent child heatstroke deaths can be beneficial. But to be effective, it needs to be integrated into the child seat or into the vehicle's own systems. Because most people can't imagine leaving their kids in the car, they're unlikely to buy a warning product, and a system that requires activation each time can easily be overlooked.
This brings us to the integrated Rear Seat Reminder, which General Motors introduced in the 2017 GMC Acadia. It has since been expanded to the following 2017 models:
How Does the Rear-Seat Reminder Work?
This child-reminder system monitors whether any of the vehicle's rear doors have been opened and closed in either of two situations:
Within 10 minutes before the vehicle is started.
Once the vehicle engine is running.
Both will also work if the vehicle is turned on using the remote start on the key fob.
According to GM, when the rear doors have been opened and the vehicle is later turned off, the vehicle will sound five chimes and display the following message in the instrument panel display: "Rear Seat Reminder/Look in Rear Seat."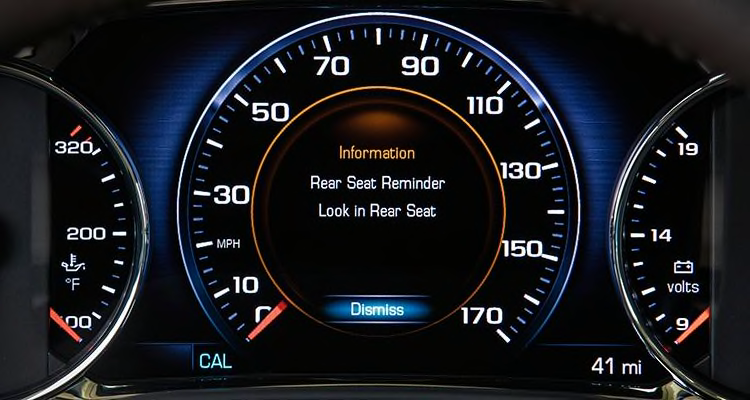 What Makes This Technology Unique?
GM's new feature differs from other technology designed to prevent accidental child heatstroke deaths because it doesn't rely on a weight or pressure sensor, sensors that detect seat-belt use, or any additional actions beyond a consumer's normal routine. Also, it's integrated at the vehicle level rather than into a child's car seat. Previous research by NHTSA and the Children's Hospital of Philadelphia has shown a lack of reliability with some other heatstroke prevention technologies.
The Acadia system relies on a sequencing algorithm of the rear doors opening and use of the vehicle ignition. If the rear doors are used, the assumption is that something or someone is back there.

What We Found
We evaluated the Rear Seat Reminder feature in our own 2017 GMC Acadia and found that the system did exactly what it was claimed to do. In our evaluation, the 10-minute limit of the door being opened before starting the car is quite exact. When starting the car any later than 10 minutes after opening a rear door, the reminder didn't chime when the vehicle subsequently was turned off. Additionally, the algorithm didn't require any vehicle motion or elapsed time between turning the car on and off for the feature to work. In all instances, the reminder chimed and displayed within a second of turning off the vehicle.
This could be helpful in remembering children or pets, but we also found it was a welcome reminder when we put groceries or a briefcase in back.
It's important to note that the reminder feature is activated only once per vehicle ignition cycle. So if you turn off your car during your trip, the rear door has to be opened again to reactivate the feature. But this shortcoming can be anticipated in normal use.
GM is the first vehicle manufacturer to implement an integrated preventative technology into its vehicle, and we are pleased to see that it plans to broaden this in new models.
The simplicity of this integrated solution makes us eager and hopeful to see similar innovations by other vehicle manufacturers. That's why Consumers Union, the policy and mobilization arm of Consumer Reports, has signed on to the Hot Cars Act of 2017 (Helping Overcome Trauma for Children Alone in Rear Seats) to urge vehicle manufacturers to develop and implement heatstroke prevention solutions.
Read our complete GMC Acadia road test.