Find Out Which Hot Wings Advance in Consumer Reports' March Madness Cook-Off
The first round of our chicken wing tournament came to a close with some notable upsets, and 8 contenders advance The Ultimate Hot Wings Tournament tipped off with a flourish—and a few breakout performances.

Just tuning in? In preparation for March Madness, two of CR's culinary pros are pitting chicken wings prepared 16 ways against each other, to determine—once and for all—the best way to make chicken wings at home. We kicked things off on Sunday with a detailed look at the 16 cooking methods we're putting to the test.
The first real smackdown took place in our grill lab, where par-boiled wings held their own against wings wrapped in foil. Convection roasting and air frying dominated their regions while the boil-and-broil method stole the show in CR's range lab.
Below, we've got play-by-play (ahem, bite-by-bite) coverage of each matchup. Here's where the bracket stands as we head into the Tasty Eight.
As of April 2, our #WingMadness Tournament has wrapped.
Catch up on each round:
Convection vs. Bake + Roast
Winner: Convection

The convection roasted wings were already out of the oven and crackling before the baked wings had a chance. Hot wings cooked on convection were uniformly golden brown and crisp. The meat was juicy and tender. We gobbled them up in minutes, licked our fingers clean, and still had to wait another 45 minutes for the baked wings to finish.
And boy, was it ugly. After 1 hour and 20 minutes in the oven, the wings emerged as shriveled, hollow shells of their formerly plump selves.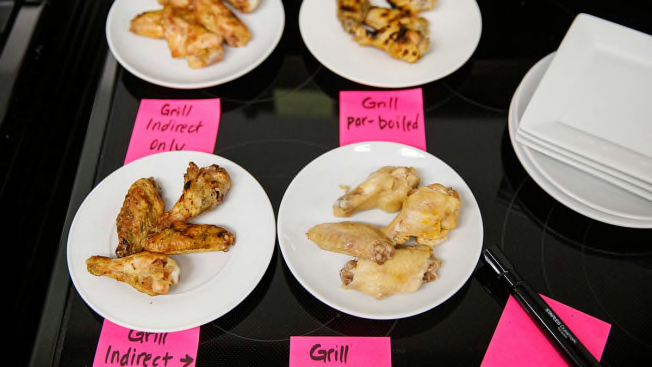 Grill, Indirect Heat vs. Grill, Indirect + Direct
Winner: Grill, Indirect + Direct
Each team performed admirably, but in the end, the wings cooked over indirect heat then finished over high heat made the cut to the next round. They had more distinct browning, and even a few grill marks. The skin was crispier and in turn, sauce naturally clung to the hot wings more than to those cooked solely over indirect heat. Wings cooked entirely on indirect heat were tender, but they just didn't brown and crisp up in the way we'd hoped.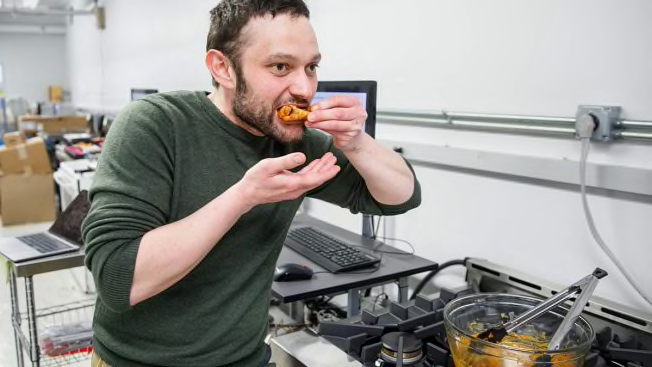 Broil, High vs. Broil, Low
Winner: Broil, Low

This one was a nail-biter, but in the end, low broil carried the day by the smallest of margins. Both methods produced wings that were crispy on the outside, but a low broil produced wings that were slightly more uniform in their golden appearance and crisp skin.
When broiled under high, the skin was overdone and burnt in some spots because we had to keep cooking the wings until the meat was cooked through.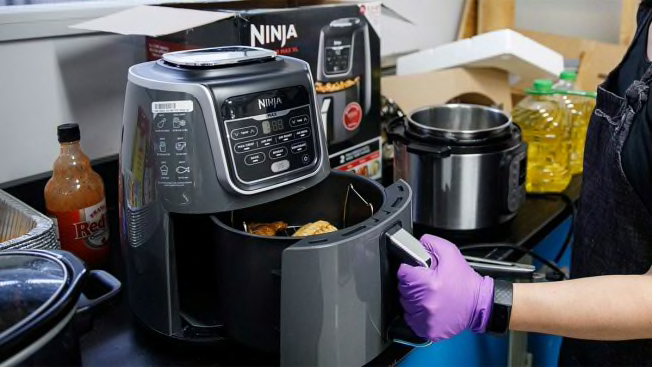 Slow Cook vs. Air Fry
Winner: Air Fry
While some of the cooking methods above struggled to get out of the gate, the air fried wings put the slow-cooked wings to bed before the sun went down. The wings came out dark brown and crispy on the outside and juicy on the inside. The sauce coated the wings like they were made for each other.