When you shop through retailer links on our site, we may earn affiliate commissions. 100% of the fees we collect are used to support our nonprofit mission.
Learn more.
The 2018 Nissan Leaf electric car has been significantly updated with a more powerful electric motor, a longer-lasting battery pack that promises 150 miles of driving range, new driver-assist features, and a new exterior design. Despite its mechanical and cosmetic improvements, the Leaf faces formidable competition that didn't exist when it was introduced seven years ago.

Newer EVs, such as the Chevrolet Bolt and the Tesla Model 3, have zoomed past the current Leaf in terms of technology and, perhaps most important to many drivers considering an electric car, available driving range.

The outgoing 2017 Nissan Leaf offered only 107 miles of range. Meanwhile, the Chevy Bolt and Tesla Model 3 are both rated by the EPA as well above 200 miles before needing a recharge. In fact, the Bolt hatchback recently set a record at Consumer Reports for electric-vehicle driving range when it ran a total of 250 miles before running out of juice. That's not only better than the new 2018 Leaf's 150 miles of driving range but it also exceeds the CR-tested range of both CR-owned Tesla Model S 75D and Model X electric vehicles.
To counter that, Nissan promises a more powerful battery that should come a year after this new Leaf, one that should be able to reach 200 miles of range. Will EV buyers place more of a priority on range or on a lower price? Nissan appears to be hedging its bets on the latter, at least for now.
In introducing the updated Leaf, Nissan emphasized the car's improved driving range along with its value quotient. "When we launched Leaf in 2010, it instantly became the most affordable, mass market EV in the world," says Jose Munoz, chief performance officer at the Nissan Motor Company. "We are not walking away from that proposition."

When it goes on sale in early 2018, the new Leaf will carry a base price of $30,975 (including a $885 destination charge). That places the improved model at—if not slightly cheaper—the price of the outgoing version.
Until Nissan sells 200,000 electric cars, which it hasn't done yet, the new Leaf is still eligible for the $7,500 federal tax credit for electrified vehicles. (Nissan can sell about 85,000 more EVs that will be eligible for the full credit before the credits begin to phase out.) The Leaf also undercuts the Bolt's price by roughly $6,500. However, for some EV shoppers, the Bolt's substantial edge in driving range could be worth the extra money.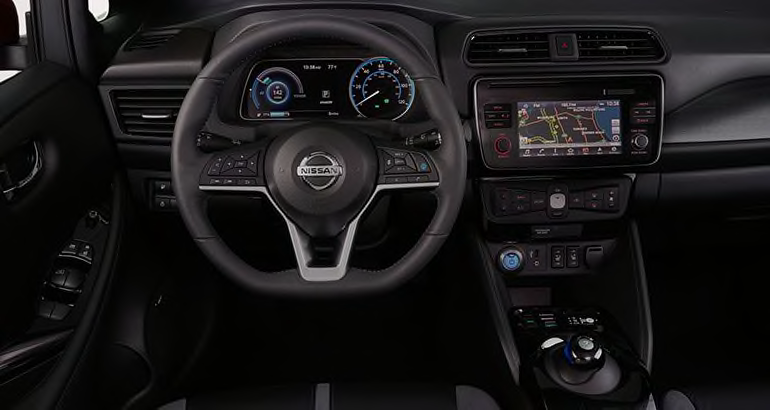 Nissan has equipped the new Leaf with a more powerful 40-kWh lithium-ion battery; there's a 30-kWh pack in the 2017 model. The motor creates 147 horsepower, a sizable step up from the current model's 107. This extra power should give the Leaf improved acceleration and maybe a sportier driving experience.
In its testing of the current Leaf, CR applauded its quiet cabin and comfortable ride but faulted it for handling that "isn't particularly agile." The outgoing Leaf also scored a Poor rating in the IIHS small-overlap crash test, meaning it couldn't earn CR's Recommended status.
About a year after this new Leaf arrives, Nissan will offer it with a more powerful, 60-kWh battery. This should provide the Leaf with upward of 200 miles of range, Nissan says, putting it on par with the Bolt and Model 3 ranges. Further details about this coming model are scarce, though along with this boost in power (and range) will be a higher price.
"One can't help guess that Nissan was originally planning for a 40 kWh battery but late in the game was caught by surprise by the Chevy Bolt," says Gabe Shenhar, associate director of CR's auto test program. "That might explain the one-year delay until they offer the 60 kWh battery and more powerful motor for 2019."
George Peterson, president of AutoPacific, an automotive marketing research firm, told Consumer Reports the new Leaf has only one chance to make a good first impression. "Nissan will have a longer-range battery next year," he said. "But during the launch period of the second-generation Leaf, it won't be available, and those months are when its image and reputation are established." Peterson added that his firm's research had found the "EV range sweet spot is 225 miles," which is well above the 2018 Leaf's capability.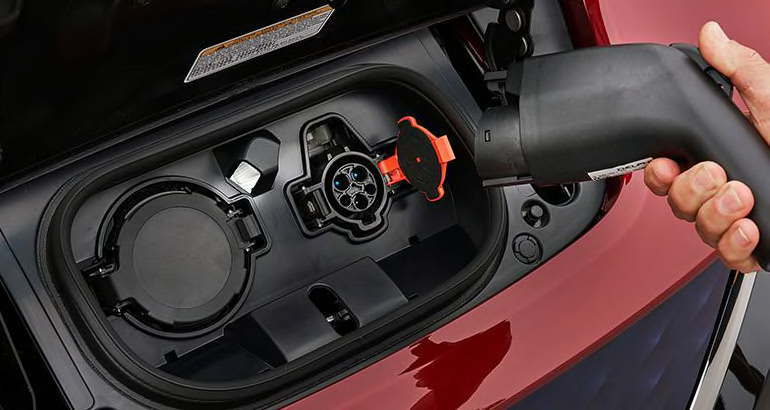 New High-Tech Features
It's not only about range and battery. Nissan has equipped the Leaf with two new features, Pro Pilot Assist and E-Pedal:
Pro Pilot Assist is a lane-centering intelligent-cruise-control system; Nissan carefully avoids calling it an "autonomous drive" feature. In practice, Pro Pilot maintains a set speed and controls the distance between you and the car ahead, just like adaptive cruise control does, but adds lane-centering technology as well. When necessary, the system will bring the car to a complete stop, and then resume acceleration once traffic begins to move again. The self-centering action requires the driver to keep at least one hand on the steering wheel at all times. Pro Pilot Assist monitors the pressure of the driver's steering input—basically, it makes sure the driver is providing hands-on guidance. If the driver tries to go hands-free, the system begins a series of audible and visible warnings after 2 to 3 seconds. Should these warnings go unheeded for upward of 20 to 30 seconds, the car will turn on the hazard lights and eventually bring itself to a complete stop in its lane.
E-Pedal, which comes standard on the 2018 Leaf, is meant to reduce driver fatigue by offering one-pedal driving. With E-Pedal engaged, once a driver takes his or her foot off the gas pedal the Leaf will automatically begin to slow itself down. During this process, power is fed back to the battery via regenerative braking. The car will then hold itself at a stop, without any need to touch the brake pedal, until the driver once again touches the gas pedal.
These features—not to mention the more conventional exterior design—should go some way toward boosting the appeal of the Leaf. Range, however, could remain the new model's most limiting factor. The more powerful, longer-lasting, and pricier version arrives for the 2019 model year.
Consumer Reports will be purchasing a new Leaf when it goes on sale and will put it through its extensive testing.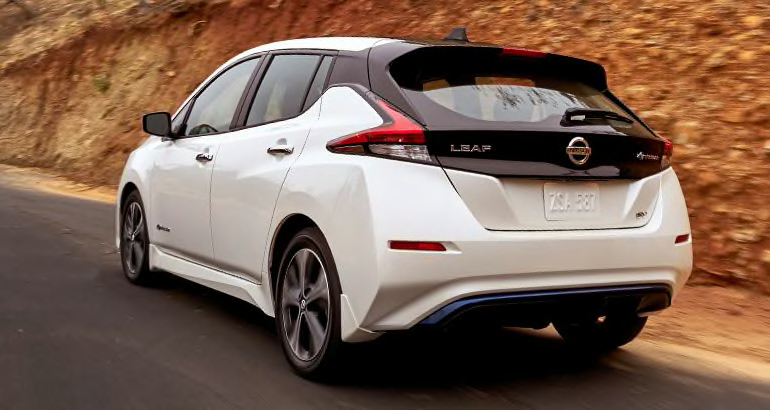 Electric Cars 101
Electric cars are bringing some of the biggest changes the auto industry has seen in years. On the "Consumer 101" TV show, Consumer Reports expert Jake Fisher explains to host Jack Rico why these vehicles might not be as newfangled as you think.