When you shop through retailer links on our site, we may earn affiliate commissions. 100% of the fees we collect are used to support our nonprofit mission.
Learn more.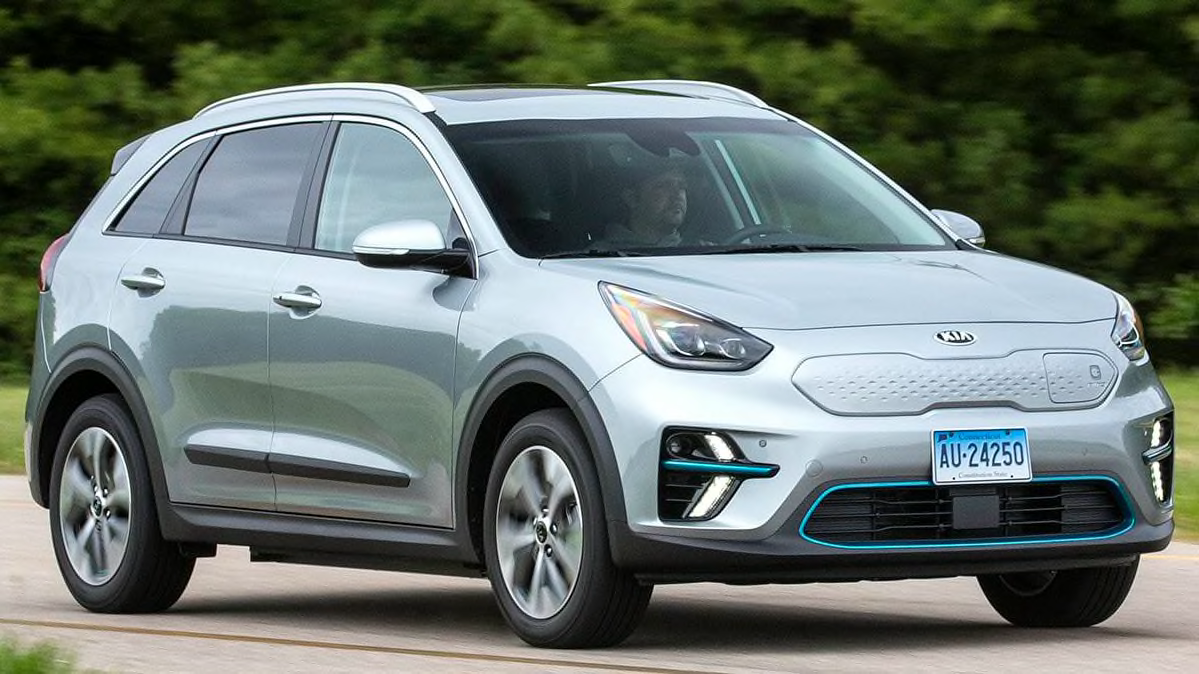 Update: Since this first drive was originally published in June 2019, we finished testing the Niro EV.
See the complete Kia Niro EV road test.
The Kia Niro has been on sale nationwide in traditional gasoline and plug-in hybrid versions, but now a pure electric model is on sale in some states, giving consumers a new, non-luxury electric car to choose from.
There are several reasons to like it: It has a 239-mile range between charges and a spacious interior. It can cost less than a Tesla Model 3, and it offers more cargo room and more comfortable appointments than a Nissan Leaf or a Chevrolet Bolt. Its hatchback design is practical, and its SUV-like ride height offers a good view of the road.
It's a pleasant and practical choice for drivers who want to go electric. The Niro shares much of its electric powertrain and other components with the laudable Hyundai Kona EV.
We recently bought a Niro EV of our own to put through our thorough testing regimen. These are our initial thoughts.
What we bought: 2019 Kia Niro EV EX Premium
Powertrain: 201-hp electric motor, one-speed direct drive, 64-kWh battery; front-wheel drive
MSRP: $44,000
Options: $2,275 (battery heater, heat pump, heated steering wheel, LED headlights, auto-dimming rearview mirror, front and rear park distance warning, cargo cover, carpeted floor mats, wheel locks)
Destination fee: $995
Total cost: $47,270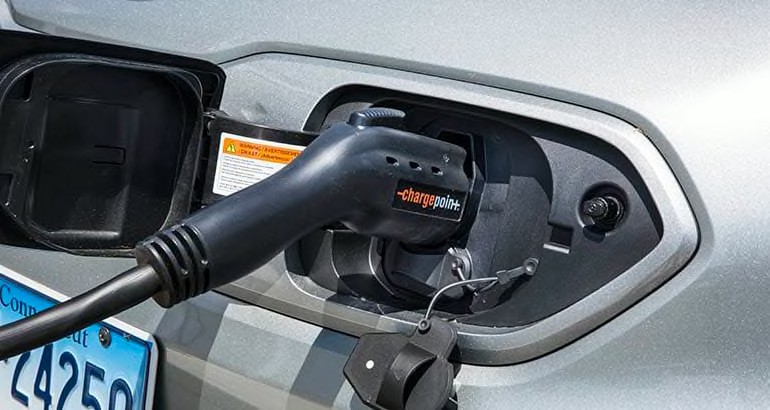 What We Like... So Far
The Niro EV's EPA-estimated range of 239 miles is more than that of the Nissan Leaf Plus, and about the same as the Chevrolet Bolt and Tesla Model 3 Standard Range. But that is less distance per charge than the Kona EV or Tesla Model 3 Long Range promise. So far, the range displayed on its dashboard has been quite accurate on our daily commutes.
We like the practical interior, which has lots of cubbies for storing small items and even a place for a small handbag up front. There are cupholders that can neatly disappear into the center console to make room for additional storage for larger objects.
In the back, the EV's cargo space is small, with slightly less space than the Niro Hybrid. We found that version holds two suitcases and two duffel bags comfortably. There's also a unique trim inside and out that distinguishes the all-electric Niro from the hybrid and plug-in models.
It's well appointed, too. The base model comes with tons of features such as automatic emergency braking, blind spot warning, lane keep assist, and adaptive cruise control. Android Auto and Apple CarPlay compatibility are standard, and the 7-inch touch screen is quick and responsive. Our upscale EX Premium model added leather seats with contrasting piping, a heated steering wheel, heated front seats, and a large sunroof.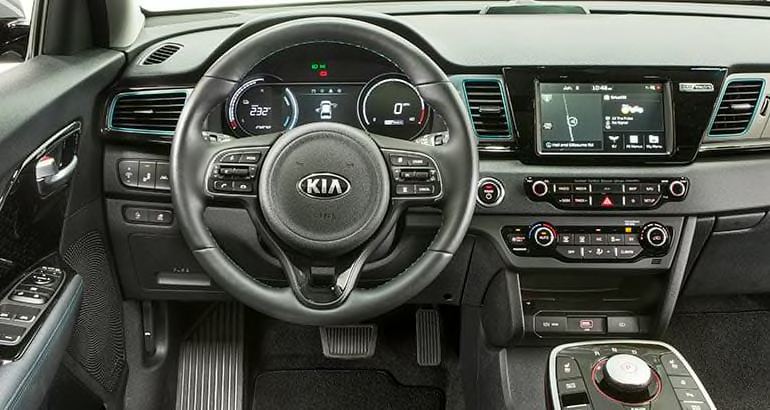 What We Don't Like
The Niro feels front-heavy and unbalanced compared with the Hyundai Kona and Tesla Model 3, which are more fun to drive. When accelerating quickly onto a highway on-ramp there's even some torque steer, which happens when a car pulls to one side due to how the power is distributed on a front-drive vehicle. Despite its instant acceleration, which is common to all electric cars, the Niro's heft makes it feel more sluggish than other EVs.
We found the Niro's steering vague, and its ride has short, firm motions. By comparison, the Kona feels well-balanced and responsive.
What We'll Keep Our Eyes On
Although the Niro has an unconventional rotary-knob gear selector, it's easy to get used to.
The seats feel comfortable enough on short trips, and they're certainly better than the flimsy-feeling ones in the Bolt. Still, we need to take the Niro on an extended trip to see if they remain supportive over long stretches.
Finally, we had some issues with traction when we tested the Kona EV during the winter. The wheels spun on an icy road and when driving on wet pavement. As the Kona EV and Niro EV have similar drivetrains, we want to see how the Niro handles when there's snow and ice on the road.
As with the Kona, the Niro EV is only available in certain states, including California, Connecticut, Georgia, Hawaii, Maryland, Massachusetts, New Jersey, New York, Oregon, Rhode Island, Texas, Vermont, and Washington.
Some automakers only sell their EVs in states with a Zero Emission Vehicle (or ZEV) program requiring them to diversify their lineups to include EVs, according to Shannon Baker-Branstetter, Consumer Reports' manager of cars and energy policy. Some EVs are offered nationwide, but states without a ZEV program tend to have fewer EV models to choose from.
Kia says the Niro EV will be available nationwide at some point, but a specific date hasn't been announced.
CR's Take
The Kia Niro EV is pretty expensive for what it delivers. The base Niro EV starts at $38,500. A $7,500 federal tax credit essentially brings that down to $31,000.
The Hyundai Kona EV starts at $36,950 or $29,450 after the tax credit.
For the extra money, the Niro only offers slightly more passenger room and a bit more cargo space. Check back for our full review of the Niro EV in a few weeks.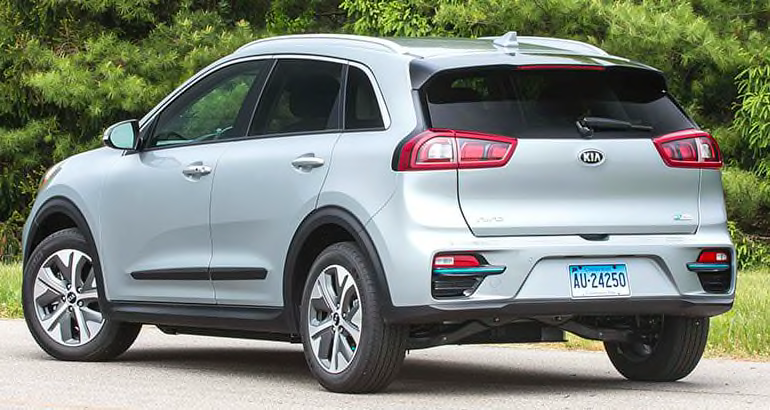 Electric Cars 101
Electric cars are bringing some of the biggest changes the auto industry has seen in years. On the "Consumer 101" TV show, Consumer Reports expert Jake Fisher explains to host Jack Rico why these vehicles might not be as newfangled as you think.