When you shop through retailer links on our site, we may earn affiliate commissions. 100% of the fees we collect are used to support our nonprofit mission.
Learn more.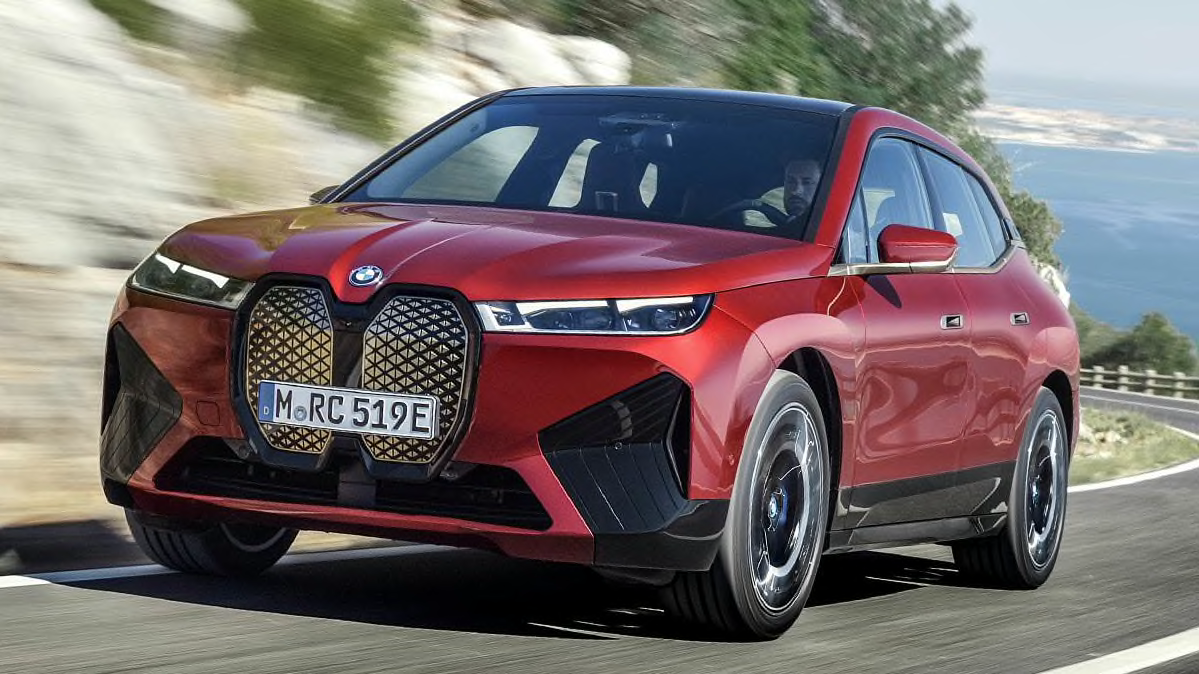 BMW is about to launch a new electric flagship. The iX SUV was designed from scratch to showcase the automaker's latest tech, and it's nothing like any BMW we've seen before. Whether that's a good thing is a matter of personal preference—but, styling aside, there's no arguing that the iX is a technological tour de force.
From a new powertrain that promises a 300-mile range to the squared-off steering wheel and wraparound touch screen, the SUV is a clear shot at the minimalist Tesla Model Y and the comparatively staid Audi e-Tron.
But beneath the flash and frippery, the iX also appears to be quite practical. At its heart, it's an SUV with seating for five, an airy interior, and plenty of creature comforts. That means it might win over some luxury SUV buyers who weren't planning to go electric. We plan to purchase our own iX to test as soon as it goes on sale in early 2022.
What it competes with: Tesla Model Y, Audi e-Tron, Jaguar I-Pace
What it looks like: The future of BMW
Powertrains: 500-hp dual-motor electric powertrain; all-wheel drive
Price: $80,000-$100,000 (est.)
On-sale date: Early 2022
CR's Take
New from the ground up, the iX redefines both what an EV can be and what a BMW should be. The styling is certainly polarizing, but we can't deny that BMW's designers and engineers took advantage of every aspect of an all-new, all-electric vehicle platform.
Outside
From the i8 plug-in hybrid to the all-electric i3, BMW's electrified vehicles have pushed the boundaries of exterior styling, and the new iX is no exception. The front view is dominated by a vertical grille that overflows the bounds of the vehicle's leading edge. It's surrounded by a massive, body-colored bumper and flanked by disproportionately small headlights.
Exterior trim can be ordered in either black or blue, and wheel sizes span from 19 inches to 22 inches. The gargantuan rearmost pillar puts a surprisingly large distance between the small rear side windows and the tailgate, so we're not optimistic about side and rear visibility. Although the rear windows swoop upward like on other BMW SUVs, the tailgate bulges out from the rear of the vehicle. We'll reserve judgment until we see it in the flesh, but we think the rear corner appears somewhat ungainly.
BMW says the iX will have dimensions similar to those of the current X5 SUV, except it won't be as tall. Slim mirrors and hidden door handles help maximize range, and visible carbon fiber isn't just for show—it's also an integral part of the iX's lightweight design.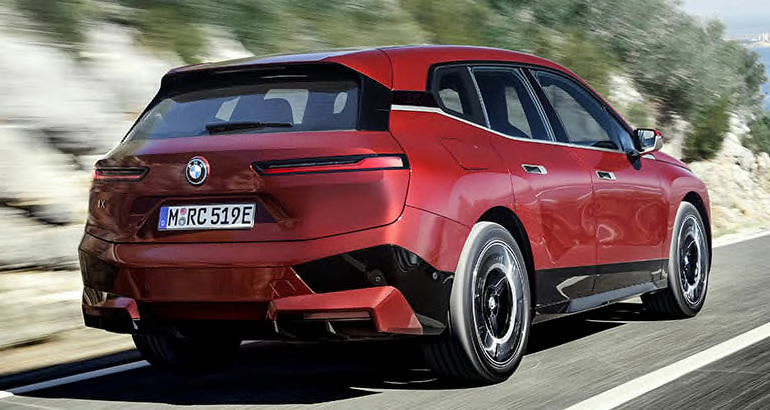 Inside
The iX's interior is so radically different in so many ways that it's hard to focus on one aspect. For instance, the steering wheel is hexagonal—which BMW says improves grip and visibility, two large curved displays face the driver, and controllers can be ordered with jewel-like beveled surfaces.
BMW claims that because the iX was designed as an all-electric vehicle from the ground up, it freed designers to add more open space and storage. For example, the rear floor is entirely flat, and there's storage beneath and in front of the console between the two front seats. Speakers can be hidden inside the seats to maximize space and uninterrupted surfaces. Head restraints are integrated into the front and outboard rear seats, and rear passengers have USB-C ports and hooks that can hold coats or tablets.
Optional interior trims include matte wood and asymmetrically layered upholstery that mixes leather and microfiber, along with more traditional quilted leather. A very large panoramic glass roof that uses electronic dimming to block out the sun is also available, as is four-zone climate control and radiant surface heating for not only the steering wheel but also the glove compartment, door panels, and center armrest.
Aside from the giant touch screen, the driver can control various vehicle functions with an iDrive controller in the center console. Next to the controller is a volume knob and a new rocker switch gear selector. We'll be sure to pay special attention to the setup to determine how intuitive it is—and whether it adds needless distraction.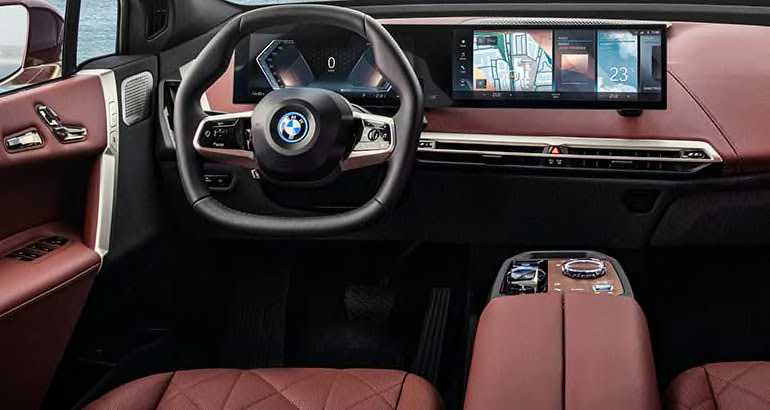 What Drives It
The iX will use two electric motors and a high-voltage battery, which is placed low beneath the passenger compartment. We're still waiting to learn more details about the drivetrain, but we do know some of BMW's performance claims. The automaker says to expect all-wheel drive, 0-to-62-mph acceleration in under 5 seconds, a range of 300 miles according to Environmental Protection Agency test procedures, and the ability to add about 75 miles of charge to the battery in just 10 minutes of DC fast charging. A full recharge from empty to full takes less than 11 hours at a Level 2 (240 volt) charging station, which is on a par with similar EVs.
One unique claim from BMW is that the new electric powertrain debuting in the iX does not contain any rare earth materials. These materials are frequently used in the production of EVs, but mining and refining them can have adverse environmental consequences.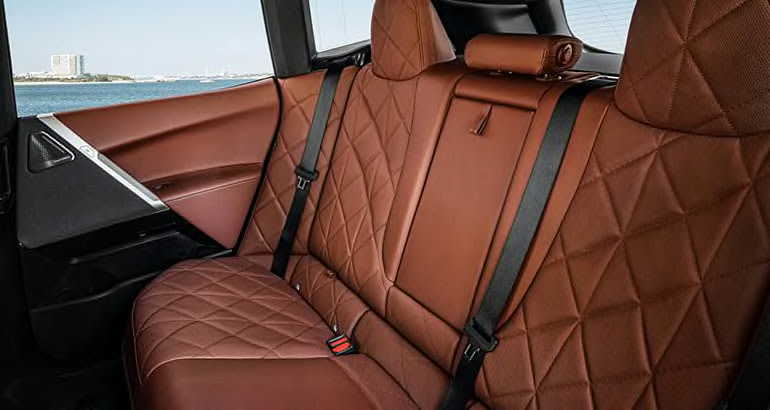 Safety and Driver Assistance Systems
When it comes to EVs, driver assist systems tend to get as many headlines as battery capacity. But BMW hasn't shared any information about which features will be available on the new iX except to say that it will have "significant computing power" and sensors with "exceptional capability." There is a radar in the front and a self-cleaning backup camera in the rear. In addition, the iX will be able to receive over-the-air software upgrades and updates.