When you shop through retailer links on our site, we may earn affiliate commissions. 100% of the fees we collect are used to support our nonprofit mission.
Learn more.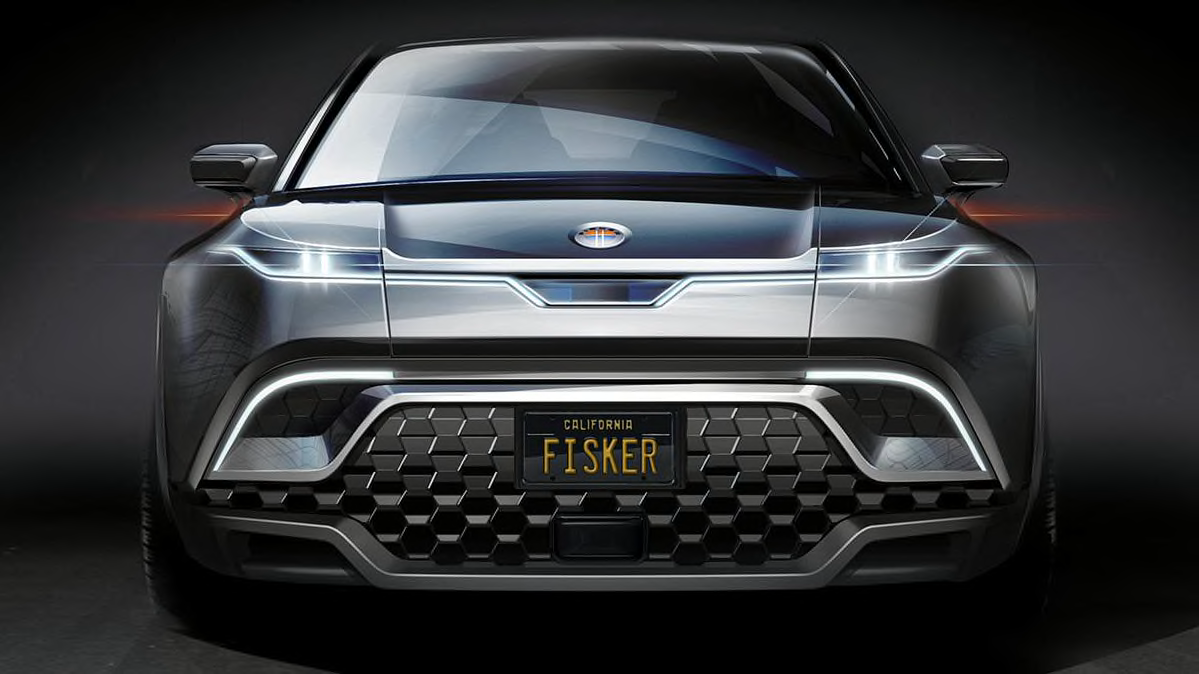 Fisker announced an all-electric SUV just days after Tesla unveiled details about the Model Y crossover SUV, the latest entry to its lineup.
Fisker wants to challenge Tesla, the industry leader, and has planned its SUV as the first in a series of three vehicles. The SUV is scheduled to go on sale in the second half of 2021, the company says. Fisker says it will show a prototype later this year.
The company says that its previously shown EMotion luxury sedan will soon join its fleet. Details on this new EV are limited so far.
What it competes with: Jaguar I-Pace, Polestar 2, Tesla Model Y
Powertrain: Dual-motor electric, one-speed direct transmission; rear- or all-wheel drive
Price: $40,000
On-sale date: Late 2021
Outside
Styling is a key facet for Fisker vehicles because the company's founder, Henrik Fisker, is a renowned designer who built his reputation by creating cars for Aston Martin and BMW. He later started his own company, Fisker Coachbuild, to create rebodied luxury cars.
More recently, Henrik ran Fisker Automotive, a company that produced the Fisker Karma, an electric-powered luxury sedan with an onboard engine to extend range. Fisker Automotive eventually went bankrupt, and its assets were purchased by a Chinese company that has continued the Karma under the brand name Revero.
The new Fisker Inc. says it is creating a range of models that combine electric mobility with stylistic flair.
The new, as yet unnamed SUV has been shown only with the front image above, so we don't know yet what it looks like in profile. The grille has a carbon-fiber-like appearance, and it can direct air as needed for cooling, which suggests an active grille system. The shape is evocative of both the Aston Martin grille and the Joker-like grin of the Karma.
What Drives It
The electric SUV will be available in all-wheel drive using two motors, one up front and the other at the rear. The energy will be stored in a lithium-ion battery pack with a capacity of at least 80 kilowatt-hours.
Fisker claims that the range will be approximately 300 miles—the same as the Tesla Model Y Long Range, which is likely to be the Fisker SUV's direct rival.
CR's Take
Tesla has inspired a wave of competitors as new companies have entered the expensive, challenging world of automobile manufacturing. Fisker has struggled to gain traction through its past incarnations.
At CR, we had a troubled experience with our own Karma test car.
As we wrote in 2012: "There are bigger issues here, compromises inherent in the car's basic design and execution. The Karma falls short with: poor dash controls, limited visibility, a cramped interior, awkward access into and out of the seats, an engine that is noisy when running, long battery recharge times, and a small backseat and trunk. The Karma's heavy, SUV-like weight affects agility and performance, and the Karma lacks the oomph you would expect. Expectations are high with a car that retails for more than $100,000. And this car fell well short."
But this is a different company with different technology.
Still, many questions remain, including: Will this model make it to production? This is a fair question, as it is for other upscale EV startups, such as Faraday Future, Lucid Motors, and Rivian.
Fisker says it is still selecting a production facility in the U.S. Henrik has said that sales will be direct from the company and that service will be handled through franchise outlets. Even when the logistics have been worked out, competition will be tough, with most major automakers now scrambling to finalize EV offerings. And they have factories, stores, and service centers already in place, and they have deep pockets.
Fisker claims to have a price edge compared with the Model Y, stating that its SUV will start below $40,000. When asked about the SUV, Fisker would not provide further details, including whether that price factors in the federal tax credit and potential gas savings, compared against a conventional model—both strategies Tesla has used.
The Tesla Model Y is scheduled to begin production late next year. The lowest price at that time will be $47,000 for the Long Range Rear-Wheel Drive model, Tesla says. A Standard Range model will be available for less in early 2021.
Will Fisker have the product and cachet to take a slice of the market from Tesla? Time will tell.
Is an Electric or Hybrid Car Right for You?
With longer range batteries and more places to charge, electric cars are becoming a popular choice for drivers who want to reduce their consumption of fossil fuels. On the "Consumer 101" TV show, Consumer Reports' expert Mike Monticello explains to host Jack Rico what you need to know about this technology.