Preview: Fisker Ocean Sails Into Tesla Model Y Waters
Scheduled to go on sale late in 2022, this sleek electric SUV approaches affordability but could attract well-heeled car buyers, too Fisker is poised to return to the automotive market—after being absent for about a decade—with its all-new Ocean electric vehicle. Making a bold attempt to go up against larger, established automakers, the Ocean is a distinctive-looking SUV that appears well-positioned to compete with the Hyundai Ioniq5 and Tesla Model Y, among others.
What it competes with: Audi Q4 E-Tron, Ford Mustang Mach-E, Jaguar I-Pace, Polestar 2, Tesla Model Y
Powertrain: 275-hp, single electric motor, front-wheel drive; 540-550-hp, dual electric motors, all-wheel drive; 1-speed direct-drive transmission
Starting price range: $37,499-$68,999
On-sale date: Late 2022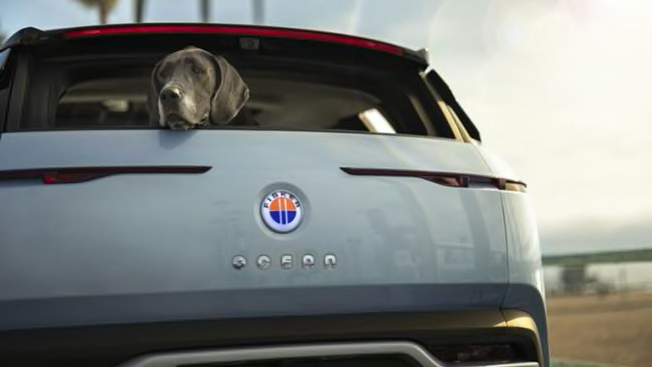 A lot has changed since the debut of the Fisker Karma a decade ago. For starters, more people are buying electric cars. The field in which the Fisker Ocean will compete is increasingly crowded with competent-looking SUV models as automakers begin shifting focus toward electrification. Until now, EV sales have been dominated by Tesla. But that could change, especially if other automakers can build new, exciting options that work as well as vehicles like the Model Y.
What remains to be seen is how good the Ocean ends up being. Like its predecessor, it looks great. But looks aren't everything, and Fisker's last model suffered from a number of design flaws. To be fair, though, the Ocean is an entirely new model built on a platform underpinned by new technology. Fisker Inc. is also a different company than Fisker Automotive, which originally built the Karma.
Although Fisker originally said the Ocean would be built in the U.S., the company partnered with Magna-Steyr, an Austrian automotive supplier and contract manufacturer, to build the new SUV at a facility in Graz, Austria. Magna-Steyr builds other vehicles including the Toyota Supra and the Jaguar I-Pace EV.
The Ocean will be sold globally, and Fisker is touting something it calls the Flexee Lease, which purportedly does away with long-term contracts and allows 30,000 miles of driving per year.
Henrik Fisker, the company's founder, said sales will be direct from the company and service will be handled through franchise outlets. Fisker says it plans to open two "brand experience centers" in summer 2022, one in Los Angeles and another in Munich. Even when those logistics have been worked out, competition will be tough considering all the new EV offerings from major automakers. Those companies have factories, stores, and service centers already in place, and they have deep pockets.
Styling is a key facet for Fisker vehicles, because Henrik Fisker is a renowned designer who built his reputation by styling cars for Aston Martin and BMW. He later started his own company, Fisker Coachbuild, to create rebodied luxury cars.
More recently, Henrik ran Fisker Automotive, a company that produced the Fisker Karma, an electric-powered luxury sedan with a gas engine to extend its range. Fisker Automotive eventually went bankrupt, and its assets were purchased by a Chinese company that has continued building the Karma under the new model name Revero.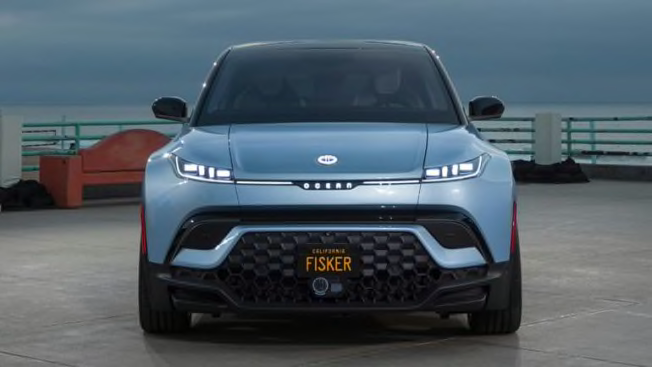 The new Fisker company says it's creating a range of models that combine electric mobility with stylistic flair.
As far as styling, the Ocean could pass for a cousin of the Range Rover Evoque, although the front view also has hints of the Kia Soul. Either way, the Ocean's aesthetic is pleasing to the eye, and its razor-thin tail lamp assemblies give it a distinctive aspect from the rear. The roof-mounted solar panels are embellished with quadrate accent lines that give the top of the car a Tron-like futuristic feel. 
Large wheels, slabby side panels, and a relatively short greenhouse give the Ocean a rakish look. The wheels will be available in 20- and 22-inch sizes.
Fiskers says the Ocean's five-passenger interior will be entirely vegan, featuring recycled materials such as old fishing nets, T-shirts, and rubber in its construction. There aren't many images of the interior available yet, but based on what we've seen, the Ocean's innards don't look like the actual ocean, which in some places is full of old fishing nets and T-shirts. A minimalist aesthetic reigns supreme, with a spare dash punctuated only by the main touch screen and a small instrument screen in front of the driver. The seating upholstery and corresponding dash accent look to be made from a lightly textured fabric.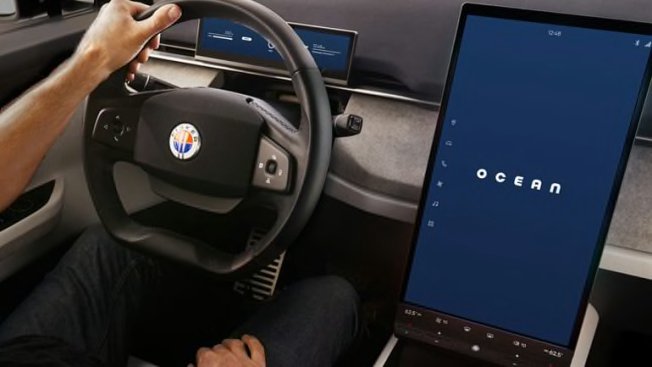 The 17-inch center display defaults to a portrait-style orientation that's configured for vehicle-related controls. When the Ocean is parked, the screen can rotate, entering what Fisker calls "Hollywood mode," which allows the occupants to watch movies in a more suitable landscape-style display.
No word yet on interior storage, cup holders, and all the other little nooks and crannies American car buyers demand. And Fisker hasn't said yet how much space will be available behind the rear seats. We can only assume that the back row will fold to accommodate larger objects.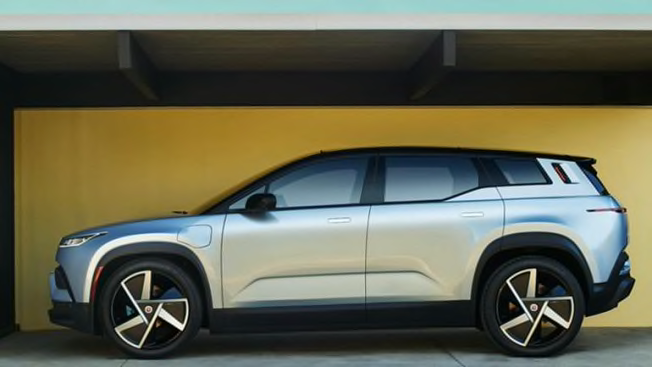 The base Sport model, which starts at $37,499, comes with a single-motor front-wheel-drive system rated at 275 horsepower. Fisker says it can accelerate from 0 to 60 mph in 6.9 seconds and has a 250-mile range. The midrange trim, the Ocean Ultra, which starts at $49,999, will have a 540-horsepower dual-motor all-wheel-drive setup that can accelerate from 0 to 60 in 3.9 seconds and has a 340-mile range. The top-of-the-line Extreme and One trims—which both start at $68,999—will come with the same motor arrangement but rated at 550 horsepower and with 350 miles of range. 
The EPA has not yet released its range estimates for the Fisker Ocean.
The Ocean will be built on a modified version of Magna's in-house-developed EV platform.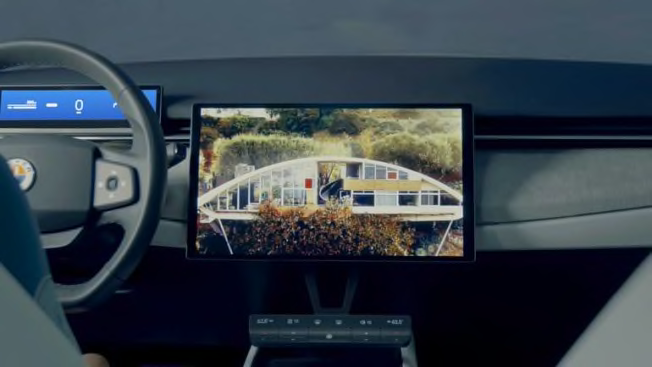 Active Safety and Driver Assistance Systems
All versions of the Fisker Ocean will come with a full suite of ADAS features supported by an array of radar and ultrasonic sensors and cameras, including forward collision warning, automatic emergency braking, blind spot warning, lane keeping assistance, automatic high beams, and adaptive cruise control. Top trims will come with a number of other features, including active driver assistance, a surround-view camera system, backup collision avoidance, and parking assist.