When you shop through retailer links on our site, we may earn affiliate commissions. 100% of the fees we collect are used to support our nonprofit mission.
Learn more.
With its European design, the all-new 2018 Buick Regal Sportback takes General Motors' upscale brand in a whole new direction. Unfortunately, Buick did away with the sporty handling that was a key trait of the previous version of this luxury compact sedan.
This well-finished sedan is really enjoyable to drive on the open road, easily rolling up the miles. The cabin is well-appointed, and there is enough room for adults in the rear seat. But after spending a thousand or so miles with the Regal, we are struggling to see how it stands out from the competition, especially at the $40,000 as-tested price. In fact, some CR staff think the Buick feels more like an uplevel Chevrolet Malibu than a luxury car.
Our Regal Sportback is a stylish car, similar in look to the Audi A5 Sportback and BMW 4 Series Gran Coupe. We bought the Essence trimline and opted for all-wheel drive. As we log the essential break-in miles ahead of full CR testing, here are more of our initial impressions.
What we bought: 2018 Buick Regal Essence AWD
Drivetrain: 2.0-liter turbocharged four-cylinder engine, 8-speed automatic transmission
MSRP: $33,780
Destination fee: $925
Options: $5,010
Total cost: $39,715
How It Drives
We found that the 2018 Buick Regal suspension soaks up most road imperfections and keeps the car steady. However, some rough surfaces can be easily felt at lower speeds on secondary roads.
It was clear to us from the first few miles that the 2018 Buick Regal is a luxury tourer, with GM leaving the sport duties to the Regal's stablemate, the compact Cadillac ATS. Gone is the frisky agility that made the last-generation Regal so enjoyable to drive. This new version feels softer, and the steering isn't particularly quick. Although the car is responsive and feels secure, excitement is not part of the equation.
Rather, this Buick is more comfortable spending time gobbling up open highway miles than being tossed from corner-to-corner on a windy canyon road—which may better align with traditional Buick brand perception.
The engine is a willing partner no matter what road the Regal is on. The premium-fueled turbo four-cylinder quickly spools up the power whenever the driver's right foot prods the accelerator. The eight-speed automatic transmission shifts like a metronome, each change coming consistently, and without hesitation.
GM is one of the manufacturers that has gotten start-stop technology sorted out, smartly restarting the engine when drivers merely lift their foot off the brake. One tester remarked that he never felt worried that the Buick's start-stop system would leave him feeling flat-footed when pulling into traffic.
Like many recent Buicks we've evaluated, the new Regal is a quiet car. Wind, road, and engine noises are well-muted, and they blend together as background white noise. Some drivers noticed elevated tire noise over rough surfaces, which may be because some early AWD Sportbacks like ours were built without the Continental ContiSilent tires that were supposed to come with it, GM told CR in an email. The ContiSilents have a strip of foam inside the tire to reduce road noise.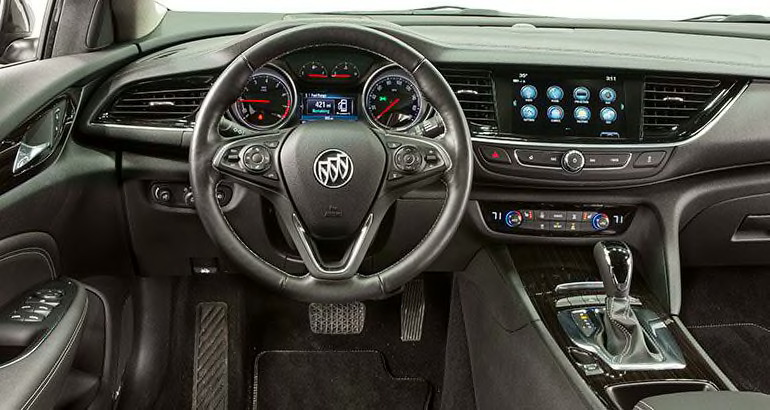 Inside
We were greeted with a modern, if boring, interior when we popped the door open. The panels and trim are all put together well, but the quality of the Regal's materials lack the "wow" factor of competing compact luxury sedans from Audi, BMW, and Cadillac. The standard GM switches, buttons, and knobs throughout the Regal don't say "upscale." The turn signal and wiper stalks, in particular, make an audible, plastic "snap" that is out of place in a near-$40,000 car.
We found the seats to be comfortable and supportive. There are plenty of ways to fine-tune the driver's seat for comfort, including four-way adjustable lumbar and the ability to independently raise or lower the front of the bottom seat cushion.
The rear seats were more of a comfort challenge. There is plenty of leg and foot room, enabling tall passengers to spread out. Three adults could fit for a short trip, although the seat is better spaced for two passengers.
However, the headroom there is particularly thin. The area carved out for rear passengers' heads doesn't extend quite far enough to the back. A number of testers—even average-sized ones—hit their head on it when sitting up. For some, the seating position required them to slouch to keep from hitting this pronounced bump from the hatchback hinge assembly hidden up in the roofliner.
We like the roomy, easy-to-access storage area that only a hatchback can offer. It easily swallows up a wide variety of bags or cargo. It's odd, however, that there is only one way to open the hatchback lid: Drivers have to firmly press on the Buick logo, which can get filthy in the winter. That's it; there's no release on the key fob or inside the 2018 Buick Regal.
The controls are a model of simplicity. They all work well, particularly the Buick infotainment system with its optional 8-inch touch screen. Though there is a manual volume knob, changing stations is done by tapping arrows on the touch screen or by using steering-wheel controls. We appreciate that Buick fitted a traditional shifter in the Regal, rather than the electronic gear shifter found in the Buick LaCrosse and Cadillac XT5.
Safety
We had to select two option packages on our 2018 Buick Regal in order to get a full complement of advanced safety features. The Driver Confidence Package No. 1 includes blind-spot warning and rear cross-traffic warning, along with four-way power lumbar for the driver and passenger, heated mirrors, and rear parking sensors. With the Driver Confidence Package No. 2, we got forward-collision warning, automatic emergency braking—which we at CR strongly recommend—as well as lane-departure warning, lane-keeping assist, and a power moonroof.
Bottom Line
As the Regal heads into formal testing, it left us with the impression of a pleasant, competent car. Just don't be misled by its name: There is no "sport" in the Regal Sportback. Unless you need an all-wheel-drive hatchback at this size, it's hard to find reasons to buy a Regal over a less expensive, high-end Honda Accord. Stay tuned for our complete road test as we finish putting the Regal through its paces.
Accessing the Regal Sportback's Hatch