Best Wireless Bluetooth Speakers for Kids
Models from Sony, JBL, and UE offer good sound in rugged packages
When you shop through retailer links on our site, we may earn affiliate commissions. 100% of the fees we collect are used to support our nonprofit mission. Learn more.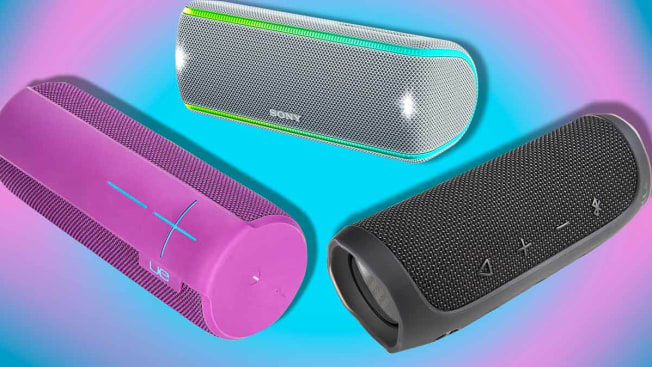 If today's wireless speakers weren't designed with kids in mind, they certainly have a lot of features that are ideal for younger users.
The best wireless Bluetooth speakers for kids are easy to use and produce good sound—children and tweens do have sensitive ears, after all. It's a significant plus if the speakers are waterproof. And because an allowance doesn't go as far as it used to (and accidents do happen) the best speakers for young people are relatively inexpensive.
This is a speaker you can not only play music on but also make music with. The SRS-XB31 features what Sony calls a Party Booster, which plays a variety of percussion sounds when you strike the sides and top of the enclosure, so a kid (or adult) can play along with the music.
The feature wasn't as responsive as it might have been, and it's no substitute for an actual musical instrument, but it's still fun to use. The XB31 also features cool lighting effects—a multicolored LED that changes color with the beats, accented by two white strobes, which can be adjusted with a smart phone app.

The XB31 is recommended by our testers largely on the basis of its sound quality. Although the XB stands for, um, "eXtra bass," that's a bit of a mischaracterization. Our testers found that percussion instruments were reproduced with realistic sharpness and impact, but the deepest bass was limited by the speaker's modest size.
Despite its tweedy fabric covering (available in four colors), the XB31 features an IP67 rating, which means that it should keep out dust and water to a claimed tested depth of 1 meter for 30 minutes. (We don't test speakers for water resistance.) That should keep the XB31 safe from most kid-caused spills.
This JBL's relatively modest price makes it the kind of device that even a preteen with an allowance can save up for, but the Flip 4 is a lot of speaker for the money. It's both rugged and portable, with a classic cylindrical design that comes in a variety of fun colors.

The company claims a battery life of up to 12 hours—just the thing for a sleepover—and the Flip 4's claimed IPX7 rating for waterproofness should keep it safe from many juvenile mishaps.

Compared with the best-sounding portable speakers we've tested, the Flip 4 has a few sonic shortcomings. Its bass is a bit boomy while its trebles are somewhat subdued. But in a noisy basement or an outdoor birthday party, where the speaker is likely to do its work, the Flip 4 can ably pump out a kid's Billie Eilish playlist.
A little bigger than UE's best-selling Boom 2, the Megaboom features whimsical and colorful styling that's flat-out fun for young and old alike. The super-large volume buttons are easy to use while making a distinctive style statement.
Our testers give high marks to the Megaboom's deep bass and clear midrange, and report that it generates enough volume for a medium-sized room. The improvement in sound quality is worth the difference in price compared with the Boom 2.

According to the manufacturer, the Megaboom can pass a water-resistance test that immerses the speaker in 1 meter of water for a half-hour, so it could be the right choice for blasting tunes at a beach party. The company also says the Megaboom floats, but it's probably smart to move it before the tide comes in.
A kid's desk or dresser can be a crowded space, and this baby Bose is so small it'll fit basically anywhere. At just under 4 inches square, this cute little speaker is also easy to slip into a bag or strap onto a scooter or bicycle handlebar for adventures.

Our testers report that the Soundlink Micro falls somewhat short of larger and more expensive models in our sound-quality testing, and it doesn't earn a CR recommendation. But if you keep your expectations in check, the midrange is smooth though not super-detailed. The bass doesn't go particularly deep, but that's a trade-off you have to expect given the Soundlink Micro's petite size.
The speaker wears a silicone cover in red, blue, or black, and according to Bose, it's designed to meet IPX7 water-resistance standards, which means that it should survive a not-so-deep or prolonged drop into a sink or kiddie pool.
There are entire segments of the economy driven by an affinity for brand names. While adults may have fond associations with Bose and JBL (perhaps because those companies made granddad's bookshelf speakers), some kids may feel the same way about Beats by Dr. Dre, which could make the Pill+ a winner based on name alone.

But the name is the best reason to buy this speaker.
Our testers found the sound quality to be so-so at best. The bass has some impact but not much depth or detail, and the midrange is a bit hazy. It plays loud enough to fill a medium-sized room.
But in general, the Pill+ isn't as enjoyable to listen to as similarly priced models from JBL, Sony, and UE. (It doesn't sound good enough to earn a CR recommendation.)
Also, unlike those models, the Pill+ isn't waterproof, so it's best to keep it indoors or in a dry place.
Some kids handle their devices with care, and some kids don't. If your young'un is a prodigy at informal destructive testing, there's much to be said for sacrificing some performance for a much lower price. And that's where the bargain-priced Edifier MP280 comes in.
Our testers report a series of sonic shortcomings in the MP280. The bass doesn't go particularly deep and the midrange is a bit nasal. So don't buy it for the sound quality. And while the Edifier has enough juice to charge a phone—and power the unit for a claimed 10 hours—the company doesn't claim it's waterproof.
But these shortcomings are much easier to live with when taking the Edifier's modest price into account. So if you're wondering if your child will break his or her first speaker or won't have the patience to save up for one of the better-performing models in this roundup, the Edifier is a solid alternative to better-but-spendier speakers.