When you shop through retailer links on our site, we may earn affiliate commissions. 100% of the fees we collect are used to support our nonprofit mission.
Learn more.
Honda kicked off its multifaceted approach to tackle stringent fuel-economy standards with the 2017 Honda Clarity FCV, a fuel-cell vehicle that was years in the making. It's the first model in the all-new Clarity family, which will include plug-in hybrid and battery-electric versions.
The midsized Clarity lineup lets you choose the powertrain that best fits your lifestyle without having to compromise on vehicle size or practicality to get leading-edge efficiency. All versions of the Honda Clarity feature seating for five passengers in a comfortable, luxurious interior. The only major difference when compared with a more conventional car, such as the Accord, is how the Clarity is powered.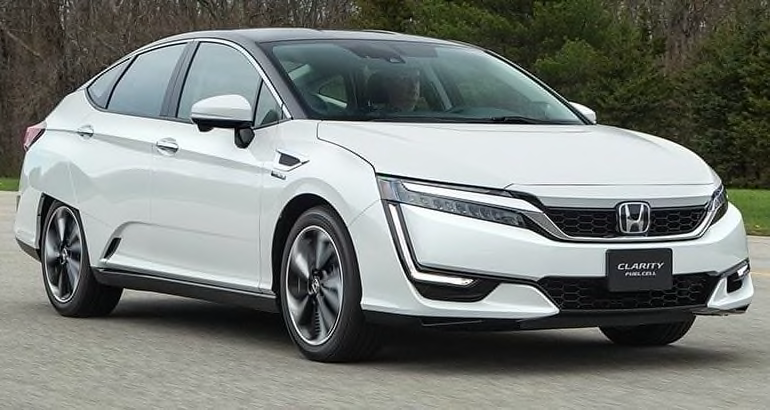 First out of the gate was the 2017 Honda Clarity FCV hydrogen-powered version, launched in California in December 2016. Honda claims a maximum range of 366 miles per tank of high-pressure hydrogen for this zero-emissions vehicle. (At this time, hydrogen-refueling stations are scarce outside of the Los Angeles and San Francisco metro areas. Learn about the federal government's Alternative Fueling Station Locator.)
We borrowed a Clarity FCV from Honda (for a fee) to gain driving impressions and take a closer look at this pioneering green machine, and to compare it with our Toyota Mirai fuel-cell car.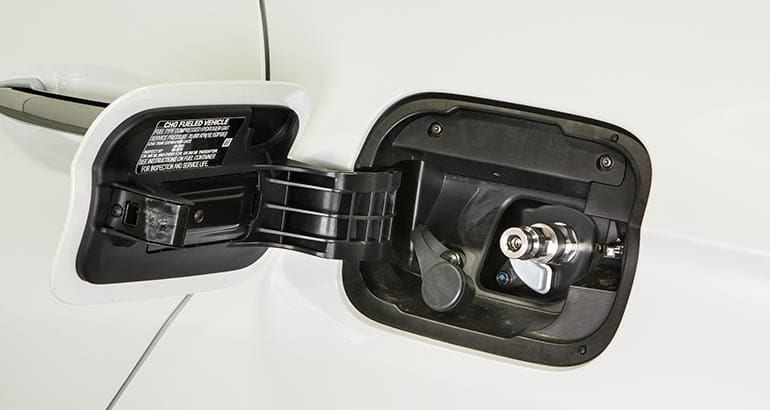 Fuel-cell vehicles combine hydrogen gas with oxygen to produce electricity, which in turn powers the electric motor that drives the front wheels. Technically, FCVs are electric vehicles (EVs) that generate their own power. Unlike battery-based EVs that rely on long charging times, fuel-cell vehicles are refueled like conventional vehicles and typically have a longer range than most pure EVs. The only tailpipe "emission" is water, so these are classified as zero-emissions vehicles. Hydrogen production typically relies on the reforming of natural gas.
The Honda Clarity FCV is rated to return 68 MPGe (miles-per-gallon equivalent) combined, 69 MPGe in the city and 67 MPGe on the highway. According to Honda, the FCV's 366-mile range is a 50 percent improvement over the previous-generation FCX Clarity's 240 miles.
When we filled the borrowed Clarity FCV to its capacity of 5.5 kilograms, however, we saw a projected range of just 255 miles. According to a Honda spokesperson, indicated range is based on the history of how the car was driven previously.
The Clarity FCV delivers a driving experience that's very similar to an electric vehicle's—instantaneous power, a mostly quiet cabin, and driver sensitivity to how much energy is being consumed and how much is left.
More Info
Electric Cars 101: The Answers to All Your EV Questions
What you need to know to decide if going electric is right for you
The Clarity rides comfortably, absorbing bumps and swells without complaint. Handling is sound and responsive enough, but it's certainly not sports-sedan agile.
Road, tire, and wind noise are evident simply because, unlike a conventional car, the FCV doesn't generate any discernable sound from the powertrain that would mask the exterior din. So at urban/around-town speeds, the car is very quiet. It's only on the highway where those other noises become noticeable.
The Honda Sensing suite of advanced safety systems is standard and includes forward-collision warning and automatic emergency braking. Unfortunately, the FCX uses Honda's Lane Watch, which shows a video feed on the center display every time the right directional signal is activated. LaneWatch is no substitute for an actual blind-spot monitoring system that covers both sides, which Consumer Reports prefers.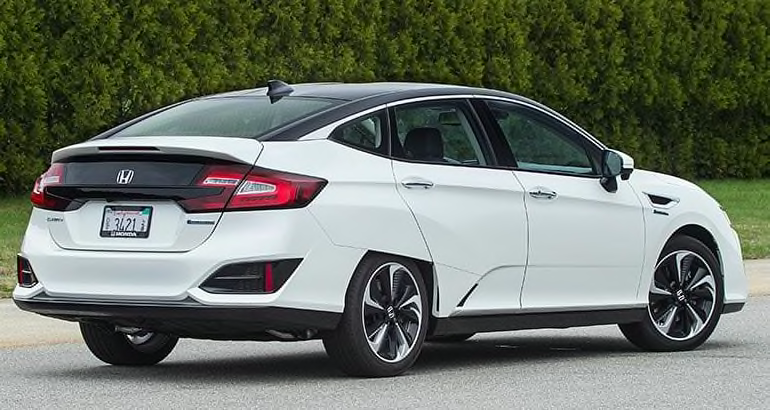 Customers who leased the first-generation FCX Clarity told Honda they weren't happy that it was a relatively expensive sedan with just four seats, as well as having a limited number of features and creature comforts.
Honda addressed the cabin space issue by shrinking the motor, fuel-cell stack, and associated parts, and then repositioning them under the hood. By relocating the battery from under the rear seats to beneath the front seat, and using two smaller tanks for hydrogen rather than one large one, Honda was able to expand seating capacity to five adults and increase cargo room. Despite the changes, the trunk is still small because of the space the larger hydrogen tank occupies.
Drivers will settle into a firm power seat that provides good support. There's no lumbar support adjustment, which might bother some drivers.
The FCX Clarity certainly was futuristic looking both inside and out, but the interior was rather austere. The new Clarity line features an interior that's at least on par with a top-trim Accord sedan. In fact, the cabin wouldn't be out of place in an Acura, Honda's luxury line. Materials were chosen with an eye toward environmental responsibility, with recycled Ultrasuede and Ultrasmooth—a leatherlike material derived from plants—used throughout the cabin. The matte wood is attractive.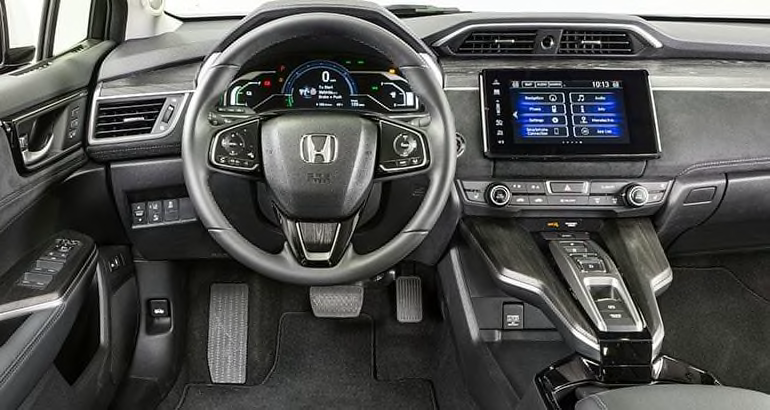 The large, clear color display (shown above) that faces the driver includes data on fuel-level and battery-charge status, and, as in hybrid cars and EVs, indicates whether the car is using power from the battery or is actively recharging it.
As with other alternative-fuel vehicles, the 2017 Honda Clarity FCV has a "gamified" display to show how much energy is being generated. A blue, ball-like icon sits prominently in the center of the gauges, growing larger as electric power is tapped and shrinking as you ease off the throttle.
An 8-inch touch screen similar to the frustrating interface found in other Honda models is featured prominently in the center stack, and it controls all audio, navigation, communication, and smartphone interactions.
Honda also chose to include the same unintuitive push-button shifter found in other Honda and Acura models, which increases the chance of either selecting the wrong gear or not selecting Park when needed. (Read "When It Comes to Automatic Shifters, It's Proceed With Caution," which looks at confusing and potentially dangerous shifters from a number of makers.)
You can remotely monitor and maintain the FCV's cabin temperature via the HondaLink smartphone app, which also includes information on local hydrogen stations, remaining range, and the current level of hydrogen in the two tanks.
Pricing and Other Versions
Honda leases the FCV for $369 per month and provides complementary hydrogen refills up to a cap of $15,000 during a three-year lease. A kilogram of hydrogen (the approximate energy equivalent of a gallon of gas) costs $8 to $12 these days. If you need to drive in areas without public hydrogen-fueling stations, Honda will provide 21 days of a free luxury-car rental during the lease period.
The EV and plug-in hybrid versions, which are scheduled to arrive in late 2017, will be priced in the mid-$30,000s before incentives.
The plug-in hybrid has a claimed electric-only range of 42 miles before it transitions to hybrid mode, and the EV has a range of 80 miles, which is on the short end nowadays. Expect a majority of buyers to choose the plug-in hybrid version. It's the most practical of the three, requires very little compromise, and will be sold in all 50 states. Initially, the EV will be available only in California and Oregon. Honda may expand FCV leases to the New York and Boston regions if a planned network of public hydrogen stations comes to fruition.
Based on our initial experience, the new Clarity comes across as a fully developed, cutting-edge machine. Clearly, with refueling stations few and far between, a fuel-cell car wouldn't work for most drivers. But the coming plug-in version holds quite a bit of promise and mass-market appeal. Consumer Reports will buy one of those versions.