Preview: 2022 GMC Hummer EV Turns an Off-Road Legend Into a Green Machine
The full-electric SUV and pickup truck promise an emissions-free, open-air experience General Motors unveiled the all-new electric GMC Hummer EV SUV this week, following up its reveal of a pickup truck in fall 2020. Together, these high-tech, off-road-ready models look to reinvent the Hummer brand, a storied nameplate that was retired a decade ago.
The company promises that the new Hummer EV SUV and pickup truck will be both green and off-road-ready, with gratuitous horsepower and torque, and consequently quick acceleration. They are positioned as premium products that showcase numerous innovations.
By relaunching Hummer as a sub-brand under the truck and SUV-centric GMC, it enables the rollout to take advantage of an established dealer network. And this strategy limits the number of true General Motors brands to four.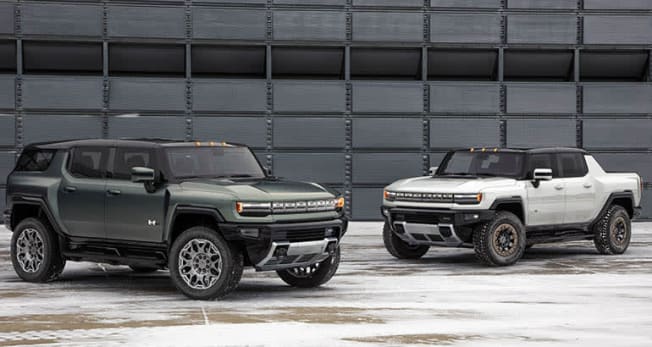 Hummer EV3X Pickup Truck ($99,995): Three-motor drive system and Watts to Freedom, a package that enables a low 3-second 0-to-60-mph time. On sale: Fall 2022.
Hummer EV SUV Edition 1 with Extreme Off-Roading ($110,595): Up to 830 hp and three motors. Range estimated to be 280 miles. On sale: Early 2023.
Hummer EV SUV Edition 1 ($105,595): Up to 830 hp and three motors. Range estimated to be over 300 miles. On sale: Early 2023.
Hummer EV2X Pickup Truck ($89,995): Adaptive suspension, Extract Mode, and four-wheel steer with Crab Walk. On sale: Spring 2023.
Hummer EV3X SUV ($99,995): Up to 830 hp and three motors. Range estimated to be over 300 miles. On sale: Spring 2023.
Hummer EV2X SUV ($89,995): Up to 625 hp and two motors. Range estimated to be over 300 miles. On sale: Early 2023.
Hummer EV2 Pickup Truck ($79,995): Two-motor drive system. On sale: Spring 2024.
Hummer EV2 SUV ($79,995): Up to 625 hp and two motors. 400-volt DC fast charging. Range estimated to be over 250 miles. On sale: Spring 2024.
2022 GMC Hummer EV
What it competes with: Bolinger B2, Rivian R1S/R1T, and Tesla Cybertruck
What it looks like: Fun. The truck reminds of an H2 from the front, but it looks strikingly similar to the Rivian R1T from the side. The H2 connection is much closer with the SUV.
Powertrains: 1,000 hp from three electric motors (truck); 830 hp from three electric motors; 625 hp from two electric motors. Four-wheel drive.
Price: $79,995 to $112,595
On sale: Early 2022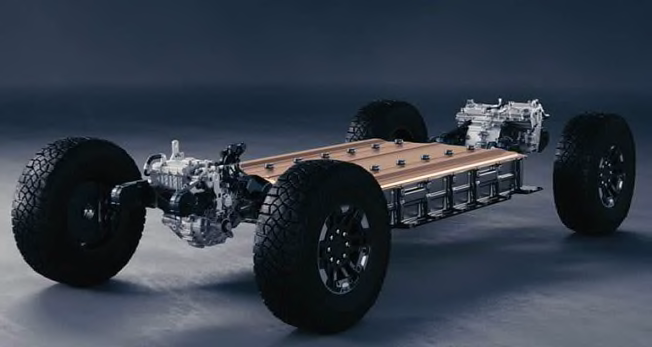 General Motors is making a strong commitment to electric vehicles by investing heavily in factories, its Ultium batteries, and new models. After experience with the more affordable Chevrolet Bolt and Volt, the company is shifting its focus on the premium end of the market with the Cadillac Lyriq and Hummer EV. This next-generation product strategy feels like it is following the template set forth by Tesla and followed by other, more recent startup EV companies.
The Hummer EV SUV and pickup truck will be flagship models for GMC, and they promise to have numerous appealing and innovative features. However, their lofty price tags and the surge of similar competitors will limit their market share. We hope that these EVs are followed by a more affordable midsized truck and SUV, akin to how the brand rolled out products 20 years ago. Only then will it have significant reach and positive environmental impact.
The initial Edition 1 pickup truck was the result of a brief 18-month development period. The rapid development of the complex, powerful Hummer EV in the race to market would give us pause on being the first in line to purchase one. Consumer Reports data continues to show that all-new vehicles tend to have more problems in their first year than in subsequent years. This holds true for EVs, as well as traditional gasoline-fueled vehicles. Shoppers who missed out on an Edition 1 reservation may save more than money by buying a lower trim because it would allow time for GMC to further refine the assembly process and implement rolling changes. We won't truly know how reliable the Hummer EV will be until we receive feedback through surveys of our CR members. The SUV is being developed concurrently. Its later introduction can only help with quality.
We will buy a Hummer EV to test, holding off for one of the less expensive versions to become available. Like many drivers, we don't feel the need for a 1,000-hp truck in our fleet.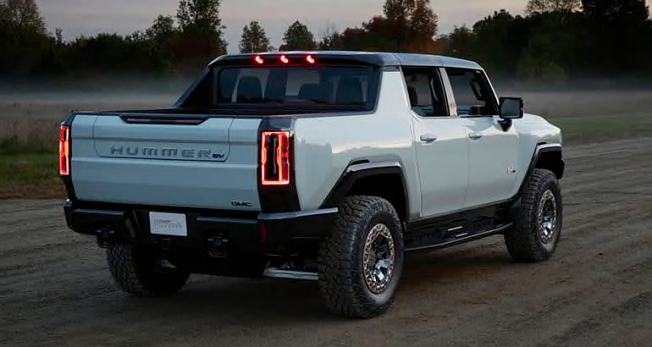 The Hummer EV pickup is a modern take on the H2 sport utility truck, a version of the H2 SUV with a small bed. The Hummer EV pickup has a larger capacity than its progenitor, with a clever MultiPro tailgate that folds open to create a step for climbing into the 5-foot bed, as seen on select GMC pickup trucks.
Overall length is about 18 feet, splitting the difference between the Yukon and the supersized Yukon XL. It rides on a 135.6-inch wheelbase, making the space between the wheel centers longer than on the GMC Yukon XL. The SUV rides on a wheelbase that is about 9 inches shorter, giving it tidier dimensions. The Hummer EVs push the wheels out to the corners, giving them a trail-ready approach and breakover angles that make them capable of crawling over steep obstacles.
From the front, the design shares a connection to the H2 with its wide, short six-segment grille. From the side, the pickup has more in common with the Rivian R1T—an upcoming rival electric truck in development.
Bulging fenders and large, squared-off wheel arches declare the Hummers' off-road intentions. The black bumper and dark, lower front end make the truck look taller and more imposing.
For both body styles, the standard wheel-tire configuration is 22-inch-diameter wheels wrapped with 35-inch-tall tires. The Extreme Off-Road Package pairs 18-inch-diameter wheels with 35-inch tall Goodyear Wrangler Territory MT tires. The truck is designed to fit massive 37-inch-tall tires, if owners wish to upgrade. Drivers who wish to deflate the tires to increase traction off road can use the inflation assist system to input a target tire pressure in the gauge cluster. Tire pressure must be released manually, but the Hummer EV will give an audible signal when the desired pressure is reached.
The Infinity Roof opens up the top with a combination of removable, transparent panels, akin to the Ford Bronco and Jeep Wrangler, with a protective roll cage. The panels can store under the hood in the "frunk"—the space where the gas-powered engine would normally be found.
There is a rear power window on both body styles, and a powered tonneau cover for the truck bed.
With the Extreme Off-Road Package comes skid plates and underbody shields to protect the battery pack, drive units, and other components.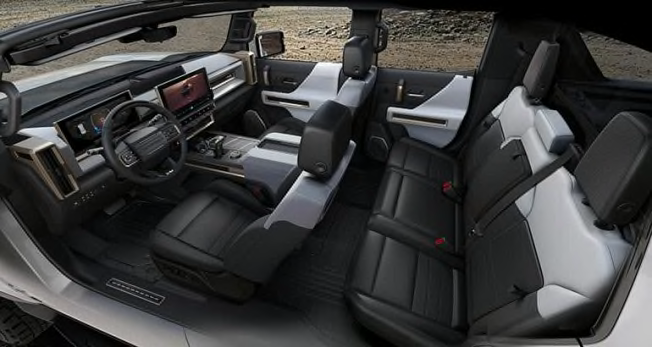 The Hummer EVs seat five. The core design theme seems to be straight edges, with many blocky shapes throughout.
The cabin is dominated by a 12.3-inch digital dash and a large 13.4-inch center infotainment screen. They stand out from the dashboard, like tacked-on computer monitors. These big screens feature a wide array of customizable function and graphics options, developed with a visual effects company known for its work on Marvel superhero movies. There are virtual auxiliary switches for controlling aftermarket features, such as lights and a winch, rather than the traditional physical switches. GMC reports that there will be almost 200 accessories available for the Hummer EV.
The flat battery pack is nestled beneath the floor, making it easier for passengers to stretch out.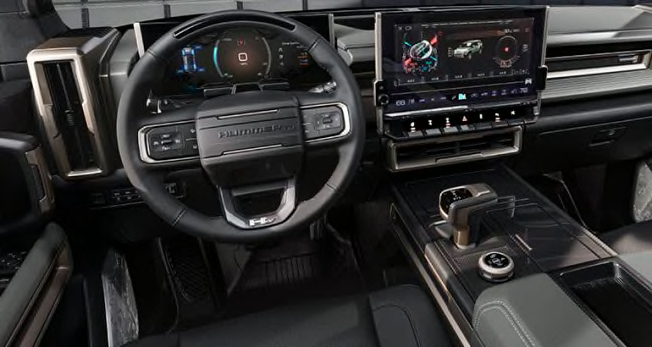 The automaker claims the Edition 1 pickup truck will have 1,000 hp and 11,500 lb.-ft. of torque (calculated at the axle, factoring gear ratio multiplication), and will sprint 0 to 60 mph in 3 seconds, putting it in rare performance company. The peak torque output can be maintained up to 40 mph.
The SUV peak output is about 830 hp and up to 11,500 lb.-ft. of torque. GM claims maximum acceleration for the SUV is 3.5 seconds 0 to 60 mph. That sports-car-grade acceleration requires the Watts to Freedom (aka WTF) mode: Activating this lowers the vehicle, conditions the battery, plays music, and coaches the driver when to accelerate to get maximum thrust. This approach essentially turns maximum straight-line acceleration into a game. And this might resonate with some people, given that the Hummer EVs are the first vehicles to use Epic's Unreal Engine for its graphic displays, a software platform associated with first-person shooter computer games.
The Edition 1 pickup uses a 24-module battery pack to achieve a 350-plus-mile range. GMC representatives said changing the pack configuration, by reducing the modules, can be done to serve the needs for other Hummer trims. Those other trim levels will also dial back the price and power output. The shorter SUV uses a 20-module battery pack.
The batteries use a nickel, cobalt, manganese, aluminum (NCMA) chemistry. The Hummer EV is the first GM vehicle to use a wireless battery management system. GMC says this approach helps optimize performance and longevity.
The EV3X pickup also uses three motors, but it produces 800 hp and 9,500 lb.-ft. of torque when factoring gear multiplication. The two-motor EV2X has 625 hp and 7,400 lb.-ft. of torque. The EV3X and EV2X have an estimated 300-plus-mile range. Coming in spring 2024 is the EV2. This more affordable version has two motors, with 625 hp and 7,400 lb.-ft. of torque. Range is estimated to be more than 250 miles.
The Edition 1, EV3X, and EV2X are 800-volt DC fast-charging-capable. GM says these can take on 100 miles of range in just 10 minutes. The EV2 is 400-volt DC fast-charging-capable. The SUV follows a similar trim designation and performance ladder. These charging claims relate only to the still scant public DC fast-charging venues, not the more common 240-volt (Level 2) charging, which would take about 4 hours to get a 100 miles' worth of range.
There are a couple of features available on the EV2X and higher trims to enhance the vehicles' off-roading potential: Extract Mode and Crab Walk.
The adaptive air suspension allows the ride height to be controlled by the driver or adjusted automatically. For example, the truck can be lowered to make it easier to get into and out of. It also can lower on the highway to improve aerodynamics and energy efficiency. And Extract Mode allows the driver to raise the ride height by 6 inches to assist in very limited situations where ground clearance is needed to traverse an obstacle. Otherwise, the suspension can compress a long 13 inches.
In Auto mode, the four-wheel steering system can turn the rear tires in the opposite direction of the front tires at low speeds to aid maneuverability. The SUV boasts a tight 35.4-foot turning radius. Taken to an extreme, the Crab Walk feature uses the four-wheel steering capability to enable the vehicles to move diagonally by angling all wheels in the same direction. This could prove to be handy in navigating tight trails, such as when moving away from a tree on a narrow section, and for maneuvering in tight parking situations.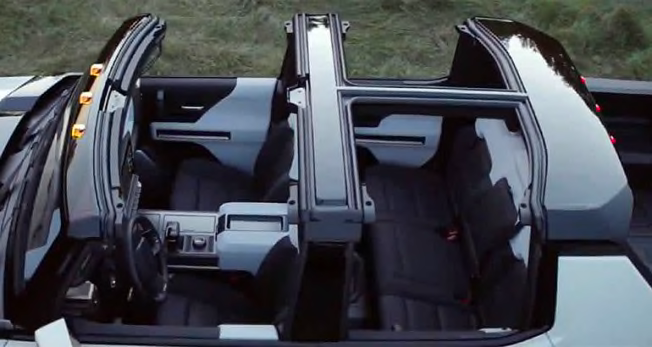 Safety and Driver Assistance Systems
Next-generation Super Cruise is optional—a driver assistance feature that offers hands-free driving with automatic lane changes on 200,000 miles of compatible roads. It is available with up to 18 camera views—including a waterproof undercarriage camera—to help with off-roading and parking.
Information on other safety systems has not been released.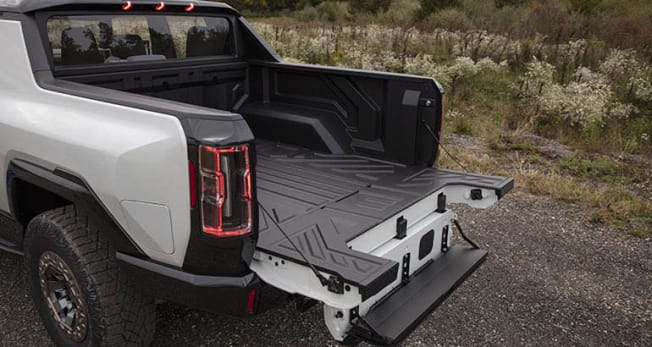 The Trail to the Hummer EV
The Hummer brand grew from the AM General HMMWV developed for military use and popularized for civilians by Arnold Schwarzenegger. The street version began as the Hummer H1, produced by AM General and sold in small numbers. GM adapted its blocky essence into the H2, a heavy SUV and later pickup (with a tiny bed) developed from its full-sized truck platform.
The H2 became a lightning rod for criticism from environmentalists who decried its gas guzzling and from safety advocates who warned of the dangers to other road users. It was the poster child for the excess of that era's SUV boom. It got just 11 mpg overall in Consumer Reports' tests. Its road-test score was just 23 points, out of 100. But it was iconic . . . immediately recognizable and highly capable off-road.
This giant spawned the H3, a smaller interpretation spun off the Chevrolet Colorado platform. Again, a Hummer model was a built-up version of an existing product, rather than being purpose-built. As a consequence, it launched with a choice of four- and five-cylinder engines borrowed from the compact Chevrolets. Both powertrains were not up to the task in the heavier vehicle, leaving the H3 to be both slow and thirsty. Later, a V8 and pickup version became available.
The Hummer story almost continued, with the HX concept promising what an H4 could have been: a competitor for the two-door Jeep Wrangler.
Hummer shut down in 2010. Sales of the full-sized Hummer H2 and midsized Hummer H3 were hit hard by elevated gasoline prices at the time, squashing sales for the short-lived brand. It was among several brands, including Oldsmobile, Pontiac, and Saturn, that GM shuttered as the corporation went through restructuring. GM did come close to selling Hummer to a China-based corporation, Sichuan Tengzhong Heavy Industrial Machinery, but it ultimately couldn't complete the transaction.
Myriad factors conspired to end the first chapter of the Hummer story. The GMC Hummer EV promises a fresh start, recasting the brand as offering zero emissions, and powerful and bold vehicles. GM refers to the emerging segment as "supertrucks." This apt name also describes the upcoming Bolinger B2, Rivian R1T, and Tesla Cybertruck.