When you shop through retailer links on our site, we may earn affiliate commissions. 100% of the fees we collect are used to support our nonprofit mission.
Learn more.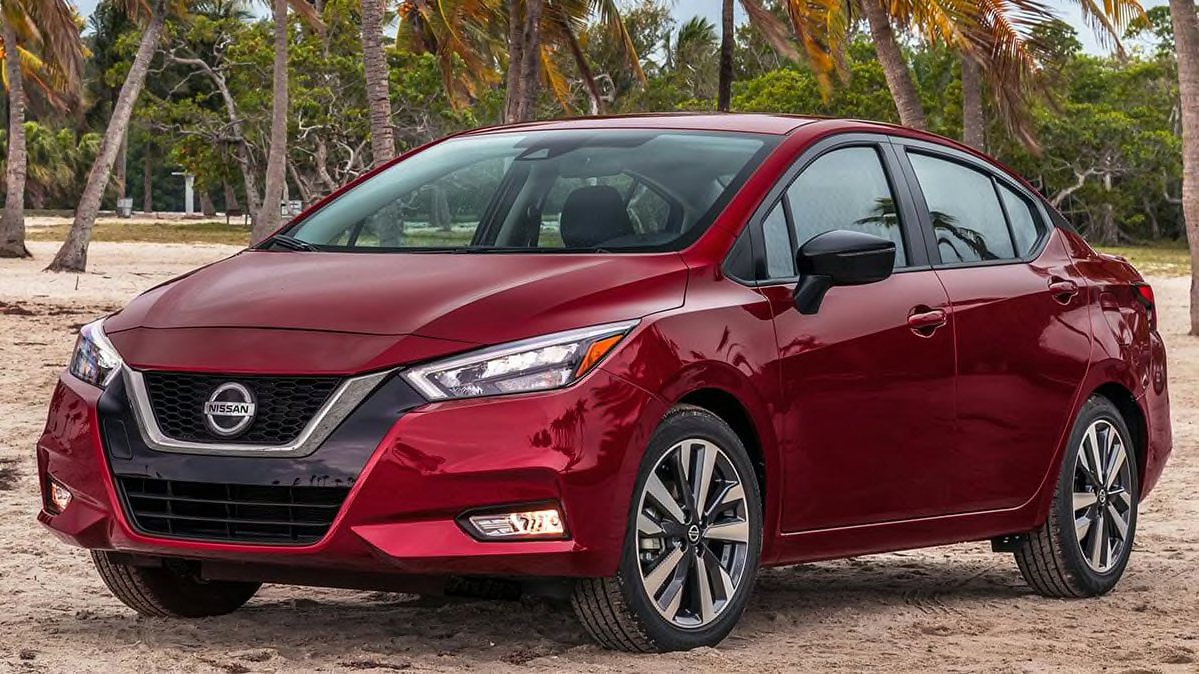 Nissan gave the Versa subcompact sedan a much-needed redesign for 2020, as revealed at the New York International Auto Show.
The affordable car now gets Altima-like looks, new standard safety features, and more horsepower.
We hope the Versa's evolution results in a more refined driving experience, as we didn't have many good things to say about the current Versa. After years without an update, it became one of our lowest-rated subcompact cars.
Unlike newer competitors, it suffered from a cheap interior, a noisy cabin, and a Poor safety rating in the driver-side small-overlap crash test conducted by the Insurance Institute for Highway Safety. (The small-overlap test simulates striking a solid object with just a portion of the vehicle's front, akin to hitting a telephone pole.)
Nissan claims the new car will be a better value than other small cars thanks to its long list of standard features and unique options. We'll be sure to let you know how it stacks up against the likes of the Honda Fit and Hyundai Accent as soon as we buy one and test it. The new Versa is now on sale.
Outside
The front end of the new Versa bears a clear resemblance to the current Altima, Maxima, and Murano—Nissan's larger, more feature-rich vehicles. As with those cars, a glossy black panel interrupts the flow of the Versa's C-pillar—where the trunk meets the roof. That styling trope is called a "floating roof" and it's becoming more common on new cars from multiple brands.
SUBCOMPACT CAR ROAD TESTS
Nissan says the new Versa is longer, lower, and wider, but retains the same interior volume as the current car. Both front and rear fenders flare out over the wheels, which gives the new car a more substantial appearance. We think it's an improvement on the current Versa's relatively ungainly proportions, although we'll have to evaluate whether the new look makes it more difficult to get in and out of the front and rear seats.
So far, we've only seen the Versa all dressed up in a top trim level—less-expensive versions may not look as handsome. Buyers who want a pop of color won't have to settle for gray or white paint. Nissan is offering the Versa in eight shades, some of which—like a metallic orange—should help the sedan stand out in a crowded parking lot.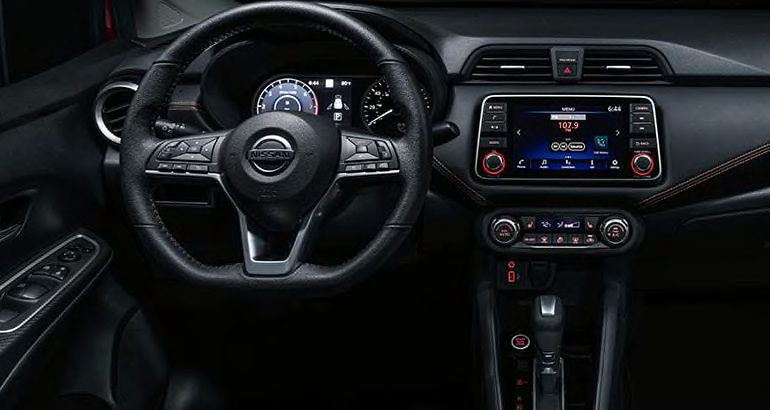 Inside the Cabin
We like the current Versa's straightforward controls, but we don't like how cheap the cabin feels. We'll see if Nissan has improved the quality of interior materials or soundproofing, but we don't have any complaints about what we've seen so far.
There's a sweeping visible stitch across the dashboard's passenger side that reminds us of a similar design flourish in the last-generation Toyota Corolla.
An optional touch screen is flanked by buttons and knobs for controlling volume, tuning, and climate. Push-button start is standard, while automatic climate control, Android Auto, and Apple CarPlay are optional.
What Drives It
Like its predecessor, the 2020 Versa only has one engine choice: A 1.6-liter four-cylinder. However, Nissan bumped the horsepower count up to 122 from 109. Transmission choices include a five-speed manual and a continuously variable transmission.
The fuel economy is EPA-rated at 32 mpg city, 40 mpg highway, and 35 mpg combined. The last Versa got 32 mpg overall in our tests.
We hope that Nissan addressed some of the issues we had with how the outgoing Versa drove and handled—specifically its loud engine noise and excessive body lean in corners.
Safety and Driver-Assist Systems
Nissan has added a ton of standard safety and driver-assistance features to the new Versa, including automatic emergency braking (AEB) with pedestrian detection, rear automatic braking, and lane departure warning (LDW). They're part of a suite of safety features that the automaker calls Nissan Safety Shield 360. Blind spot warning (BSW), rear cross-traffic warning, and adaptive cruise control are optional.
These additions help the Versa stand out in its class. AEB is optional on competitors such as the Accent, Fit, Rio, and Sonic, and is unavailable on the Mirage. LDW is optional on the Fit and Sonic, but unavailable on the Accent, Mirage, and Rio.
Although the new Versa has not yet been crash tested, it was designed after the IIHS introduced its passenger-side small-overlap crash test, and we assume that Nissan's engineers have taken that test into account when creating the new car.
CR's Take
The aging Versa was due for a replacement, and Nissan delivered with a new model for 2020, and we think the Versa's impressive list of safety equipment will distinguish it from other subcompact cars.
However, buyers who are checking out a brand-new Versa might be wise to look for a reliable used Toyota Corolla.