When you shop through retailer links on our site, we may earn affiliate commissions. 100% of the fees we collect are used to support our nonprofit mission.
Learn more.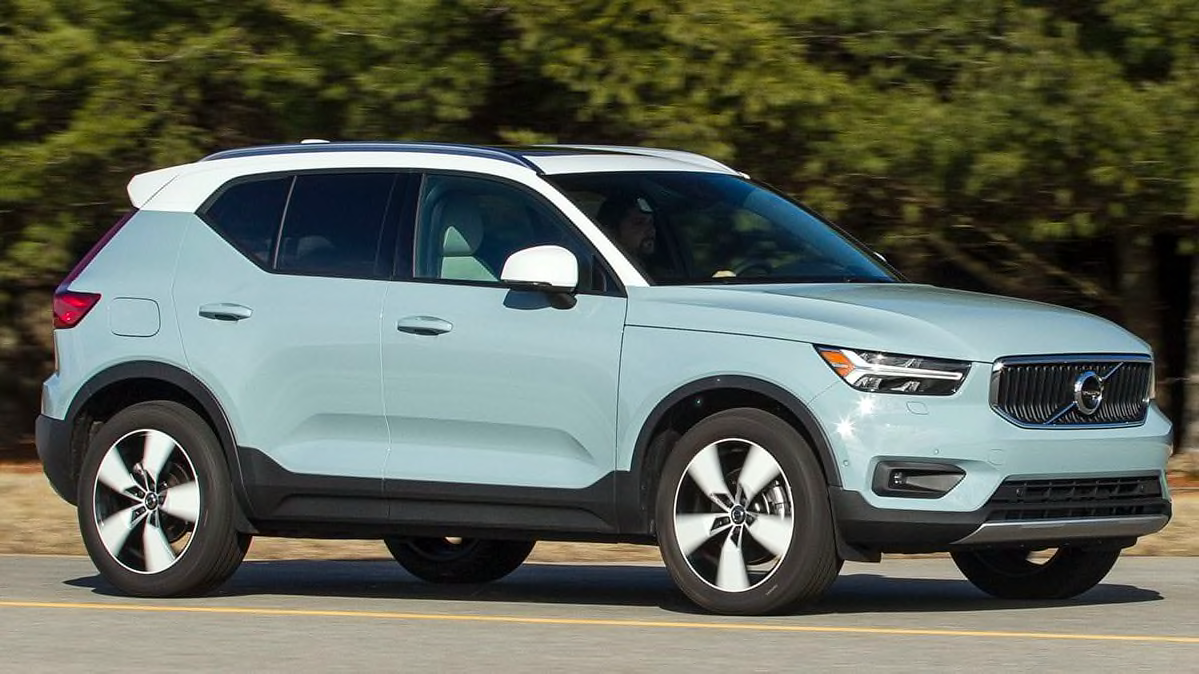 The new Volvo XC40 is a handsome-looking small SUV that is the right size for many buyers and features a lot of standard safety equipment.
However, Volvo fell short in designing two critical driver interfaces that get used every day: The shifter and center control screen.
The XC40 is the first model on the company's new modular small car platform. It is powered by a turbocharged four-cylinder engine and can be equipped with all-wheel drive, which is typical for this segment. We borrowed one from Volvo, and these are our first impressions.
What we borrowed: 2019 Volvo XC40 T5 Momentum AWD
Drivetrain: 248-hp, 2.0-liter turbocharged four-cylinder engine, eight-speed automatic transmission
MSRP: $35,200
Options: $8,120 (including the Premium, Vision, Advanced, and Multimedia packages)
Destination fee: $995
Total cost: $44,315
How It Drives
Volvo says the T5 should sprint from 0 to 60 mph in 6.2 seconds. We thought the powertrain made the car feel quick and responsive, but the start/stop system was very abrupt when restarting. It sometimes made the SUV lurch forward when starting up at a stop light.
We've been averaging about 25 mpg according to the car's trip computer. The EPA estimates 26 mpg overall, with 23 mpg city and 31 mpg highway.
The standard wheels are 18 inches, but our borrowed car rode on optional 19-inch wheels and tires, producing a ride that was typically stiff for a Volvo. (Even larger 21-inch wheels are available.)
Even with its compact size, the XC40 doesn't feel very engaging when it comes to handling curves. The steering is too light and lacks enough feedback for the XC40 to be called a fun-to-drive vehicle. The Momentum trim comes with an adjustable-drive mode setting that lets you alter the car's steering and throttle response from comfortable to sportier.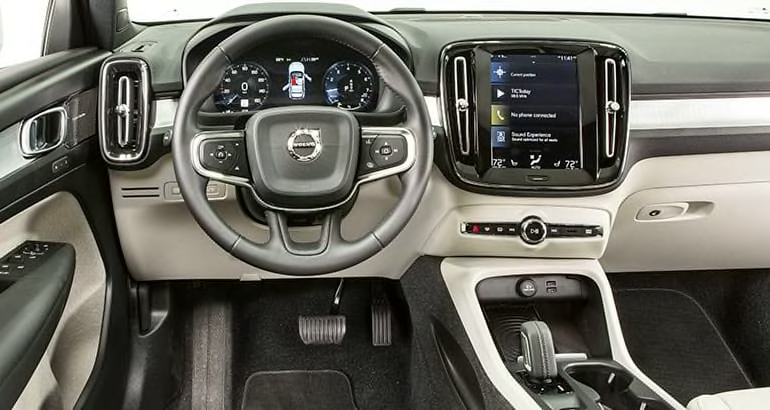 Inside
Now, about that shifter: It's terrible. In order to engage Drive or Reverse, drivers need to move the gear selector twice in the appropriate direction, like a double-tap. If they miss the second tap, the transmission stays in Neutral. This can result in a delay during a parking maneuver and will surely frustrate drivers. Consumer Reports has repeatedly discussed the problems with these types of shifters in previous coverage. (Read "When It Comes to Automatic Shifters, It's Proceed With Caution.")
There are simply better ways to do this, and Volvo, particularly because it sees itself as the "safety" brand, should rethink this approach. We will report on how it performs once it has gone through CR's tests.
The other challenging feature is the XC40's central control screen. It looks inviting and high-tech, resembling a tablet computer, and serves as the command center for climate, audio, and phone controls. But using the system while driving is frustrating, thanks to the multiple taps, swipes, and scrolls necessitated to navigate through the layered menu structure.
As we experienced in the XC90 and XC60, this system is unintuitive and distracting to use, requiring frequent, precious seconds with eyes off the road and one hand off the steering wheel to change the radio station, audio source, or cabin temperature.
Drivers do benefit from sitting up high, but even with the XC40's lofty perch, rear visibility is hurt somewhat by the chunky C-pillar and the lack of a third side window, which most SUVs have.
The standard eight-way power driver's seat comes with four-way lumbar support. Volvo seats are typically very comfortable, and these are no exception. The cabin stays commendably quiet except for an engine growl.
The XC40 comes with lots of thoughtful storage spots, including generous door pockets, an open bin in front of the console, a removable waste bin that sits just in front of the center armrest, and a bag hook attached to the front of the glove box. A dedicated cell-phone storage space frees up cup holders and other areas commonly used by passengers to store their phones.
By folding the rear seats down and opening the standard power rear liftgate, the cargo area can hold a mountain bike with the front wheel removed.
There's impressive attention to detail all around, including the leather-wrapped steering wheel and shifter, brushed aluminum trim on the dashboard and door panels, and the small rubber Swedish flag attached to the car's left front flank.
The Inscription trim further dresses the XC40 up, with wheels as large as 21 inches, unique body cladding, and the same Orrefors crystal shifter and driftwood trim that's available in the XC60.
Safety & Driver Assist Systems
Volvo's City Safety package is standard, and includes automatic emergency braking along with sensors to detect other vehicles, bicyclists, and large animals in the vehicle's path.
We evaluated the Pilot Assist II driver-assistance technology in our tested XC60, and found that the system has good judgment of lane markings and the ability to respond to vehicles in front as they change lanes and exit or enter the highway. The adaptive cruise control can slow the vehicle's speed during traffic snarls, stop the car completely, and resume progress all on its own, a handy convenience.
The Pilot Assist II system is part of the Premium package; blind-spot warning and rear cross-traffic warning are part of the Vision package; and the surround-view camera comes as part of the Advanced package.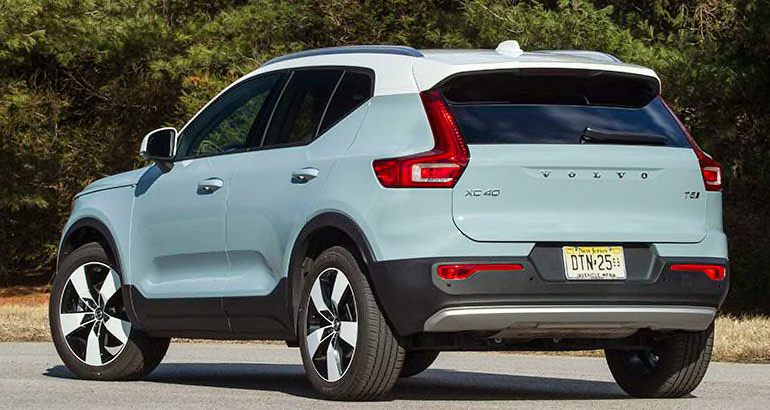 Bottom Line
The all-wheel-drive T5 Momentum's starting price of $35,200, along with the XC40's bulldog stance styling and European lineage will likely tempt many people shopping for a premium compact SUV. But the cumbersome infotainment system and clumsy shifter, could make buyers think twice about this compact SUV's day-to-day usefulness.
One interesting way to own a Volvo is the new "Care by Volvo" program, which debuts with the XC40. It lets customers pay to use an XC40 for a $600 monthly fee (plus taxes and fees). That monthly payment covers insurance, services, replacement of wear items, and roadside assistance—basically, everything but gas.
Update: Read the complete Volvo XC40 road test.