When you shop through retailer links on our site, we may earn affiliate commissions. 100% of the fees we collect are used to support our nonprofit mission.
Learn more.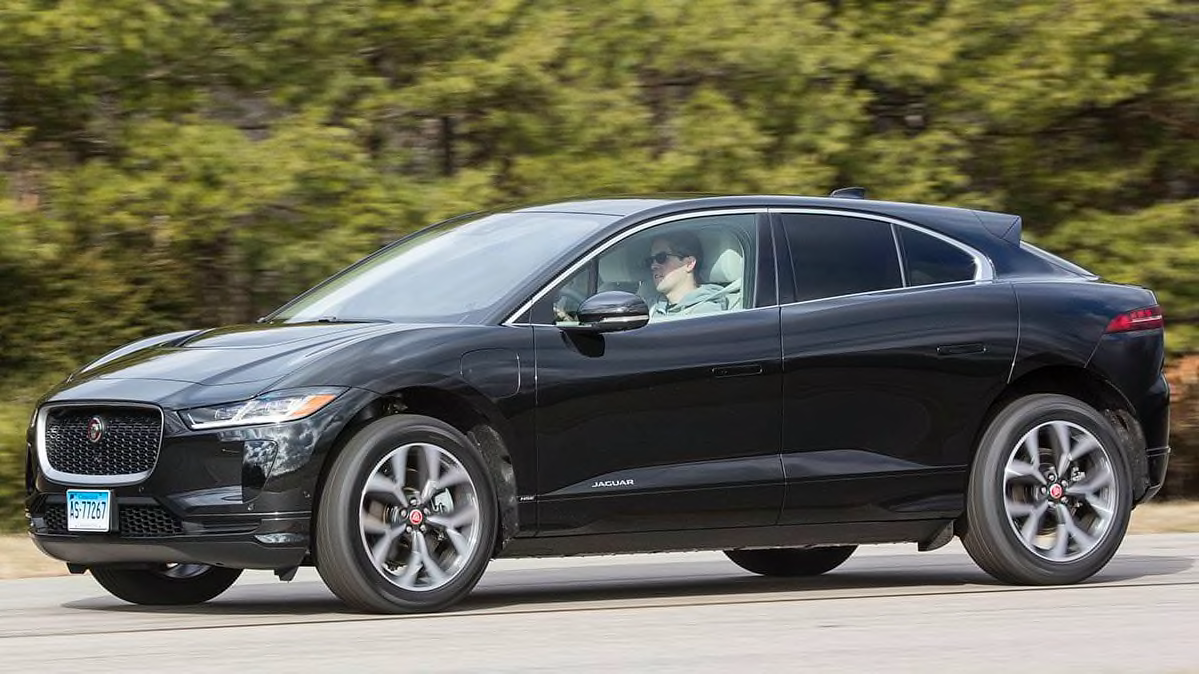 Update: Since this first drive was published in February 2019, we have completed testing. See the complete Jaguar I-Pace road test.
The 2019 Jaguar I-Pace is an electric vehicle that promises long range from a full charge with the accommodations that luxury buyers expect. It is the first EV that can truly challenge Tesla's place in the electric market.
There are more long-range, luxury EVs on the near horizon, including the Audi E-Tron, Mercedes-Benz EQC, and Porsche Taycan. These, along with the new I-Pace, are the first in what may be a crowded market of models targeting the Tesla Model 3 and Model S sedans, and the Model X SUV.
We recently purchased our own 2019 Jaguar I-Pace so that we could put it through CR's testing regimen. These are our first impressions, based on a few weeks of driving.
What we bought: 2019 Jaguar I-Pace EV400 HSE
Powertrain: 340-hp dual electric motors with 90-kWh (kilowatt hour) battery pack; 1-speed, direct-drive transmission; all-wheel drive
MSRP: $80,500
Options: $5,346 (Demo specification pack, adaptive dynamics, Santorini black metallic paint, premium interior protection pack, heated windshield, heated steering wheel, chrome wheel lock pack, basic rear-seat convenience pack, adjustable settings for gravel/snow/dirt, heated windshield washer jets, car care kit)
Destination fee: $995
Total cost: $86,841
What We Like . . . So Far
We're impressed with how solid-feeling and rattle-free our I-Pace is. The Jag feels like a luxury car built by a luxury car company. It has the quiet cabin and luxurious, high-quality interior materials that shoppers demand in a premium model. It's a dedicated EV, not something adapted from an existing, conventional model.
Some of us find the 2019 Jaguar I-Pace's conventional interior experience—with its buttons and knobs—appealing. It's different from Tesla's more radical interior experience, where most functions are handled through the oversized touch screen, which other testers enjoy. The front seats are roomy, comfortable, and supportive for long drives—at least, as long a drive as a full charge allows.
Most of the Jag's controls are similar to recent Jaguar/Land Rover vehicles we've tested recently, such as the Range Rover Velar. (Jaguar and Land Rover are owned by the same company, and their vehicles share many components.) It's fairly easy to figure out the multifunction controls for temperature, seat heat/cooling, and fan speed.
The driving experience can best be described as beautiful. As we'd expect from an EV—particularly a sporty, luxury model—acceleration is superb. Plus, the I-Pace's big, 90-kWh battery gives the promise of a long driving range between charges. The interior is quiet, much more so than that of the Tesla Model X SUV or the Tesla Model 3 sedan. The 2019 Jaguar I-Pace is also quite nimble for such a large SUV. It has a firm, composed ride and doesn't transfer impacts from bumps to its passengers.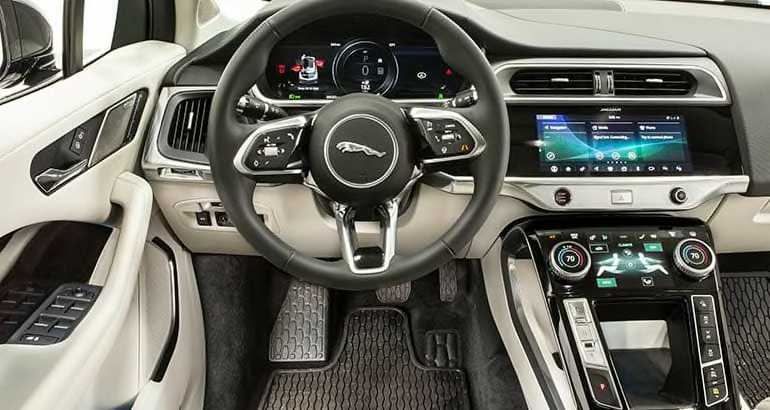 What We Don't Like
The large battery promises great range, but that also means it will take a long time to charge from empty—up to 13 hours, or about 5 miles worth of range per hour through 240-volt service. Drivers can use a DC fast charger to fill 80 percent of the battery in 40 minutes, but those public locations aren't as prevalent as Tesla's supercharging network.
This means that drivers planning long trips must know where a DC fast charger is located, or they'll be waiting quite a while to recharge. The number of available DC fast chargers is growing, but they still aren't as easily found or as conveniently located as Tesla's proprietary Supercharging network.
Still, overnight charging on a 240-volt charger will fully charge the battery unless it's entirely drained. And owners who commute less than a full charge each day shouldn't have as much recharging to make up when they get home.
We're really unimpressed by the buttons used for the gear selector. They are mounted low and flush, and drivers can't tell by touch which gear they're selecting. This requires the driver to look down to find the correct button.
In addition, the order of Drive, Neutral, Reverse, and Park goes against the traditional order of Park, Reverse, Neutral, and Drive (PRND). This is an odd choice that has no benefit to the driver.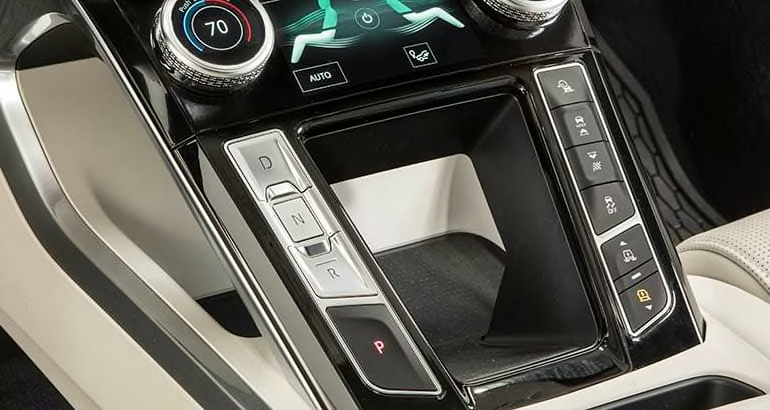 Even though the cabin is mostly quiet, some tire and road noise comes through, slightly marring the otherwise luxurious experience.
The touch screen is slow to respond to inputs—a source of frustration.
The rear seat is on the small side: Kids fit fine and the space is okay for two adults, but it's almost uninhabitable for three adults.
In addition, the cargo area is small. The Jaguar is definitely not made for runs to big-box stores, unless it's merely a two-person trip and the rear seats are folded down.
We found it a challenge to see out the rear window and know what's in the blind zone on either side.
What We'll Keep Our Eyes On
The big 90-kWh battery gives the I-Pace an EPA rating of 234 miles, albeit in optimal test conditions. The real-life driving range for owners will be based on driving style and the use of heat or air conditioning, and is likely to be less than that. And of course, we'll keep our eye on the range we get in cold weather.
Some drivers have found that the infotainment system doesn't always connect with a plugged-in or Bluetooth-enabled smartphone.
In addition, the rearview camera is slow to turn on and has a tiny display. It doesn't do a good job making up for the very small view out the back window.
We've also noted that the factory setting for the regenerative braking system (which charges the battery when the brakes are applied) doesn't aggressively slow the I-Pace, which makes it smooth and unobtrusive. There is a more aggressive setting that provides more deceleration and reclaims energy from braking that sent back to the battery.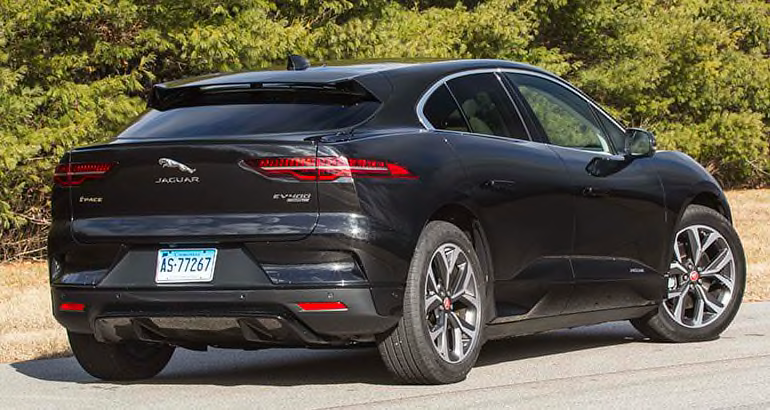 Electric Cars 101
Electric cars are bringing some of the biggest changes the auto industry has seen in years. On the "Consumer 101" TV show, Consumer Reports expert Jake Fisher explains to host Jack Rico why these vehicles might not be as newfangled as you think.