When you shop through retailer links on our site, we may earn affiliate commissions. 100% of the fees we collect are used to support our nonprofit mission.
Learn more.
Update: Since this first drive was published in January 2019, we have finished testing. See the complete Audi A6 road test.
What we drove: 2019 Audi A6 3.0T
Powertrain: 335-hp, 3.0-liter turbocharged six-cylinder engine; seven-speed dual-clutch automatic transmission; all-wheel drive
MSRP: $58,900
Options: $14,195 (Daytona gray pearl effect paint, prestige package, driver assistance package, 20-inch wheel sport package, 21-inch 10-y-spoke design wheels, cold weather package)
Destination fee: $995
Total cost: $74,900
Overview
The previous-generation A6, introduced in 2012, demonstrated Audi's ability to build a truly competitive luxury sport sedan. The new 2019 A6 builds upon that foundation. It balances performance and comfort, even with the big, 21-inch wheels the A6 came with—sometimes, large tires like those can make for a jolting, unpleasant ride.
The sedan is enjoyable to drive on winding roads, but it's equally comfortable traveling at highway speeds. Its turbocharged V6 engine is powerful and delivers immediate power, and the interior is roomy, luxurious, and comfortable for four adults. Finally, the car's advanced infotainment technology, which debuted in Audi's 2019 A8 sedan, is relatively easy to use, and appears to be an improvement over the system in the last-generation A6.
What We Like. . . So Far
Audi moved to a turbocharged 3.0-liter V6 in the 2019 Audi A6 from a supercharged 3.0-liter V6. This new engine is very smooth and strong, and ready to deliver power whenever it's asked to.
The A6 comes standard with 19-inch wheels, but the version we drove had both the sport package and the optional 21-inch wheels with summer tires. This setup delivers a taut ride, but the car still feels composed no matter the pavement condition. The cabin is quiet, with hardly any aural evidence of the vehicle's speed—it's prudent for drivers to keep an eye on the speedometer, because they may not realize how fast they're going. Finally, everyone who drove the A6 remarked how the steering has satisfying weight and feedback.
One driver referred to the A6's interior as "an absolute jaw-dropper in terms of presentation." Of course, at the nearly $75,000 price of the one we drove, the A6 certainly should have a luxurious, comfortable interior.
The controls, although advanced, were easy for our testers to work with over time. There are many different settings, modes, and options on both the center screens and the multifunction screen in the instrument cluster.
The seats have excellent support and a variety of adjustments, making them perfect for short trips or all-day drives. The square-shaped, nicely finished trunk has plenty of room. Folding down the second-row seats expands the cargo area for longer items.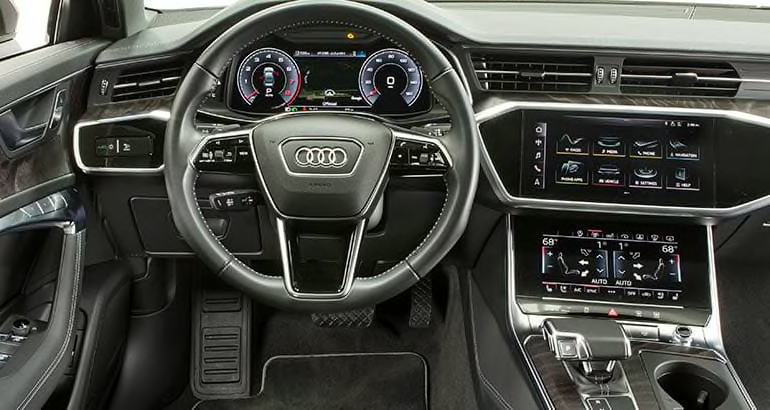 What We Don't
The A6's low stance made it somewhat challenging to climb in or out, but the wide door opening helps ease the process. It's fairly easy to get into the rear seat, which has plenty of room for two adults. However, it will be a tight fit for three adults, and the person in the center position must straddle the large central tunnel and rear-seat climate control pod.
Cabin storage is limited, with just a shallow bin underneath the center armrest. That center bin houses a wireless charging pad and two USB outlets; there isn't room for much else once a mobile phone is plugged in and stored in that space. There is also a medium-sized glovebox and pockets in the doors, along with two cup holders that reside between the seats.
Finally, while it's great that the A6's standard safety equipment includes forward collision warning and low-speed automatic emergency braking, more features like these could be made standard given the A6's near-$60,000 base price.
For example, our Prestige trim has standard blind spot warning, but it's only optional on the base Premium trim. An additional driver assistance package adds lane keeping assist. Shoppers beware: It can be challenging to determine exactly which feature is in each package, so buyers should tell their salesperson exactly which safety features they want when configuring their A6.
What We'll Keep Our Eyes On
Some drivers commented that, at times, the seven-speed dual-clutch automatic transmission had a difficult time accelerating out of rolling stops or from slow speeds, such as when gaining speed after making a turn onto a highway on-ramp. We didn't experience this lag in the A8 we bought, which has the same engine, but which uses an eight-speed automatic.
We liked the way the seven-speed transmission performed in our tested A4, little sibling to the A6. It's important to note that the A6 we got from Audi is part of its press fleet, meaning we don't know who's driven it before us, or what's it's been through in its short life. We'll of course reserve final judgment until we buy and test an A6.
The new A6 also uses the new 48-volt mild-hybrid setup, just as the A8 does. A large battery is used to reduce the power demands on the engine, and keep accessories running when the engine stop/start mode is engaged and the A6 is stopped at a light or in traffic.
The Environmental Protection Agency (EPA) rates the 2019 Audi A6 at 25 mpg combined. We got 22 mpg overall—same as the EPA rating—in our tested 2012 A6 with the 3.0-liter supercharged V6, eight-speed automatic, and all-wheel drive.
See the complete Audi A6 road test.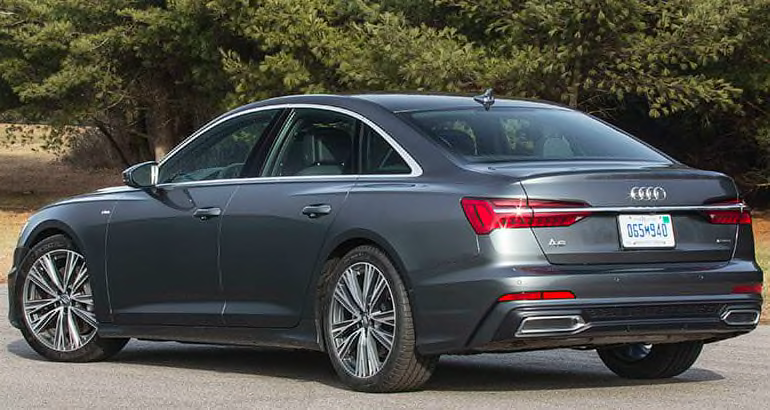 About the cars we rent: Consumer Reports only tests the cars that we purchase. We pay automakers on occasion to drive early or different versions of cars we ultimately buy (we do not borrow press cars for free, as many other publications do), but those impressions are never part of the 50-plus evaluation regimen that we put our purchased cars through.