When you shop through retailer links on our site, we may earn affiliate commissions. 100% of the fees we collect are used to support our nonprofit mission.
Learn more.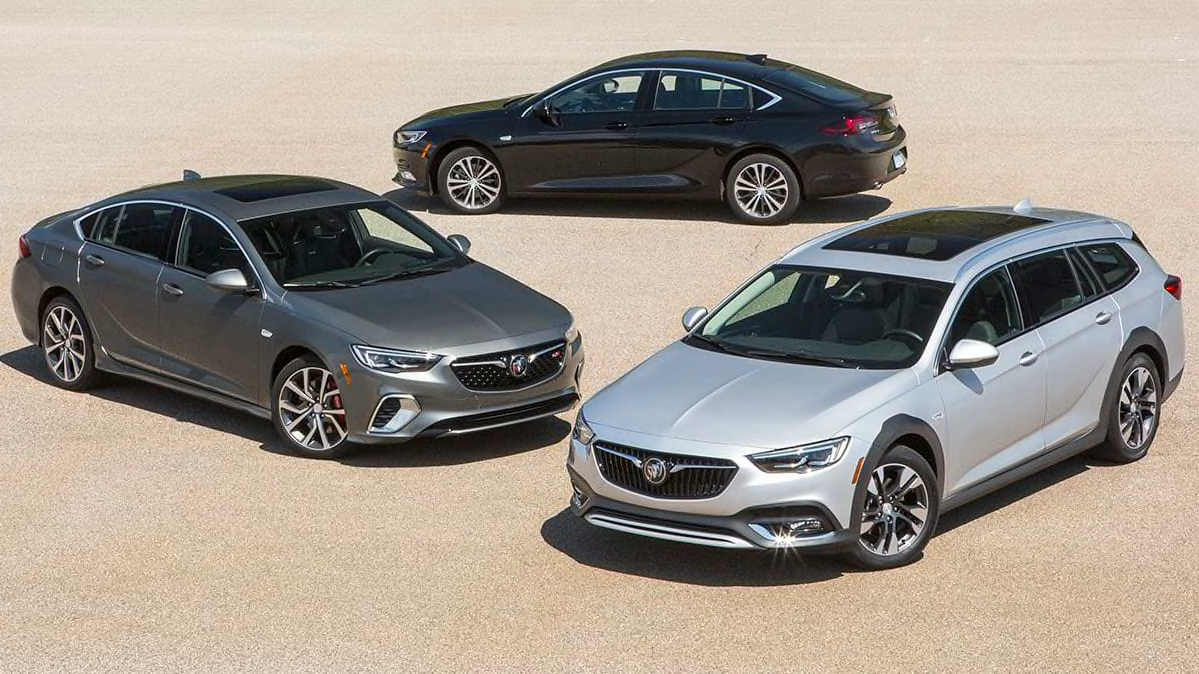 The Buick Regal Sportback gets two new siblings, both aimed at bringing more appeal to the long-running "Regal" nameplate. The Regal TourX, which the company calls a crossover, looks like a wagon in our eyes and offers extra cargo room. The GS gets a substantial horsepower boost over the base model as well as standard all-wheel drive and various interior and exterior enhancements.
Consumer Reports recently completed our road test of the Sportback, and we were eager to see whether these other versions would live up to the original car's comfortable ride, easy-to-use controls, and simple day-to-day livability. We rented TourX and GS versions from General Motors for an extended evaluation.
The short answer: The GS does feel more powerful, but it doesn't really reward drivers, and the TourX succeeds with more space, but it drives very much like the Sportback.
What we rented: Buick Regal GS and Regal TourX Essence
Drivetrain: (GS) 310-hp, 3.6-liter V6; 9-speed automatic; all-wheel drive (TourX) 250-hp, 2.0-liter turbocharged four cylinder; 8-speed automatic; all-wheel drive
MSRP: $43,585 (GS); $40,875 (TourX)
Destination fee: $925
Total cost: $44,510 (GS); $41,800 (TourX)
How They Drive
The GS tries to spice things up compared with the standard Sportback we've already tested, with more aggressive looks and some substantial brawn.
For starters, we were pleased with the GS's nonturbo 310-horsepower, 3.6-liter V6 engine, which delivers power smoothly without any of the spiking power characteristics we sometimes experience with small turbocharged engines. We also found the nine-speed automatic transmission to be slick and responsive.
This powertrain certainly makes the GS fast, but strangely, the car really isn't all that great to drive. The car's handling feels a touch nose-heavy and the steering could be quicker.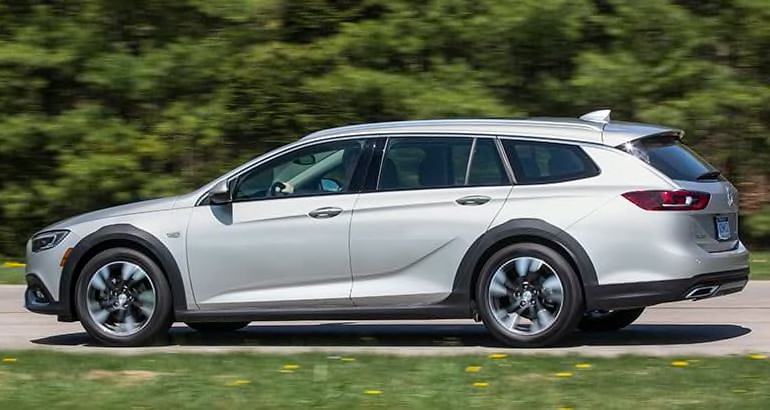 The GS has stiffer springs than those on our tested Sportback, but its ride isn't harsh. The GS also has different (and adjustable) sporty driving modes meant to sharpen its responses, but the differences were mild; they mostly made the ride more jittery. After some experimentation, our drivers usually left the mode selector in its regular setting.
For the TourX, its handling is responsive and capable, but it isn't exciting. The ride is comfortable and the cabin stays notably quiet. Nothing new to report here, which means that this model drives as nicely as our tested Sportback. Buick wants potential customers to think this is a crossover with a slightly raised ride height. But park next to a Subaru Outback and shoppers will realize that it's a more of classic wagon with some extroverted styling.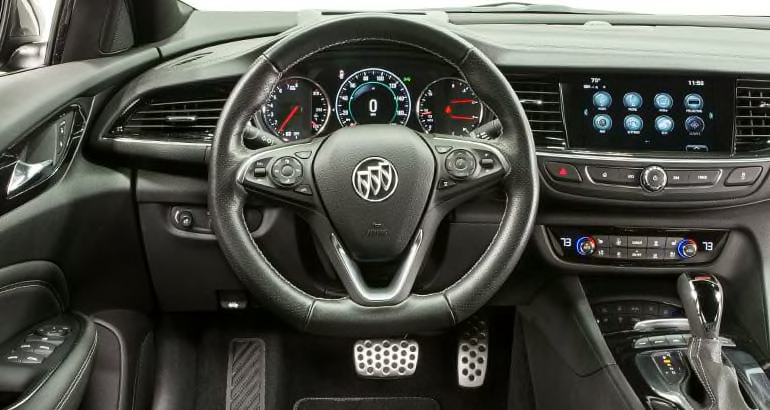 Inside
What's instantly noticeable about how different the GS is from our Sportback are the race-inspired front seats. The headrests are integrated into the seatback, making the seats feel more closed in. They have adjustable lumbar and thigh support bolsters, as well as heating, cooling, and massage features. But these body-hugging buckets may be too constrictive for some drivers.
The GS comes with an 8-inch touch-screen infotainment system. Apple CarPlay and Android Auto compatibility come standard.
The TourX's calling card is the massive, nicely finished cargo space. Buick claims that the TourX has more cargo volume than the Audi A4 Allroad, BMW 3 Series Sport Wagon, Subaru Outback, and Volvo V60 Cross Country. A power liftgate is standard, and it can be opened with a touch-free wave of the driver's foot beneath the back of the car.
The rest of the TourX's interior is a redo of what we found in our Sportback. That is, the interior is modern and uncluttered, and features easy-to-master controls. The seats provide excellent support, even for long trips. Rear access and headroom are better than in the Sportback.
Safety and Driver-Assist Systems
Both models offer forward-collision warning with automatic emergency braking and pedestrian detection.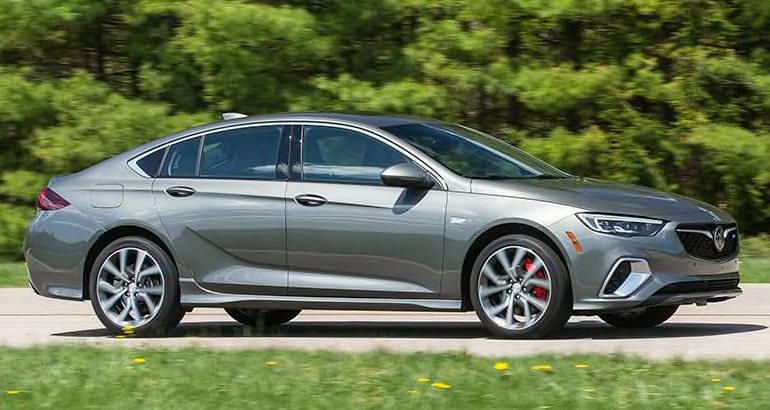 Bottom Line
The GS may not sound or look like Buick's old muscle cars (like the original Grand Sport or Grand National). But it should entice shoppers who are looking for a little something more than a vanilla Chevrolet Malibu, Ford Fusion, or Toyota Camry.
And despite GM's marketing hype, the TourX is a wagon, not a crossover or SUV. It's a slick wagon with many premium touches and perhaps offers just the right amount of utility for those who don't want—or really need—an SUV.

Read our complete Buick Regal road test.