When you shop through retailer links on our site, we may earn affiliate commissions. 100% of the fees we collect are used to support our nonprofit mission.
Learn more.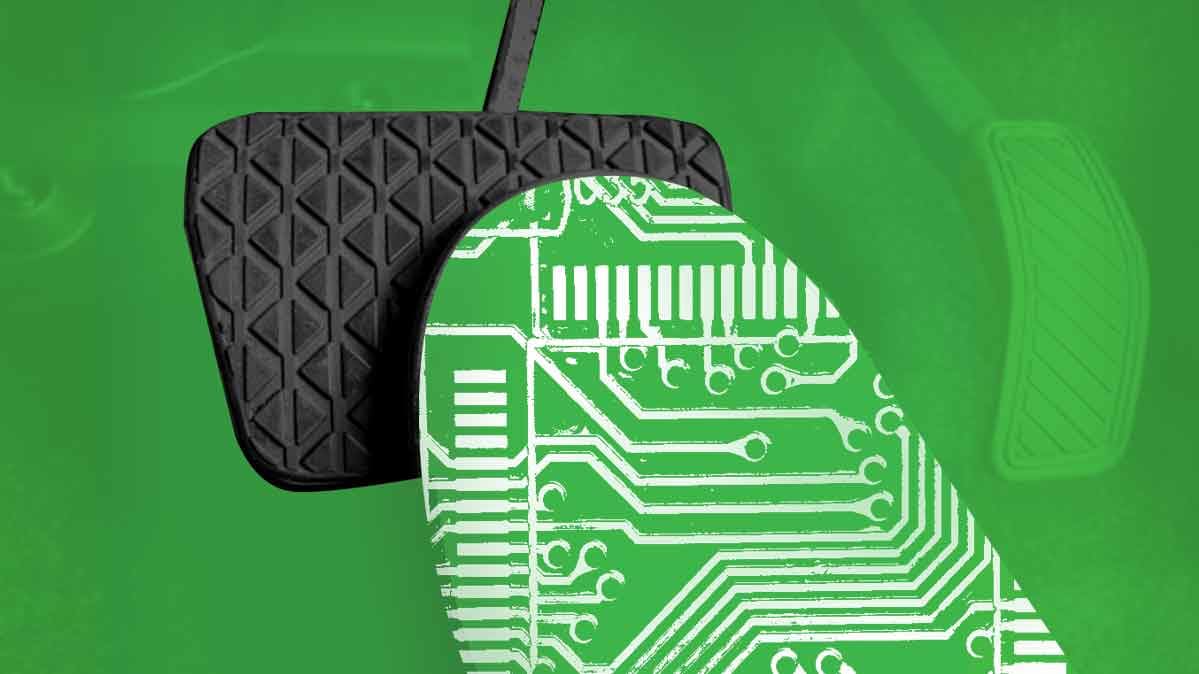 Illustration: John Ritter
Automatic Braking for All
Safety should not be a luxury that only some can afford.
That's why CR has been pushing to make sure all new cars are equipped with automatic emergency braking (AEB), a technology that stops or slows a vehicle if a collision is imminent.
AEB has the potential to save thousands of lives on our roads, just as seat belts, airbags, and other safety technologies do. Yet some automakers continue to offer it only as a nonstandard option on select models—sometimes as part of a premium package, along with features like heated seats and chrome trim.
So CR cheered when, in 2016, 20 auto manufacturers joined a voluntary pledge brokered by the Insurance Institute for Highway Safety and the National Highway Traffic Safety Administration to equip almost all new cars with AEB by the 2022-2023 manufacturing year.
We've also publicly monitored the automakers' progress toward the goal and pushed them along the way to step up—including by restricting our CR Top Pick selections to vehicles that come standard with forward collision warning and AEB with pedestrian detection.
Today 12 of the 20—Audi, BMW, Ford/Lincoln, Honda/Acura, Hyundai/Genesis, Mazda, Mercedes-Benz, Subaru, Tesla, Toyota/Lexus, Volkswagen, and Volvo—have succeeded in fulfilling the pledge.
Now we'll be watching to make sure the remaining eight automakers hit the target as quickly as possible.
Establishing a Right to Repair
What's at stake: Certain electronics makers have long insisted that their devices be fixed only by authorized repair centers, which can be expensive or difficult to access. They enforce these restrictions through a range of practices, including by limiting access to spare parts, manuals, and specialized tools.
The upshot: Consumers sometimes have little choice but to throw their device away and buy a new one.
How CR has your back: As a leader of the "right to repair" movement, CR has long opposed these practices. Among other measures, we helped to develop model right-to-repair legislation, versions of which have been introduced in more than 25 state legislatures and at the federal level. We also incorporated the right to repair into the Digital Standard, an open-source set of technical criteria for evaluating the data privacy and security—and influencing the design—of software, digital services, and internet-connected products.
Our efforts have recently been bearing fruit: Last summer President Joe Biden directed the Federal Trade Commission to draft rules banning unfair repair restrictions. And in November 2021, Apple said it would start providing some spare parts and instruction manuals to consumers who want to do their own repairs—another encouraging sign that we are getting through.
CR is now pushing for laws and regulations that would make Apple's policy an industry requirement.
What you can do: Urge your representatives in Congress to pass the CR-endorsed Fair Repair Act, H.R. 4006, at Congress.gov.
Editor's Note: This article also appeared in the March 2022 issue of Consumer Reports magazine.