Here's the Tech That Could Be on Your Next Car
From bigger screens to better batteries, these technology trends and developments are just around the corner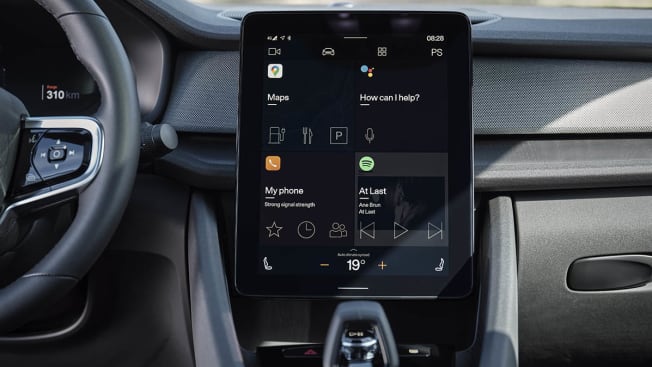 The beginning of the year is traditionally when automotive journalists can predict the future—not with tarot cards or crystal balls, but with notes and recordings taken during a flurry of events where automakers, suppliers, and industry insiders show off their latest wares, take the wraps off new technology, and make announcements about upcoming model years.
In pre-pandemic times, we would have covered big events from auto shows in Europe and Los Angeles in fall, through the CES tech event in Las Vegas in early January. Things are obviously a bit different this year—new vehicles debuted on live streams instead of at auto shows, conferences happened remotely, and industry roundtables took place on Zoom. But thanks to those virtual press conferences and conversations with auto industry analysts, we at Consumer Reports have still learned plenty about the cars of the near future.
Last year, we saw Mercedes-Benz and Cadillac stretch their touch screens to merge the gauge cluster and center console controls. Now, the automakers are promising even larger screens—including Mercedes-Benz's proposed 56-inch Hyperscreen that will stretch across the entire dashboard of an upcoming EV and largely replace physical buttons. Similarly, Cadillac says its upcoming Celestiq flagship EV will have a "pillar-to-pillar" screen.
These screens might look nice on the showroom floor and allow automakers flexibility with designing interiors, but safety advocates are concerned that they may be a distraction for drivers. Even late-night host Steven Colbert mocked the screen wars on his show after Mercedes' announcement: "You know what's super compelling infotainment to watch while driving? The road!"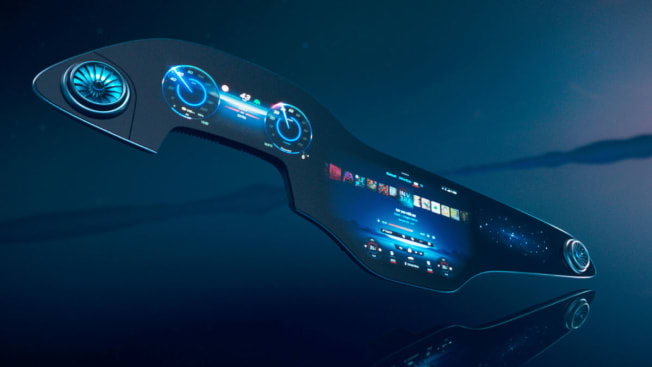 CR's Take
Don't be fooled by the minimalist and sleek look of a single giant screen, says Kelly Funkhouser, CR's program manager for vehicle interface testing. A lack of traditional knobs and buttons means drivers will need extra focus and precision to hit the right buttons on a touch screen, especially when road vibrations and potholes can throw off one's aim.
"We're seeing the insides of cars turning into complex computers like smartphones, but that's the opposite of what should be in a car," she says. "Smartphone apps are meant to draw and keep your attention for as long as possible, that's not what we want to see in vehicles."
Automotive suppliers, including Continental and Panasonic, are continuing to work on augmented reality head-up displays that will show graphics on the windshield to help drivers quickly interpret what they're seeing. For example, a navigation system may display an arrow pointing at the turn you should be taking or a graphic could point out cyclists or pedestrians to make them easier to see.
It may sound like something out of a video game or even a fighter plane, but the technology largely already exists in cars: Many vehicles have head-up displays that project vehicle information on the windshield, while advanced maps and radar and camera systems can already pinpoint streets and identify objects on the road. Mercedes-Benz already uses augmented reality by overlaying navigation arrows on top of a real camera view of the road ahead, a feature that CR praises. The next generation of systems will display more information, and will track the driver's eye and head positioning to ensure that the graphics are displayed correctly.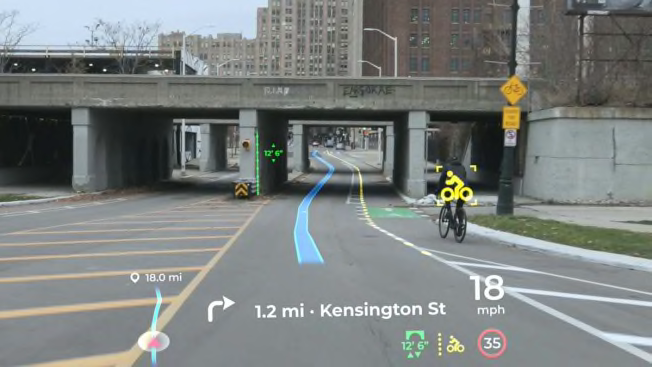 CR's Take
Funkhouser says these new features are a step in the right direction, because they give drivers important information that they can use to make smart and safe decisions. "We've been looking forward to the day when vehicles tell drivers what their sensors 'see' so that drivers can feel confident that the systems are operating correctly," she says. "With all the new gimmicks being put in cars, it's refreshing to see tech being used to help the driver instead of distracting the driver."
Cars That Can 'See' Pedestrians
Among the many announcements Jeep made when it debuted the next generation Grand Cherokee SUV in January was a promise that it would be the first passenger vehicle to feature a thermal imaging camera that could detect pedestrians. Although a Jeep spokesman told CR that the sensor isn't yet set to trigger automatic emergency braking (AEB), it will give drivers better vision at night. And it could still be a game-changer for pedestrian safety, especially because the majority of crash-related pedestrian injuries and deaths occur after dark, when visibility is low and existing pedestrian detection technology (which largely relies on traditional camera or radar technology) can struggle to do its job.
In internal tests, thermal camera manufacturer FLIR found that prototype AEB systems with thermal imaging could prevent 100 percent of crashes with pedestrians resulting in injury regardless of time of day. By comparison, traditional AEB systems with pedestrian detection could avoid a collision resulting in injury only 12 percent of the time.

CR's Take
Recent tests—such as those included in a highly publicized report from AAA—reveal the shortcomings of key safety features like AEB with pedestrian detection. Traditional cameras aren't as capable of seeing pedestrians at night, and radar may miss objects that aren't moving. But thermal imaging cameras can capture what other sensors don't see. "With pedestrian deaths on the rise, it's important to see more solutions being tried to improve this vital safety feature," says Funkhouser. "This is one we're really keeping our eyes on."
Better Batteries for More Miles
Major concerns about widespread adoption of EVs are cost, range, and the environmental and human rights issues of mining cobalt—a key battery component primarily mined in the Democratic Republic of the Congo. Several new battery designs could address some of those problems.
General Motors partnered with LG Chem to design its new Ultium range of batteries that will underpin the company's new crop of EVs—which are likely to be the automaker's bread and butter by 2035. They promise simpler designs that reduce cost and allow for easier service and replacement, plus longer ranges and a reduction in the amount of cobalt used. A LEGO-like modular construction allows GM to easily and inexpensively scale the battery pack size up or down depending on the vehicle, which should also make it easier for GM to offer a variety of new EVs. In addition to the upcoming Cadillac Lyriq and GMC Hummer EVs, one of GM's competitors—Honda—is partnering with GM to use the Ultium technology for its own upcoming electric SUV.
Other automakers are taking their own approach to battery evolution. BMW says its fifth-generation electric drive system, developed with battery maker CATL and debuting on the iX3 SUV, has a higher energy density, is more durable, and contains less cobalt than its predecessors. Tesla is also working with CATL and is promising lower-cost, longer-life batteries in the near future.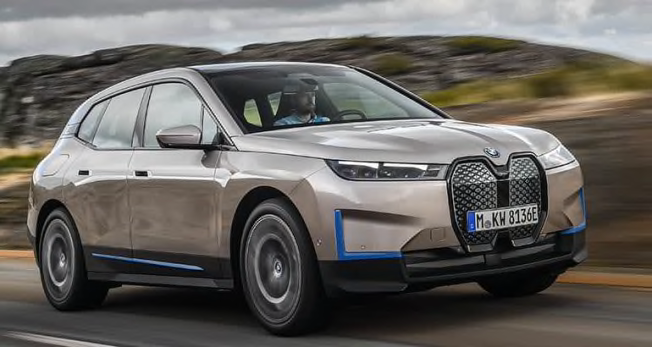 CR's Take
In terms of outright driving range, Tesla's Model S is already rated to travel more than 400 miles on a single charge. GM will be able to match this, but Ultium technology will shine when it comes to GM's ability to offer a wide array of EVs with attractive ranges at a lower cost, says Alex Knizek, an engineer at CR's Automotive Test Center. It will also allow for a quicker path to an electrified lineup at Honda. "Partnerships and collaborations among vehicle manufacturers are becoming more common with the increasing complexity and development costs associated with EVs and modern vehicles," he says.
Your Next Delivery, Electrified
Delivery trucks often take similar routes every day and head back to the same depots at night. In the meantime, they emit particulates and greenhouse gases while idling during stops. All those starts and stops create wear and tear on a delivery vehicle. And every second they're off the road for routine maintenance and repair, they're costing their owners money. The so-called last mile delivery—the part of a package's journey where it actually arrives at a home or business—is a unique use case that makes delivery vehicles ideal for electrification.
At CES, GM announced that it was creating an entirely new division for electric delivery vans. Called BrightDrop, the first of these vans will have a range of around 250 miles and have already been ordered by FedEx. Amazon says it has ordered 100,000 electric delivery vans from EV startup Rivian, and Ford's E-Transit is an electric version of the popular and highly customizable Transit. They all promise lower emissions and lower operating costs than their gas- and diesel-powered counterparts. Expect to see all of these vans on the road starting this year.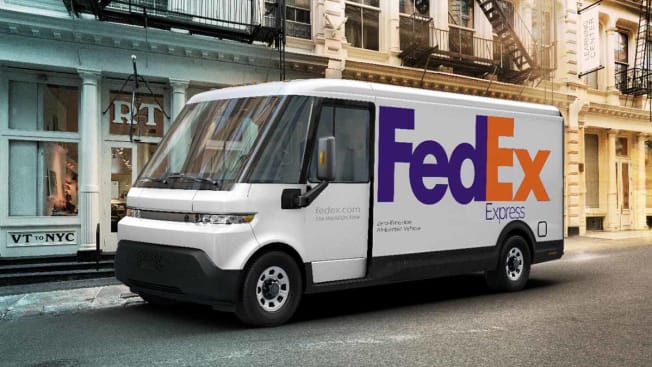 CR's Take
"The demand for at-home deliveries is increasing now more than ever as more people work, shop, and eat at home," says Knizek. "EVs will play a critical role in meeting this demand while reducing vehicle emissions and costs." Although EVs are generally more expensive to purchase than gas-powered alternatives, their maintenance costs less and is required less often than with a gas vehicle—so delivery companies can spend more time getting items to your house instead of fixing their trucks.
The Self-Driving Car Is Delayed
During an April 2019 phone call with investors, Tesla CEO Elon Musk promised that the company's vehicles would offer full self-driving capabilities by the end of 2020—eventually turning existing Teslas into what he called a fleet of "robotaxis." It's now 2021, and although autonomous vehicle testing continues on public roads, no consumer can purchase a fully self-driving vehicle. It wasn't too long ago that the promise of a self-driving car seemed to be just around the corner. But as marketing hype fails to live up to promises, and as safety concerns mount—especially after a 2018 crash that killed pedestrian Elaine Herzberg in Arizona—there's been a reality check for consumers and the industry alike.
In the near term, two technologies may end up on your next car. The first is the expansion of GM's Super Cruise automated driving system, which came out tops in our evaluation of similar systems but was previously available only on the now-discontinued Cadillac CT6 sedan. It automates steering, braking, and acceleration on specific highways, and it uses cameras to ensure the driver is paying attention in case human intervention is needed. GM says it will now be available on more roads, and on more cars. The second is the global mapping effort from Intel subsidiary Mobileye, which uses vehicles' built-in cameras to build highly accurate and frequently updated maps of roadways. Those maps are compiled and then shared with other vehicles, and will be key to helping vehicles "see" the world around them.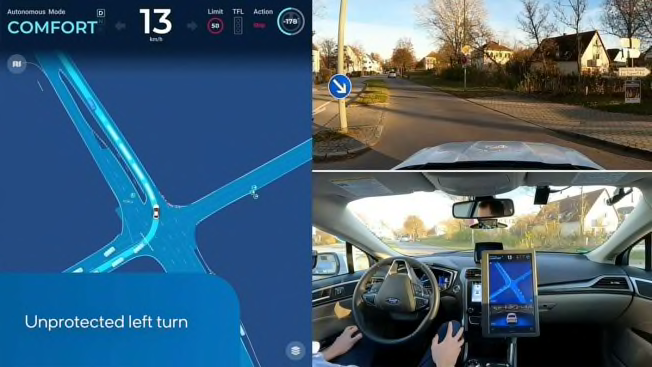 CR's Take
According to Jake Fisher, CR's senior director of auto testing, "self-driving" may really mean "self-steering" for the foreseeable future. "Many of today's vehicles can operate steering, brakes, and throttle, but they are by no means autonomous," he says. Though the car can operate the controls, a human driver will still need to be alert and ready to take action in an emergency. "This human-machine partnership can be beneficial as long as technology can help the human driver pay attention to the surroundings."
The smallest trucks on sale today include the Ford Ranger, Toyota Tacoma, Chevy Colorado, and Nissan Frontier. But even though they aren't as big as full-sized pickups, these trucks are far from small. If you want a light-duty truck for occasionally picking up landscaping supplies or carrying furniture but don't need the bulk or brawn of an Ford F-150, Ram 1500, or Chevrolet Silverado, you could be in luck: A new contender is on the way.
The Hyundai Santa Cruz—which may be the automaker's first pickup in the U.S.—promises to be a car-like truck with an open cargo bed and an SUV-like profile. The automaker says that production of the pickup will start at its Montgomery, Ala., plant sometime this year (a concept version is shown below).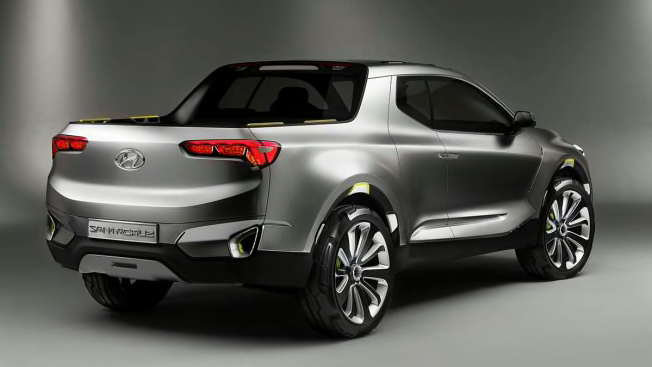 CR's Take
We like the idea of smaller trucks, says CR's Funkhouser. "Trucks can be useful, but their increasing size can be a safety hazard to pedestrians and also means they use more fuel," she says. "Better fuel efficiency in a smaller package may be appealing to more buyers."
Tech Companies Become Car Companies
Based on recent announcements from major consumer electronics companies, including Sony, Apple, Panasonic, and Foxconn, we expect the automotive industry to look a lot like the smartphone industry in upcoming years, where the brand on the badge doesn't necessarily determine which factory made the product or the components within. Instead, we'll probably see more partnerships between carmakers and electronics companies.
Ford announced that it will be partnering with Google for future vehicle development. Future Ford and Lincoln vehicles will be powered by Android software, and the automaker and the tech giant will collaborate on future development, including artificial intelligence research and cloud-based computing.
Chinese automaker Geely—who owns Volvo, Polestar, and Lotus—said that it will work with Taiwanese electronics manufacturer Foxconn to build future EVs, forming a joint venture that will provide consulting services and even build full-fledged cars for other automakers. Geely's Polestar brand already relies on Android for its infotainment systems. And electronics company Sony has put its Vision-S concept EV on public roads for testing.
These changes are part of an evolution within the auto industry. Even competing car companies already share suppliers for major components. For instance, whether you choose a Jeep, a Chrysler, an Audi, a BMW, or a Land Rover, you can get it with an 8-speed transmission made by ZF. Honda and GM have collaborated on engines in the past and are going to share future EV technology. And Magna-Steyr, an Austrian manufacturer, builds entire cars for BMW, Mercedes-Benz, and Jaguar.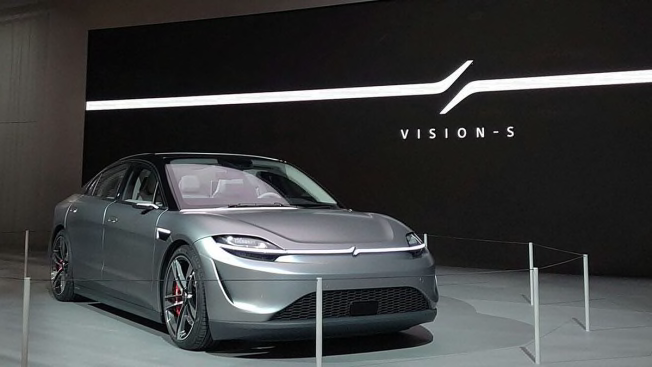 CR's Take
With so many highly capable suppliers, it's easier than ever for new players to get into the car business, says CR's Fisher. And now that technology has become such an important differentiator between vehicles, it's logical that electronics companies will want to get into the game. "Tech companies can bring fresh thinking to the auto industry with a unique spin on customization, connectivity, usability, and frequency of updates," he says. "However, it's important to consider that while the tech companies can do some things very well, they haven't had to prioritize long-term reliability as much as car manufacturers."