How to Find All the Available Electric Car Incentives
Consumer Reports offers car shoppers a new way to discover national and local incentives Electric car shoppers know about the much-ballyhooed tax credits of up to $7,500 on eligible vehicles. But there are other incentives available, if you know where to look. 
Consumer Reports' Electric Vehicle Savings Finder highlights local and federal incentives and tax rebates, based on your ZIP code and the model you're researching. This feature is part of our free membership at CR.org, requiring just an email address to access.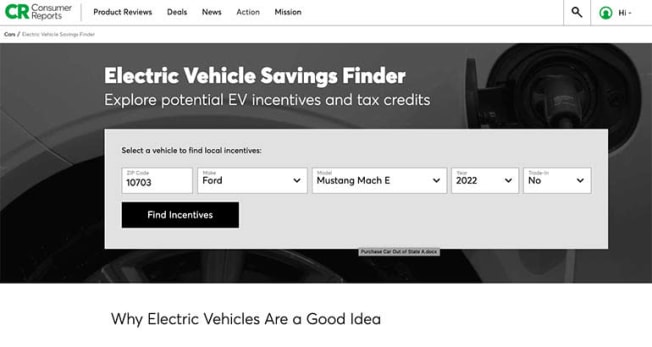 CR's Electric Vehicle Savings Finder is the latest tool in a robust portfolio of car-buying, maintenance, and repair information. This includes a new, interactive car selector designed to help consumers rapidly narrow down their choices based on specific attributes that they seek, such as fuel economy and comfort.
If you know what you're after, dive right into our interactive ratings tool, noting the low-emissions models that earn CR's Green Choice designation. And to help with budgeting, check your trade-in value. 
If you're shopping used, we have an expansive used-car marketplace that includes reliability and owner satisfaction ratings. 
Ready to put concerns about rising gas prices behind you? Explore the Electric Vehicle Savings Finder to see what the real cost is for buying an electric car. It may be less than you expect.